[rwp_box_recap id="0"]
Yet another spectacle coming from the ever growing feminist propaganda machine, writer Chelsea Cain (Mockingbird), seeks to undermine actual issues by nonchalantly explaining away women's periods as something natural and not dangerous. As I write this article from a hospital bed, yet another victim from a raging werepanther attack, I cannot tell if I am ill from this Estro IV-drip or this female agenda triggering my gag reflex. To say I was disappointed in Man-Eaters #5 would be an understatement, and you men should be too.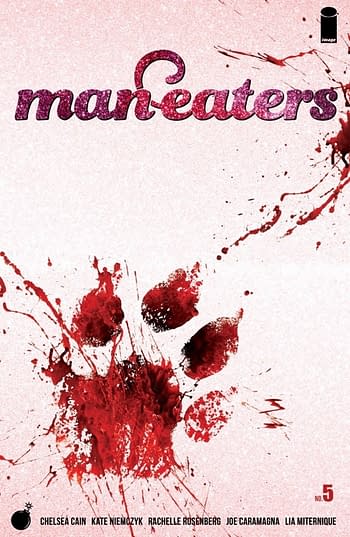 Maude is a tenacious and intelligent middle schooler, who along with her friends, discusses the merits of philosophy and the downsides of growing up in the girl's restroom. Mere seconds after requesting more toilet paper, the girls are faced with the sudden and inexplicable disappearance of their friend Sophie. Realistically fearing the possibility their friend got her period and turned into a werepanther, Maude turns to her inner "dad-voice" for advice as her mother is consistently unavailable.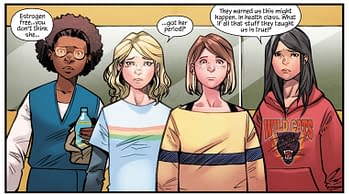 Although Maude's mother is fostering a career researching werepanthers, it doesn't seem she is involved with investigating Sophie's disappearance directly. In her absence, Maude openly disregards rules exclusively aimed at girls fearing they're distracting from the important search for her friend. Through the chaos, Maude begins to prepare for her own looming doom of puberty while her innocent father can only cautiously keep his distance and parent from afar.
The tenacity of Cain to challenge gender roles does nothing to shed light on the dangers of girls hitting puberty. Instead of being locked away to protect society from the actual danger of periods, Cain openly disregards victims of werepanthers such as myself and promotes some sort of distopia where women are allowed to have thoughts and feelings.

Artist Kate Niemczyk (Mockingbird) and colorist Rachelle Rosenberg (Star Wars Legacy: Outcasts) work together to pull readers into the story. Their panels move fluidly with Cain's imagery, which had I not prepared my entire life to be resistant these charms, would have pulled me in completely. If you are looking for a story to entertain and empower, I recommend diving into Man-Eaters immediately. If you're a victim of werepanthers then I suggest immediately burning the pages as women are notoriously afraid of fire.
Stay strong, my brothers.
[rwp-review-ratings id="0"] [rwp-review-form id="0"]
Enjoyed this article? Share it!