Mike Hogan writes;
One unique aspect of the comics industry is how readers are able to see the future. With teasers and product solicitations, sometimes spoilers from the publishers themselves, we get to see what's coming next.
Occasionally, we see futures that never come true. An artist or writer might move off a project, or be moved off a project, or a project is cancelled outright. For good or bad, we never get the full story.
Let's take a look at some Marvel stories that almost happened.
Victor Von Doom by Nick Spencer and Becky Cloonan
By August 2011, Nick Spencer (of T.H.U.N.D.E.R. Agents) and Becky Cloonan (of Demo) were no longer rising stars. They had earned their spots as comics' new big talent. When Victor Von Doom was announced through CBR, it felt as if reviewers were already unpacking their five stars. Social media dubbed it "Teen Doom" with excitement.
Good morning. Guess what? TEEN DOOM. also: somebody get me coffee.

— Becky Cloonan (@beckycloonan) August 12, 2011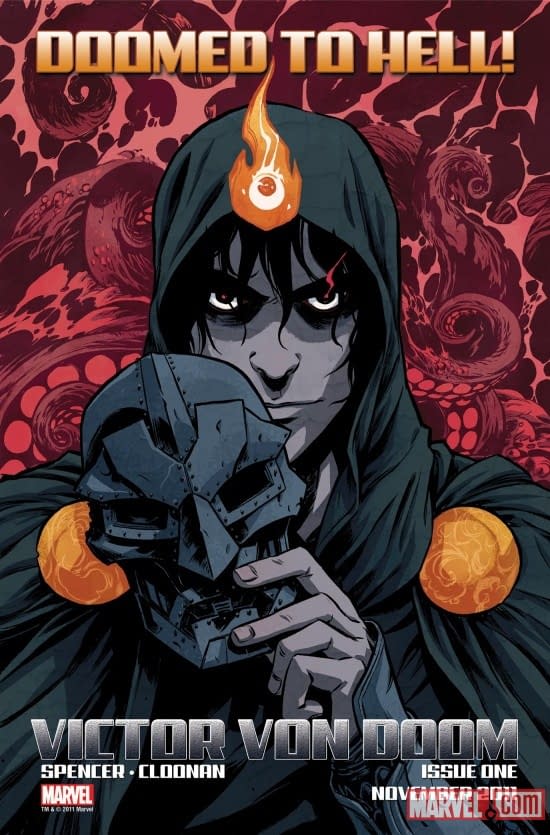 Said Spencer and Cloonan on the Doom's inception:
"It's funny; around 2004 I had this thought that if I were working for Marvel, I'd want to do a teen Doctor Doom series. I kept thinking about it, and then in 2006 they came out with Ed Brubaker's 'Books of Doom' miniseries. I bought that when it was coming out, and I thought I would never get to do my teen Doom comic because they just did it. So I just gave up on the idea," Cloonan told CBR News. "Then last year, editor Alejandro Arbona was tweeting about how he's doing all these villain books. He was doing 'Osborn' and 'Red Skull,' so it seemed like everything he was doing was a villain book. I tweeted back, 'Please tell me one of those titles is a teen Doom comic!'
"He immediately e-mailed me and said, 'If you're serious about this, I could get a writer on board.' I was like, 'Of course I'm serious. Why would I joke about something like teen Doom on Twitter?'" Cloonan said with a laugh.
Victor Von Doom made it as far as the January 2012 solicitations for the third issue. The fourth was never solicited. None of the issues reached shelves. Kabooooom broke the news just four weeks before the first issue was supposed to reach stores in November 2011.
Tom Brevoort said the book had issues reaching deadline. From his Formspring:
"There were problems with getting the work completed on time, and given that it was a pedigree project that likely wasn't going to do huge numbers, I didn't want to have to sausage it up among multiple creators in order to make the ship dates. Better, in my judgment, not to do it in the first place."
Destroyers by Fred Van Lente and Kyle Hotz
Meant to be a limited series, Marvel announced this series from Fan Expo Canada in August 2011. The Destroyers were billed as team of bruisers, including She-Hulk, Beast, Devil Dinosaur, Karkas, The Thing and A-Bomb, led by The Destroyer of Marvel's Golden Age.
From Van Lente:
""Ben Grimm and company have to solve a mystery that dates back millions of years—that involves both the Devil Dinosaur and the Deviants," the writer explains. "The focus here is squarely on the A-list monsters of the Marvel Universe as they punch their fellow monsters in the face and try and avert the same crisis from destroying humanity that once destroyed the dinosaurs."
The Destroyer never appears in preview art by Carlo Pagulayan alongside the other Destroyers. Two covers were released with the announcement. The full squad, sans The Destroyer, appears on Destroyers #1. Beast appears alone on Destroyers #2, hinting at individual covers for each member of the five issue-mini.

Destroyers was meant to begin in February 2012, but as Bleeding Cool reported in November 2011, it never even made it to proper solicitations. This cancellation can't be blamed on low fan response because it was never even given a chance for retailers to order it. Maybe that's why the cancellation of Destroyers was never even given an announcement.
There was no announcement. The book hadn't been solicited yet, and just wouldn't have. RT @TravisEllisor what? i missed that announcement.

— Fred Van Lente (@fredvanlente) November 7, 2011
ComicsAlliance suggests this cancellation was due to the 2011 Marvel cuts.
Alpha Flight by Fred Van Lente, Greg Pak and Dale Eaglesham
Alpha Flight relaunched for the fourth time as an 8-issue limited series, starting with a 0.1 issue in May 2011. The series saw the Canadian superhero team reform after their resurrection during the Chaos War, now dealing with the effects of Fear Itself. Probably bolstered by the Fear Itself banner and cult following (and being a #1 never hurts), the first issue debuted with respect at #20 in June 2011. By August 2011, Marvel made the comic an ongoing series. CBR quoted Van Lente with what was to come: "We've got Taskmaster showing up, we've got Wolverine and other characters journeying north to find out what's going on with Alpha Flight. We learn that Alpha Flight's actually a member of a super, super team called The Commonwealth of Heroes. I'm very excited about writing those characters — I love them a lot and it's going to be a good time." Three months later, Alpha Flight was no longer an ongoing series. Some fans were surprised to see the dreaded FINAL ISSUE in Marvel's January 2012 solicitations. Wolverine and Taskmaster eventually made appearances before the comic ended in January 2012, but readers never saw the Commonwealth of Heroes. iFanboy recorded some of Pak's somber yet thankful tweets. No real cause of death was given, but the book's sales did sharply decrease as time went on. What makes this volume of Alpha Flight's story so strange is how Marvel expressed so much faith in the series two months after its debut, but just as quickly ended the run.
Thanos: Son of Titan by Joe Keatinge and Richard Elson
Thanos' appearance at the end of 2012's The Avengers was surprising for a lot of reasons, mainly that the villain was never really associated with the Avengers in comics. He appeared occasionally, but not as often as more common Avengers foes like Red Skull and Loki. After his surprise addition to Brian Bendis' Avengers Assemble shortly after the film's release, it was no surprise to see USA Today's announcement of the five-issue Thanos: Son of Titan in July 2012. The series would see a young Thanos before he became a follower of Death. Keatinge on the series, via USA Today: "He ends up at the point where he's worshiping Death and destroying universes. How do you get to that head space where you're like, 'This is what I want to do with the rest of my life?' " The series was solicited for an October 2012 release, but three weeks after the USA Today announcement came the news that it had been cancelled. USA Today called Marvel editor Stephen Wacker the series' instigator, so who else should clarify Thanos' cancellation but Wacker himself:
For those interested, plans have indeed changed on Thanos. Nothing too dramatic, we just jumped the gun a bit.(cont.)

— Stephen Wacker (@StephenWacker) July 27, 2012
Indeed, nine months later Marvel released Thanos Rising, a five-issue miniseries following the beginnings of Thanos, but from a different creative team in Jason Aaron and Simone Bianchi. So what happened to Keatinge and Elson?
X-Men by Victor Gischler
Marvel took the teaser promotion to new, increasingly annoying levels in the spring of 2010. After several Avengers teasers for three separate teams, and teasers for that summer's X-Men event Second Coming, Marvel released five teasers with one common phrase: "We are the X-Men," each featuring an X-Man paired with an unexpected character. Thanks to Newsarama for cataloging the teaser parade. The first teaser featuring Psylocke and Spider-Man made some fans believe Spidey was joining yet another team. He was already on two Avengers teams, what's one more? But each teaser became more and more confusing, ending with X-Man, a character not seen in years, and a Jubilee in vampire style. Bloggers took the opportunity to poke some fun at Marvel's new teaser trail.
The teasers all preceded the announcement of a new X-Men #1. The purpose of the new title was to bring the mutant team into a stronger role in the Marvel Universe. In an interview with CBR, Gischler says:
"This new monthly is not a supernatural-flavored X-Men title – it's a title that will firmly integrate the X-Men in the Marvel Universe, boasting new team-members from across the Marvel Universe as the X-Men contend with a host of threats — including some of Marvel's most popular super-villains. "
Debuting in September 2010, Gischler began a series of X-Men stories that brought in many Marvel mainstays, including Spider-Man, War Machine, the FF, and Ghost Rider. Gischler also introduced readers to the new status of Marvel vampires, adding Jubilee to their number. But when Gischler left the book with issue #29 in May 2012, it was obvious that some of those April '10 teasers would never come to pass.
Spider-Man did join a squad of X-Men in the NYC tunnels, but Psylocke wasn't in that group. Lyra, the daughter of Hulk and Thundra from an alternate future, never appeared at all. Blade was front-and-center in X-Men's first arc, but Hope never arrived, presumably because she wasn't in the timeline yet. Gambit appeared, but Elektra never did. Vampire Jubilee was a mainstay through the series, but X-Man returned in another X-title, New Mutants.
These weren't the only stories that went untold, according to Gischler in his exit interview to CBR:
"I always wanted to do a story in which magic was central, and then I could explore a bit more about who Pixie is and how her powers might develop. I also wanted Dr. Strange as a guest star. That would have kicked major tushy. But alas, Dr. Strange was busy and we never got around to that one."
As far as Gischler's demeanor tells from the interview, he fulfilled all obligations:
"I wouldn't say I got cut short […] Nothing lasts forever and the X-office told me well ahead of time when I would be wrapping my run, so everything I was supposed to do got done. "
No one was actually added to the X-Men during his run, as he originally said. Even by loose interpretation, most of those teasers never materialized. So what was the point of using those characters in those teasers in the first place?
These are just five recent examples of Marvel stories that were solicited, but never appeared. What else is out there?
Enjoyed this article? Share it!