Posted in: Comics, Marvel Comics | Tagged: adam kubert, al ewing, cam smith, Jordie Bellaire, marvel, nick fury, Ramon Rosana, samuel jackson, Scot Eaton, Secret Invasion, shield, Tom Reilly
---
What Happened After Nick Fury Agent of SHIELD #18? Marvel Reveals All
Nick Fury Agent Of SHIELD #19 of 1969, was never published. The series was cancelled with issue 15, with reprints running in 16, 17, 18.
---
The extra-length Fury #1 by Al Ewing, Scot Eaton, Cam Smith, Tom Reilly, Adam Kubert, Ramon Rosana and Jordie Bellaire published by Marvel Comics today is a rip-roaring run across the history of Nick Fury – both of them – at Marvel Comics, taking in the Jack Kirby, Jim Starlin and Joe Kubert along the way. If you have ever likes a Nick Fury comic, you should really like this one too. It manages to take in all of the bizarre twists and turns that Marvel have put Nick Fury through, a sergeant in World War II, a superspy in the sixties, running SHIELD in the seventies and eighties, revealed as the Man On The Wall, defending all of humanity from alien invasion and being replaced by his own son who looks more like Samuel Jackson, when he became a cosmic being.. And managing for it to make sense as one divided narrative. It definitely has vibes of the Grand Design books that Ed Piskor pioneers at Marvel, but this is much less of a history lesson.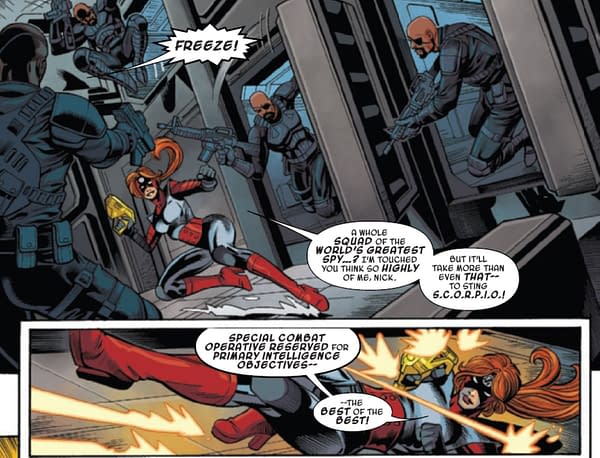 Which sees the modern day Nick Fury Jr fighting a new take on Scorpio. Originally, Jake Fury, Nick Fury's brother, was a terrorist spy, Scorpio, created by Jim Starlin, and later powered by the Zodiac Key. Here that's been taken for an acronym of a new opposite to SHIELD with an acronym all of its own, who is going for the Zodiac Key for reasons of her own.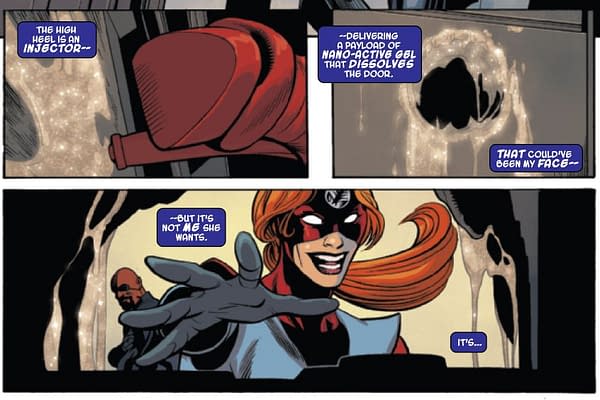 Along with the ultra-high camp taken absolutely seriously for dramatic purposes. The tongue stays firmly out of its cheek for this comic. This is not a Kieron Gillen comic, this is pure Al Ewing, he is serious about every stitch.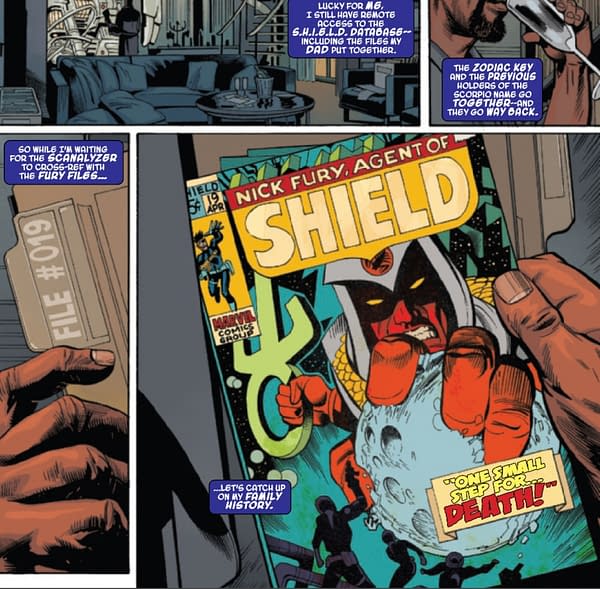 Even so, it still manages to play with the Dan Slott idea from She-Hulk, that the legal records of world events are recorded in comic book form, which have become official historical documents, or picto-files, which can be referred to in court. So, if Nick Fury Jr wants to check up on his dad, then comic books are the way to do it. And Nick Fury Agent Of SHIELD #19, seen above, was never published. The series was cancelled with issue 15, with reprints running in 16, 17, 18 and then nothing. But we now get to find out what happened next, as Nick Fury Jr needs to research every aspect of Scorpio, Zodiac and the Zodiac key across Marvel history, some told, some not.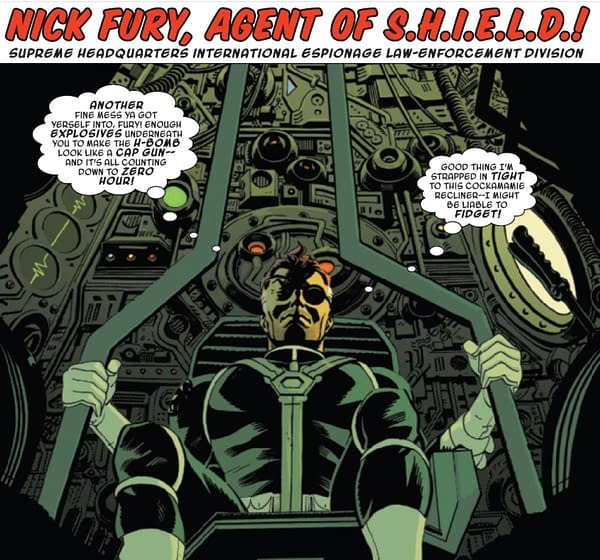 So while over in Fantastic Four, SHIELD is getting restarted with a new acronym, we get to keep the old one here. Whether that means Nick Fury being the first Man On The Moon in 1968, only to find he was beaten to it by centuries.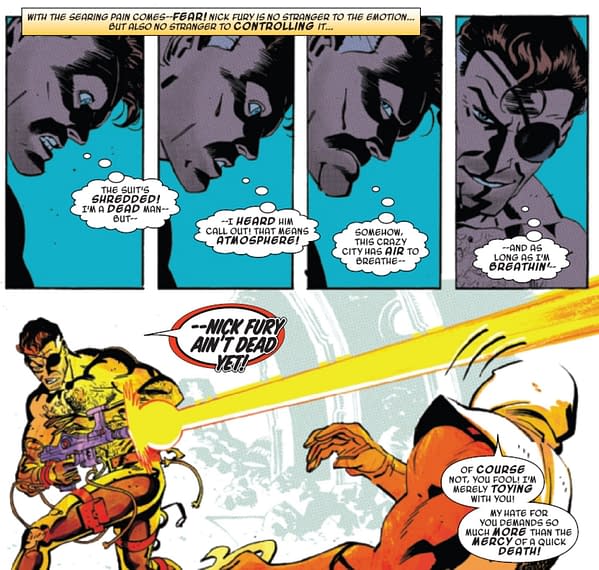 The Watcher foreshadowing his future dealings with Nick Fury that will see one replace the other in Original Sin to come. And losing his shirt, just like he always did in the sixties as well. Pure Jim Starlin.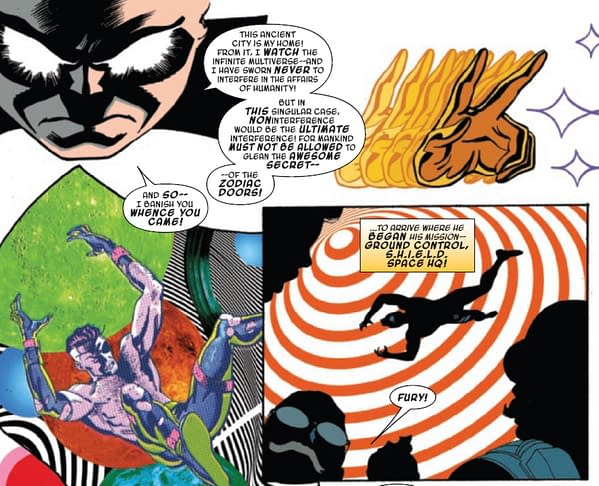 And heading back to his earliest days and the comic books that told and retold those stories too. This has more editorial footnotes than your average comic, and a Marvel Unlimited app to explore them all with if you wish. And hey, get a Kubert to draw a Kubert.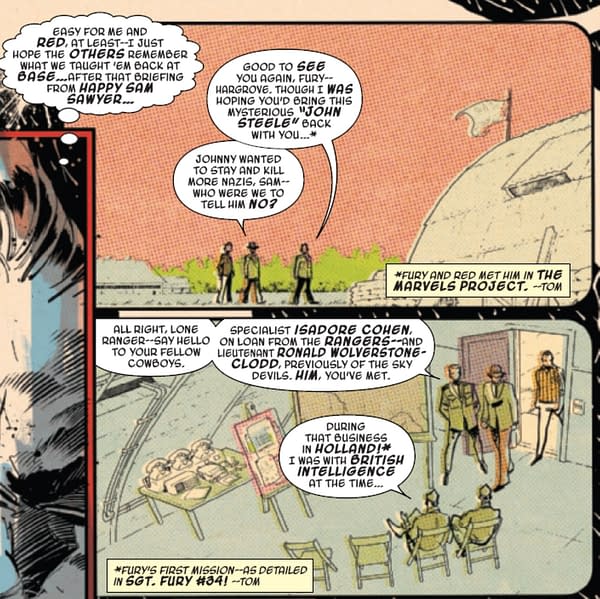 So while the Secret Invasion series is due to launch on Disney_ with Nick Fury in a leading role played by Samuel Jackson, this is a great excuse and opportunity to dive into everything that made Nick Fury the coolest comic book character long before Jackson put on the eyepatch. And an attempt to take all that the Nick Furies were and could be and focus that on what they will be in the future.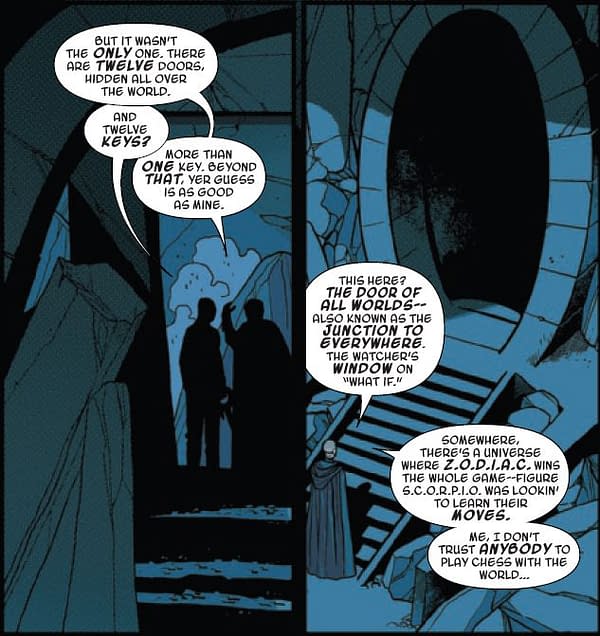 So we have a new SCORPIO doing a Mister Fantastic or Doctor Strange, by learning from the rest of the Multiverse. And Nick Fury, both of them, ready to fight them, wherever, whenever, whoever. This is all just a sliver from the comic. Pick up a copy, you won't regret it. And maybe, just maybe, Fantastic Four #7 from last week as well…
FURY #1
MARVEL COMICS
MAR230716
(W) Al Ewing (A) Ramon Rosanas, Scot Eaton (A/CA) Adam Kubert
WHO IS S.C.O.R.P.I.O.? A glamorous rogue agent with a deadly secret lures NICK FURY into the action-thriller of a lifetime…HIS FATHER'S! Following the trail opens NEVER-BEFORE-SEEN FURY FILES from the Howlin' '40s…the Swingin' '60s…and today! But it takes more than ONE Nick Fury to unlock a mystery decades in the making – and to answer the question…WHO IS S.C.O.R.P.I.O.? Rated T+In Shops: May 24, 2023 SRP: $5.99

FANTASTIC FOUR #7
MARVEL COMICS
MAR230838
(W) Ryan North (A) Iban Coello (CA) Alex Ross
COLOSSAL ISSUE #700!
FANTASTIC FOUR #7 is also FANTASTIC FOUR #700, which means we're ABSOLUTELY going huge. It's an over-sized spectacular as the Fantastic Four reach their new home – not knowing that a mysterious threat has made it there first! As their knowledge of LANGUAGE ITSELF begins to melt from their minds, the Four are in disarray as their existence hangs in the balance…
…and the greatest villain of all time finally seals their DOOM. Rated T+In Shops: May 17, 2023 SRP: $5.99
---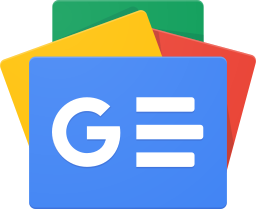 Stay up-to-date and support the site by following Bleeding Cool on Google News today!