Imagine coming to C2E2 when your first feature movie comes out in two weeks and for the first time you, Valiant, doesn't have a booth at the show. You do, however, have one panel at C2E2, a Bloodshot panel prior to the release of the movie in two weeks' time. Now keep in mind the panel has little to no connection to the movie other than the character. It has the current writer Tim Seeley reliving his first time reading Bloodshot comics. He said he remembers him as a cross between GI Joe and the Crow, a kind of military special ops character with a superhero flair.
Tim feels his favorite Bloodshot writer is Jeff Lemire and knew he planned to write it differently than Jeff. He was also excited to find out he is working with Brett Booth who has a classic 90's style and Tim says he gears the book to Brett's drawing style.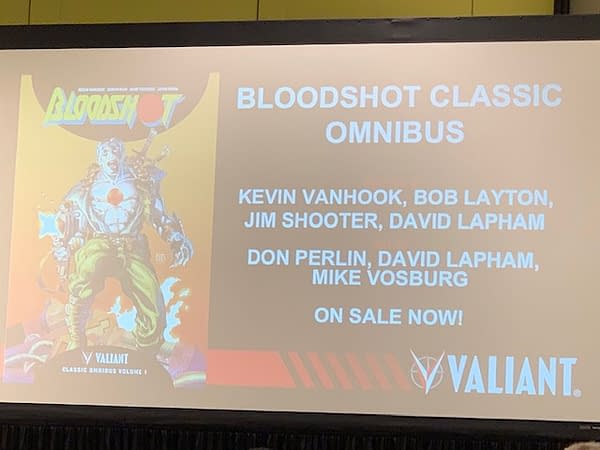 He suggests it's like a big dumb action movie but with a great story, thinks of Bloodshot as a modern-day working-class hero, and thinks of listening to Bruce Springsteen as he writes the book. A great chance to hear about the next Bloodshot series but again a bit shocking no Valiant booth, no real promotion for the movie. It seems like this would be a great chance to pump up a film that I personally look forward to seeing in the theatre open weekend.
However, they did have a great give away for all in attendance including Bloodshot Tshirts, movie posters and for locals, free tickets to the first screening at Navy Pier.
Enjoyed this article? Share it!