What Mister Fantastic Did That Was So Bad, Revealed (FF Spoilers)
Spoilers! More Spoilers! Marvel Spoilers! Fantastic Spoilers! Fantastic Four Spoilers! What did Marvel's first family do that was so bad anyway?
---
Ryan North, Iban Coello and Ivan Fiorelli have launched a new Fantastic Four series from Marvel Comics that began with the revelation that Mister Fantastic had done something very bad. That the Marvel's First Family had been run out of town and were pursuing their own individual adventures and storylines. There was also a notable absence of the children, no sign of Franklin and Valeria, or N'kalla and Jo-Venn.
Something has gone terribly wrong in New York! The Thing and Alicia are traveling across America to escape it! But when they stop for the night and wake up the morning before they arrived, they find themselves caught in a time loop that's been going on since before they were born! Meanwhile, Reed and Sue are on the run from their troubles – and make an unfortunate stop in a small town full of killer Doombots! But what is their terrible secret? And Johnny is left alone in New York – a city that hates and fears him! So it's time for a new identity – and a new job! Can the FF find their way back together and somehow rebuild their lives?
The Fantastic Four seemed to have done something very, very bad, destroying Reed Richards' fortune, destroying the Baxter Building in New York City and the neighbouring buildings, and leaving a molten crater…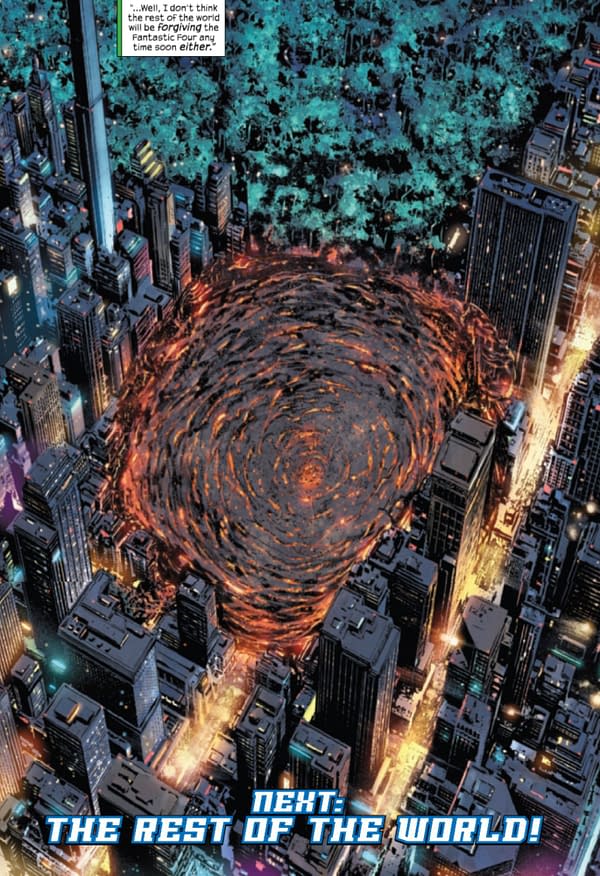 It looks like it cost Reed Richards more than just a building but his fortune as well. Though the kids are, apparently, safe.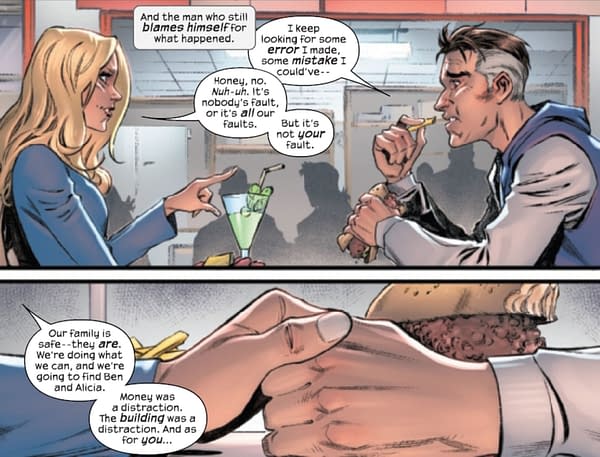 Even if the Human Torch was being rather hypocritical with Spider-Man.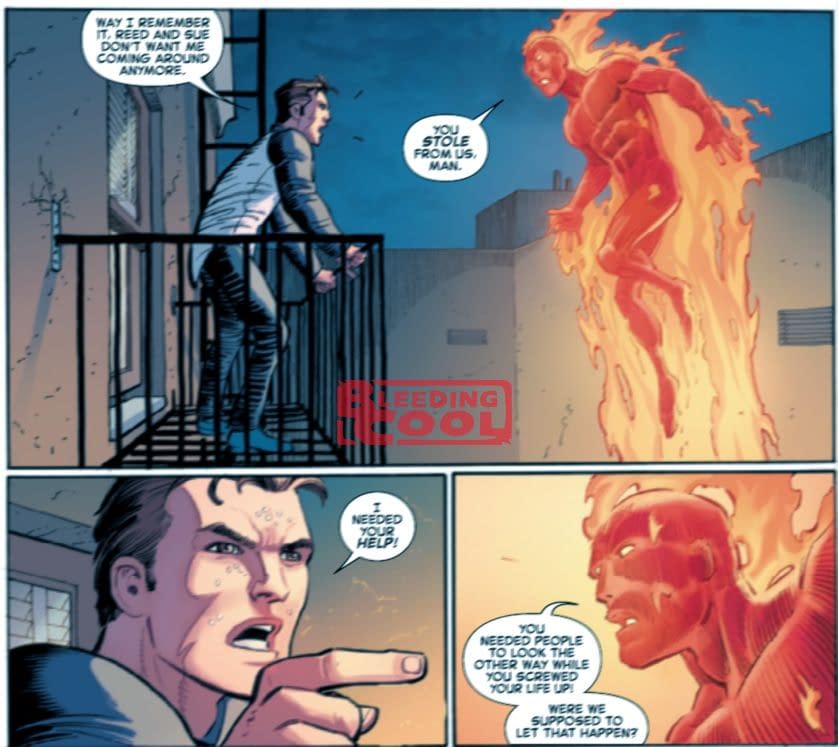 So what went down for the Fantastic Four? Well, big spoilers ahead.
But a listing for the second arc of Fantastic Four may reveal exactly what went down with Marvel's first family. Big spoilers obviously.
"When the Baxter Building was attacked by a horde of invaders from the Negative Zone, Mr. Fantastic was forced to take drastic action. He shunted the Baxter Building and the surrounding city block into a temporal pocket for protection. Everyone contained within will reappear, safe and sound–but in one year's time. Among the displaced are both the Thing and Alicia's children, as well as Franklin and Valeria Richards. Mr. Fantastic's decision caused a rift among the team and left them without a home. After a period of separation, the foursome has reunited and found forgiveness. Together once more, they hit the road, seeking new adventures."
Basically, Mister Fantastic has put the Baxter Building and its surrounding buildings on pause until they can deal with the issue. And not everyone is happy with that… let's see if this listing is correct in ten days' time.
FANTASTIC FOUR #4
MARVEL COMICS
NOV220955
(W) Ryan North (A) Iban Coello (CA) Alex Ross
"WHATEVER HAPPENED TO THE FANTASTIC FOUR?" No more four-shadowing: What REALLY happened back in New York is finally revealed! But it's still affecting matters here in the present, where Ben and Alicia's lives hang in the balance… and it'll take more than a reunion to save them. Plus: alien invaders from another galaxy! The four are finally back together… Hope they survive the experience! Rated T+In Shops: Feb 15, 2023 SRP: $3.99