John Romita is coming to MCM London Comic Con tomorrow. Marvel mainstay for decades, headhunted by DC Comics, and co-creator of Gray Area and Kick-Ass, I thought I'd ask what he was up to.
I knew he was working on Superman Year One for DC's Black Label with Brian Azzarello and Frank Miller, all three coming to MCM. He tells me that he's halfway through the 200 pages.
It's not his only gig, he's also a third of a way through his long-anticipated creator-owned project with Howard Chaykin, titled Shmuggy and Bimbo, based on two "guys" who grew up with his parents in Brooklyn in the 40s, brought forward into the grimy NYC 70s.
Yesterday, he was speaking to a director, to get his graphic novel Gray Area developed as a movie – he already has the investors. 'From the co-creator of Kick-Ass' can go a long way,
And he has also written a screenplay titled Mabel, which he will co-direct with his friend Paul Power. A short film, it will be used as a teaser for the later feature film. Self-financed, and entered into festivals, filming on Mabel is to begin in two months.
Oh and three other projects he has written treatments for, waiting for other people.
I'm surprised he even has time to come to London…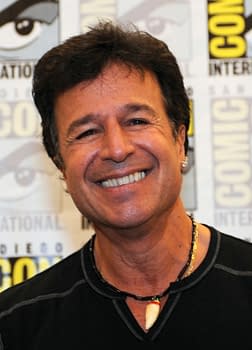 Enjoyed this article? Share it!