Following up on our report about the lack of Ironheart in Marvel's December solicitations, a possibly final solicitation for Invaders, and a definitely final solicit for Future Foundation, it's come to our attention that no new issue of Loki is solicited in December either. Instead, we get a trade paperback collecting the first five issues of the series by Daniel Kibblesmith and Oscar Bazaldua.
LOKI TPB
Written by DANIEL KIBBLESMITH
Penciled by OSCAR BAZALDUA
Cover by OZGUR YILDIRIM
Loki is…Earth's Mightiest Hero?! After dying a grisly death in WAR OF THE REALMS, the reborn Trickster learned a valuable lesson in warmongering: Don't get caught. But now Loki has a whole new set of responsibilities — and his brother Thor isn't about to let him walk away from them. Restless with his new duties, Loki seeks out the advice of the closest thing Midgard has to a king — Tony Stark, the invincible Iron Man! Close enough, right? But it turns out that Shellhead isn't too happy to see Loki on account of all that stuff he did in the past. Now the God of Mischief/Stories/Evil/Chaos has to outsmart the cleverest man on Earth — or die (again) trying. Meanwhile, could Thor be hatching a mischievous plot of his own? Collecting LOKI (2019) #1-5 and material from WAR OF THE REALMS: OMEGA.
128 PGS./Rated T+ …$17.99
ISBN: 978-1-302-92031-9
Loki spun out of War of the Realms, with Loki taking on the leadership of Jotunheim as his brother Thor became All-Father of Asgard. But with King Thor wrapping up Jason Aaron's run on the God of Thunder, Marvel will look to launch a new Thor status quo with an exciting new creative team in 2020. Is Donny Cates busy? And so Loki, perhaps was never meant to last… even if Marvel never gave any indication it wasn't an ongoing series. Not that they ever do.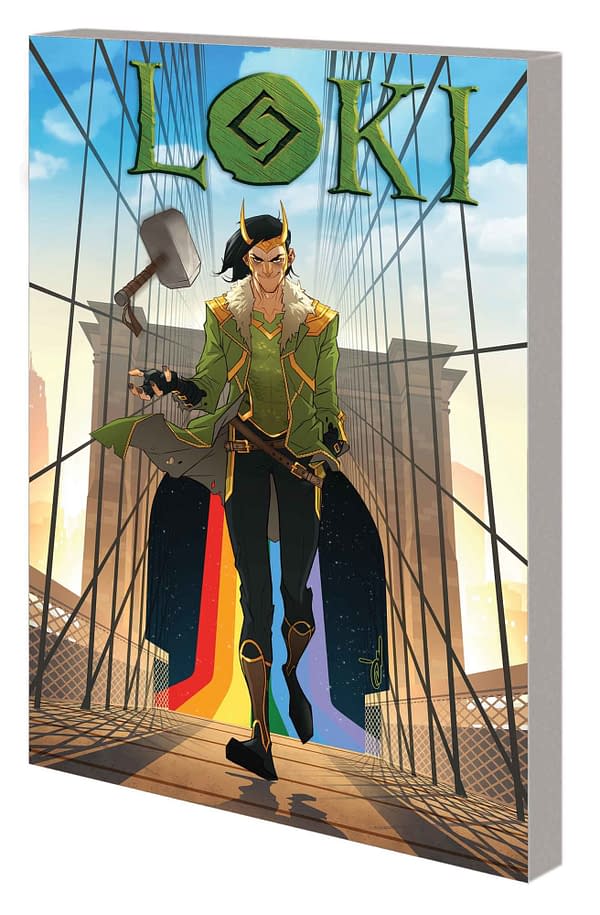 Enjoyed this article? Share it!