How Will The Incident In Phoenix Affect Comic Cons Going Forward?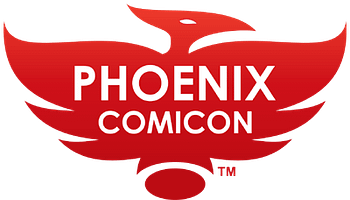 I waited a few days to let my thoughts on the topic gel completely. Last weekend I was at the Phoenix Comic Con as I have been for most of the last decade. I've watched the show grow from a 2-day event in Tempe that gave me a table because they didn't have pro-badges to a monolith that takes over the downtown Phoenix area. I honestly believe that Matt Solberg, Joe Boudrie and the rest of the staff genuinely want to put on the best comic convention they can and I think they do a remarkable job.
This past weekend a nightmare scenario happened. A disturbed individual brought real weapons and live ammunition to the convention with the purpose of harming police officers and a celebrity guest. If it wasn't for a phone tip to the Phoenix Police and the quick action on the part of the officers on the scene, things could've become tragic. Though unverified, it is my understanding from talking to sources involved, that a split-second decision was made to use non-lethal force to apprehend the suspect, even though it increased the danger to the officers involved, rather than firing on the suspect and creating a panic situation in a convention center full of attendees.
We all want to live in a world where incidents like this, or the bombing in Manchester or the stabbing in Portland don't exist. But they do. And none of us want to have our personal freedom and desires curtailed in response to these actions whether as a result of them or in the prevention of further incidents. But when you are responsible for creating a safe environment for tens of thousands of people, can you be blamed for landing on the side of over caution?
After the incident on Thursday the PCC staff and the PPD had to quickly implement new security procedures and get the word out before the close of that same day so as many attendees, guest and vendors would be aware of the changes for the next morning. It was a Herculean task and it upset a lot of people who were personally affected by these changes. Cosplayers who spent weeks and months on props were no longer allowed to bring them in. Vendors who sold weapons were instructed to wrap the items upon sale. Entrances were choked down to one main area with three controlled points of access. Attendees were made to go through metal wands and bag checks before entering.
The results of this was the mood of the convention changed. Folks were upset about how they were being personally affected by these changes. Some attendees had to wait an hour to an hour and a half to get in the door on Friday morning. Panels that started at 10:30 am were virtual ghost towns and sales dipped accordingly from what other vendors were saying. It was not what anybody wanted.
By Saturday though, the wait time was 10 to 15 minutes to get in. But the mood of the show never quite got back to what it should've been. There was a negativity in the air and an unfair amount of it was pointed at the convention staff. There is a famous quote from Ben Franklin, "Those who would give up essential Liberty, to purchase a little temporary Safety, deserve neither Liberty nor Safety." And I could see it being used against the security measures that were put into place as a result of the Thursday incident. But I wouldn't agree with its use in this case.
The Phoenix Comic Con and the Phoenix Police reacted to a situation in a swift and decisive way to ensure the safety of all of the vendors, guests and attendees during the convention. Their decisions were made to affect everyone. All bags were checked, everyone got wanded and all props were banned. They fell on the side of caution and by the time the show comes around next year I imagine they will have better answers to dealing with this type of scenario.
This is not the first time a violent situation has occurred at a convention, but we as a community have been lucky up until this point. The incident in Phoenix will have convention promoters across the country starting to review their own security procedures. Imagine if wands and bag checks become a regular thing at the San Diego Comic Con. This is the true fall out of what happened last weekend… how conventions will change going forward or what will happen if they don't. I don't pretend to know the answers. I want people to go to conventions and have fun, be free to express themselves and buy lots of stuff. But I also want people to be safe and I want to be safe. The fact that we don't have the answers yet tells us that we have to keep asking the questions.