Wonder Woman, First Superhero of the DC Universe- Breaking Down the First 25 Years of the New DC Timeline (UPDATE)
Bleeding Cool put up the new DC Universe Timeline shown off at the DC Nation panel at New York Comic Con earlier today. It caused quite a fuss. Especially at DC Comics who didn't realise this might happen quite so fast, I'm told. Anyway.

And we got a closer look at each of the Generations. Such as Generation 1, representing the first twenty-five years.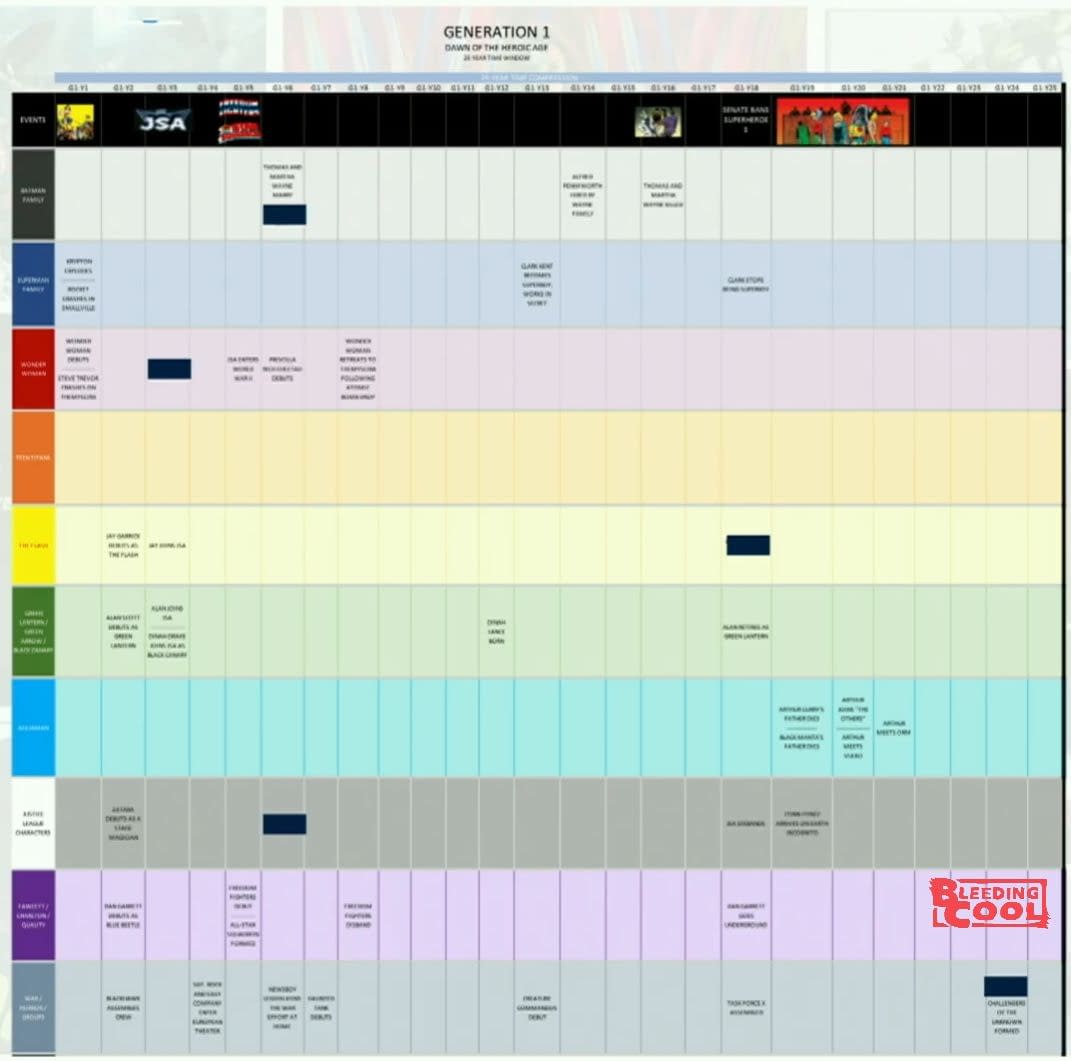 Now we had to do a lot of squinting. But we have Wonder Woman as the DC Universe's first superhero, emerging at the same time Krypton explodes and Superman is sent to Earth, crashing in Smallville. It's is notable that this now happens before World War II. DC Comics has lost the five-year timeline, the ten-year timeline, the fifteen-year timeline and we now go back eighty years. We see the forming of the likes of the JSA, the Freedom Fighters, the All-Star Squadron but, Watchmen style, the government bans superheroes in the mid-fifties. Superman is a lot older, working as a superhero, while Bruce still had both parents….
This is what we have so far for Generation 1. Feel free to help fill in some of our 'xxx' spots and tell us what we got wrong. An update will no doubt follow. UPDATE – the morning made a few things clearer.
Generation 1: Dawn of The Heroic Age – 25 Year Time Window
Year 1 Krypton explodes. Rocket crashes in Smallville. Wonder Woman debuts, Steve Trevor crashes on Themescyria
Year 2 Jay Garrick debuts as The Flash. Alan Scott debuts as the Green Lantern. Zatara debuts as a stage magician. Dan Garrett debuts as Blue Beetle. Blackhawk assembles Crew.
Year 3 JSA. Wonder Woman [Redacted] Jay joins JSA. Alan joins JSA. Dinah Drake debuts as Black Canary
Year 4 Sgt Rock & the Easy Company enter European theater
Year 5 JSA Enters World War II. Freedom Fighters debut. All-Star Squadron formed.
Year 6 Thomas and Martha Wayne xxx [Redacted]. xxx debuts. Justice League [Redacted] Newsboy Legion supports the war effort at home.
Year 7 xxx debuts
Year 8 Wonder Woman retreats to Themysicira following atomic bomb drop. Freedom Fighters disband.
Year 9-11 Blank
Year 12 Dinah Lance born.
Year 13 Clark Kent becomes Superboy, works in secret. Creature Commandoes debut
Year 14 Alfred Pennyworth hired by Wayne Family.
Year 15 Blank
Year 16 Thomas and Martha Wayne death.
Year 18 Senate bans superheroes. Clark stops being Superman. The Flash [Redacted]. Alan retires as Green Lantern. JSA disbands. Dan Garrett goes underground. Task Force X assembled
Year 19 Arthur Curry's father dies. Black Manta's father dies. J'onn J'onnz arrives on Earth.
Year 20 Arthur meets 'The Others' Arthur meets Vulko.
Year 21 Arthur meets Orm.
Year 22-23 Blank
Year 24 [Redacted] Challengers Of The Unknown formed,
Year 25 Blank