Writer's Commentary: Amy Chu Talks Green Hornet #4
Dynamite has sent us a writer's commentary by Amy Chu for Green Hornet #4. It has covers by Mike McKone and Mike Choi and interiors by German Erramouspe.
* * * * *
I'm late again. This time blame it on the librarians and the craziness of New Orleans. Many of you have probably been to the Big Easy at one point in your life, but probably not too many have been to the annual American Library Association conference. Let me clue you in on a secret: just about everyone who is anyone in publishing was there. Why? 30,000 librarians with the power to buy millions of dollars worth of graphic novels is why.
But wait, you say libraries are dead? I've had more than one fan tell me they borrowed Poison Ivy Cycle of Life and Death from the library, and liked it so much they purchased their own copy. Libraries are very much alive and kicking. And that is why just about every respectable publisher is there throwing free books and swag at you. And here's another secret: librarians are some of the hardest partiers out there. Go figure. I think New Orleans is still recovering.
So on to this current issue of the Green Hornet, which is my favorite issue. In fact, it's the issue I've been waiting all my life to write: the Hornet goes to Hong Kong!
This time Clutch, Mulan's cousin, narrates this issue. This is the first time I've switched narrators like this in every issue so I'm curious to see how this all comes together when it becomes a trade.
PAGE 1:
So welcome to Hong Kong, Kowloon to be exact. German really outdid himself this time with this splash page! Props to Brittanny Pelizzo the colorist and badass jiu jitsu practitioner for taking care of the complicated signage on this page. This is an important page because we cover a lot of territory here, including providing some explanation of the convoluted Kato family tree.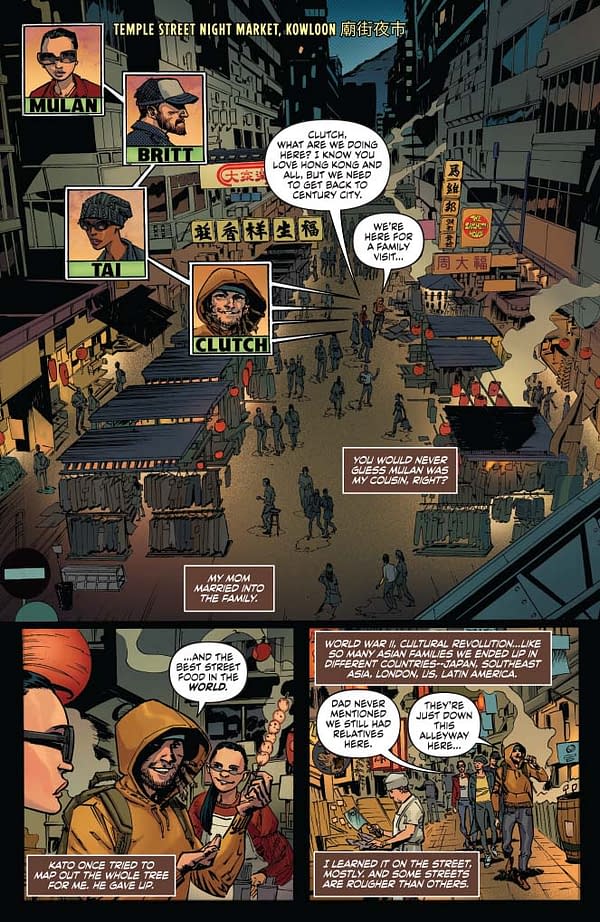 PAGE 2:
I used a lot of actual Chinese language here because, why not? I hate it when dialogue is bracketed like this <speaking in Chinese>. Purists will notice I used the traditional Chinese characters used in Hong Kong and not the simplified mainland Chinese… I know… TMI for most of you.
Fans of martial arts movies and goofy Hong Kong comedies might recognize this tribute to Landlady in Kung Fu Hustle. I once saw this cosplay at a convention I can't remember where and it was HILARIOUS.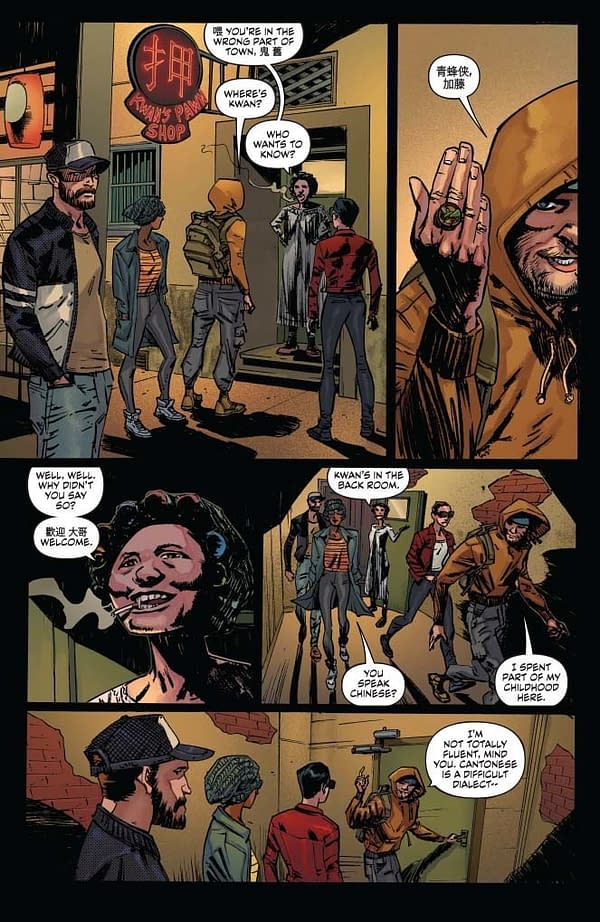 PAGE 3:
So here's a little story, if you volunteer to help me out at my convention table one day you may just end up as a gangster in one of my comics. Shout out to Mike's friend, Brother Kwan, for being a good sport.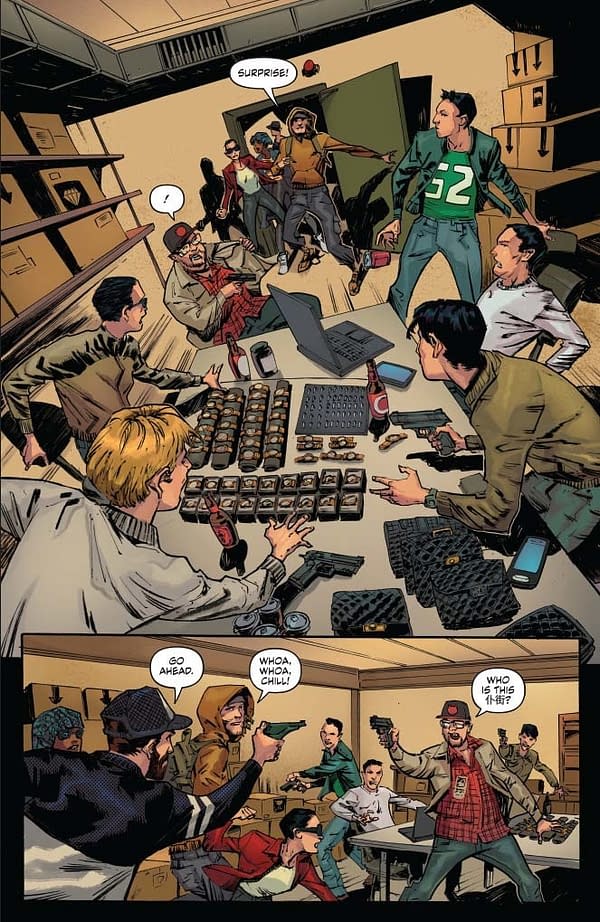 PAGE 4:
What can I say? I went through a period of my life where I watched a lot of John Woo movies. I actually thought about putting some doves in this scene but of course it didn't make any sense whatsoever.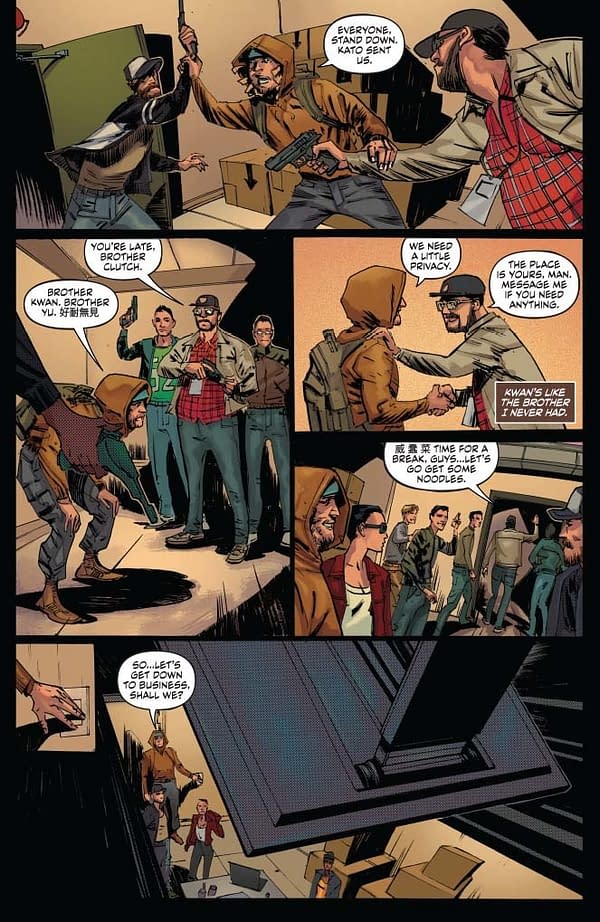 PAGE 5:
I also watched a lot of Mission: Impossible, both old and new…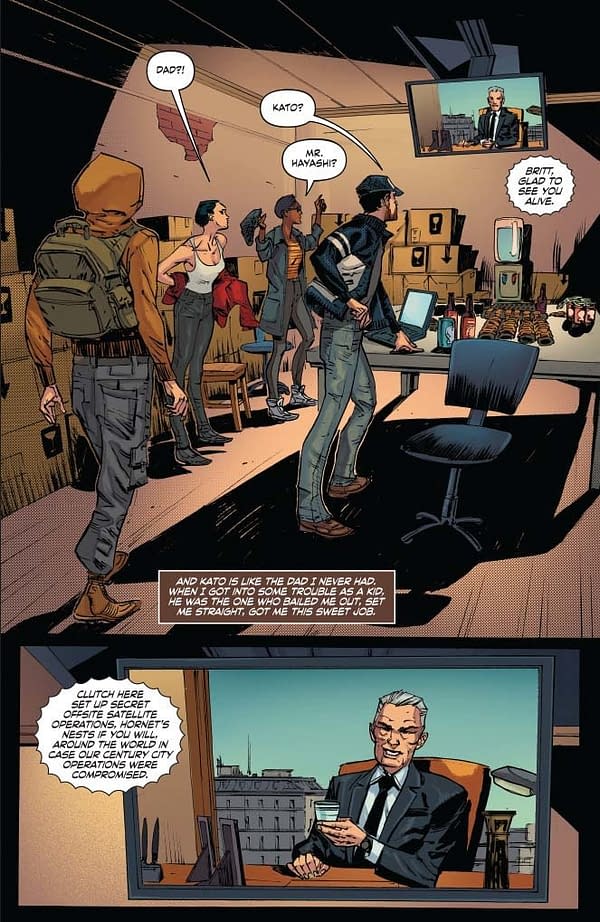 PAGE 6:
The ICAC is a real agency, and they feature prominently in any Hong Kong crime drama.
PAGE 7:
As a writer sometimes you have to do a little research before you make up names or use existing ones. No one wants a cease and desist letter or lawsuit! Fortunately, despite sounding incredibly legit, the National Bank of China actually folded over a hundred years ago but the name is cool. The building there is a well-known building in Hong Kong. I once attended a swanky party at the very top of the building and always wanted to set a story there.
PAGE 8:
Hornet's Nest, Hong Kong edition. With astronomical rents, everything in Hong Kong is a little smaller of course…
PAGE 9:
Sorry, had to throw a little coffee joke in there somewhere…!
PAGE 10:
Now it's time to update the Green Hornet regalia. Graphene is a real revolutionary material. If you read my other series SUMMIT from Lion Forge you may recognize it from there. I won't hesitate to reuse a good thing when I see it…
PAGE 11:
Tada! Green Hornet and Kato makeover! I like it! A definite improvement!
PAGE 12:
TV variety shows in Asia are extremely popular, so what better vehicle for the Oko to announce his intentions?
PAGE 13:
One of the difficult things to convey in a comic is the sheer height of the mega cities in Asia. Fortunately there's been more than a few movie blockbusters with scenes set in Hong Kong so hopefully you get a feel.
PAGE 14:
This is the heist part of the story…
PAGE 15:
Mulan and Britt have gone through some seriously convoluted relationships in the previous continuity.
PAGE 16:
I think I've said this before, but German really came up with the look of just about everything, including these Ninja-like Espada.
PAGE 17:
The original actress for the Landlady part is 70 years old now. Do you remember the two schoolgirls who protect James Bond in the Man with the Golden Gun? She was one of them.
PAGE 18:
Goodbye, Clutch. I'm sorry I thought you were a stupid character…
PAGE 19:
Astute readers will recognize some of the places…
PAGE 20:
Public enemies #1 (and #2….)
Stay tuned for the final chapter in this mini-series where ALL will be revealed!
Thanks to the fans who gave this a chance. German and I wanted to bring the grit back into Green Hornet and I enjoyed all the positive feedback so far.
Now if you missed the previous issues, please pester your local comic book store because it might be some time before this ends up in trade paperback form, just saying…