Dynamite has sent us a writer's commentary by Erik Burnham for Red Sonja #16 that he co-wrote with Amy Chu. The book has interiors by Carlos Gomez and covers by Mike McKone, Tom Mandrake and Art Thibert.
Heya, folks — Erik Burnham here with you again for another RED SONJA commentary.
I almost feel like this needs a terrible, punny, late-70s/early 80s lettercol title. S-Words? Let's go with S-Words. I wouldn't be surprised if that one had actually been used, but the internet isn't helping me confirm or deny so until further notice, I'm pretending it's divine inspiration.
S-WORDS!
Some great covers on issue #16 — Mike McKone, Tom Mandrake & Sian Mandrake, Art Thibert, a bit of cosplay, and of course, one by series artist Carlos Gomez.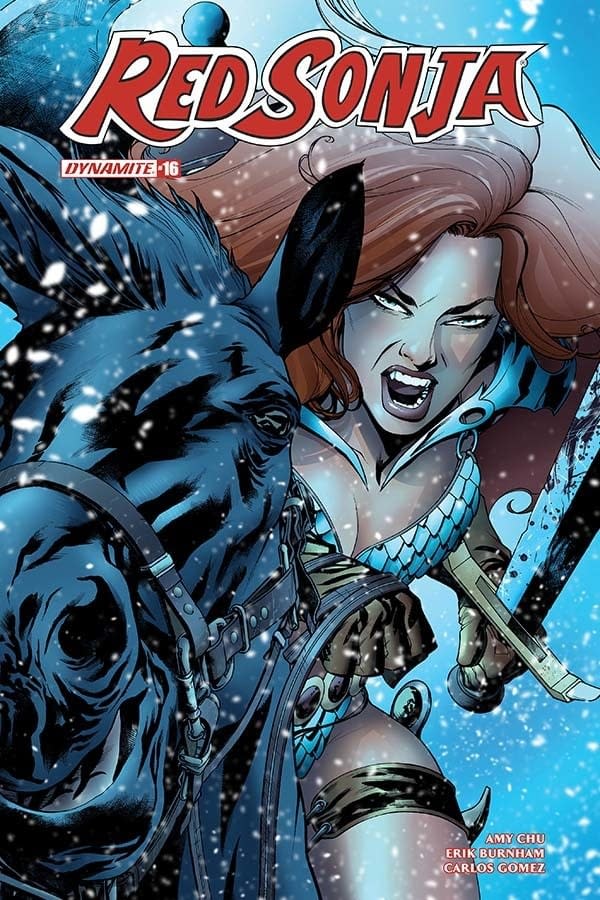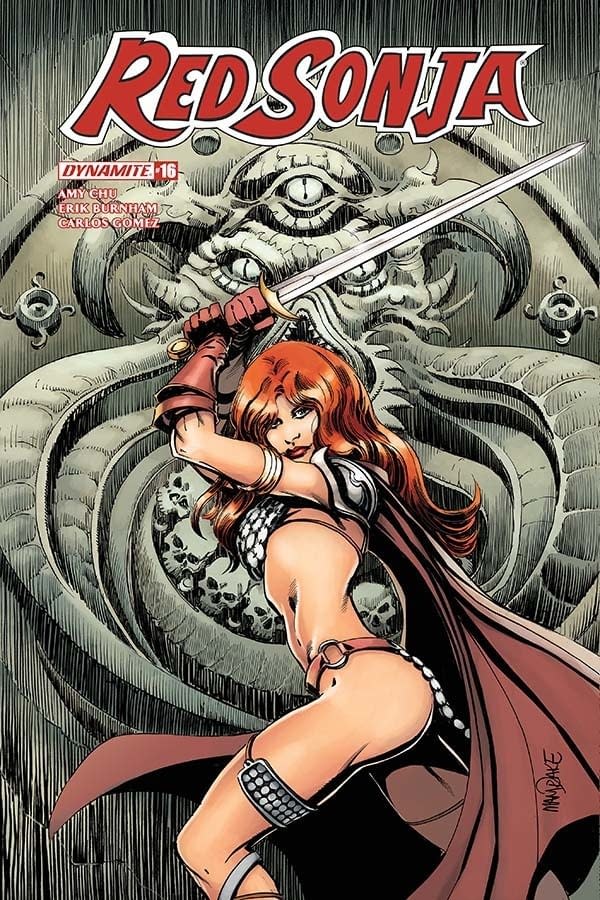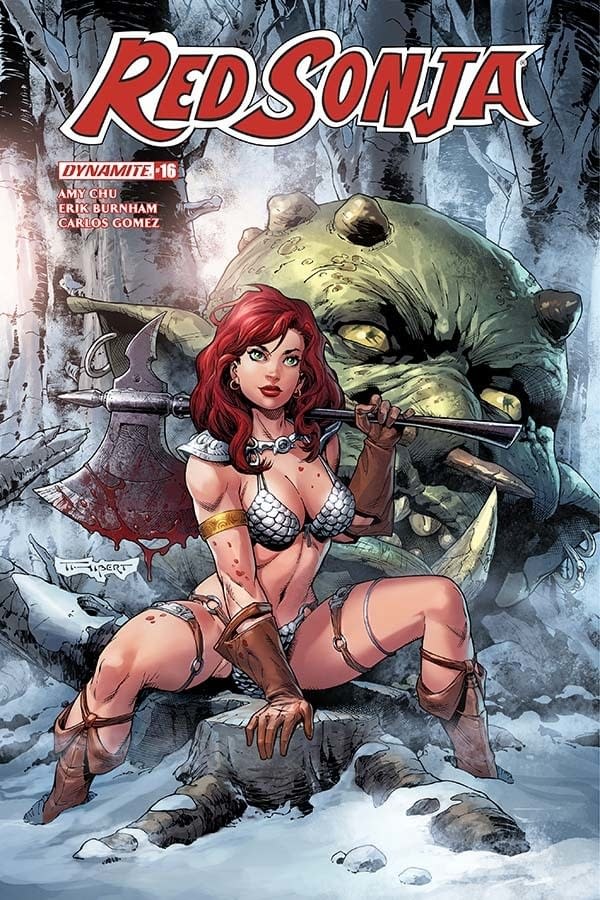 Rest of the credits, because they're important!
My senior co-writer Amy Chu, who built the foundation, colorist Mohan, who makes Carlos' line art extra pretty, and letters by ol' Simon Bowland, who makes sure all me and Amy's wit hits page properly.
Thanks to the editorial team of Joseph Rybandt, Luke Lieberman, and Anthony Marques for keeping the cats herded…. and now, away to Hyboria!
PAGE 01
O! M! G! Kulan Gath, the evil wizard, has just put a sorcerous whammy on Professor Wallace, killing him. He did this last issue because Max, our time-lost Meruvian mage, couldn't make the choice of killing Sonja and Wallace vs the entirety of the Meruvian population.
We… probably could have got a Wrath of Khan quote in there, but I was strong on that. I was very strong. I held firm. No Spock here.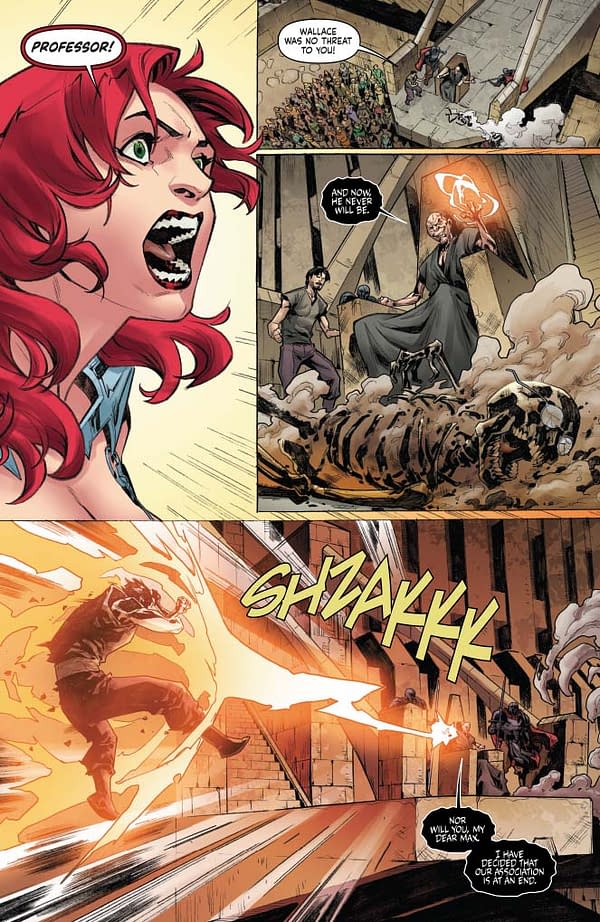 PAGE 02
Well, Kulan Gath is gonna kill everybody.
He's a jerk like that.
But what's this, in panel 3? An voice from beyond?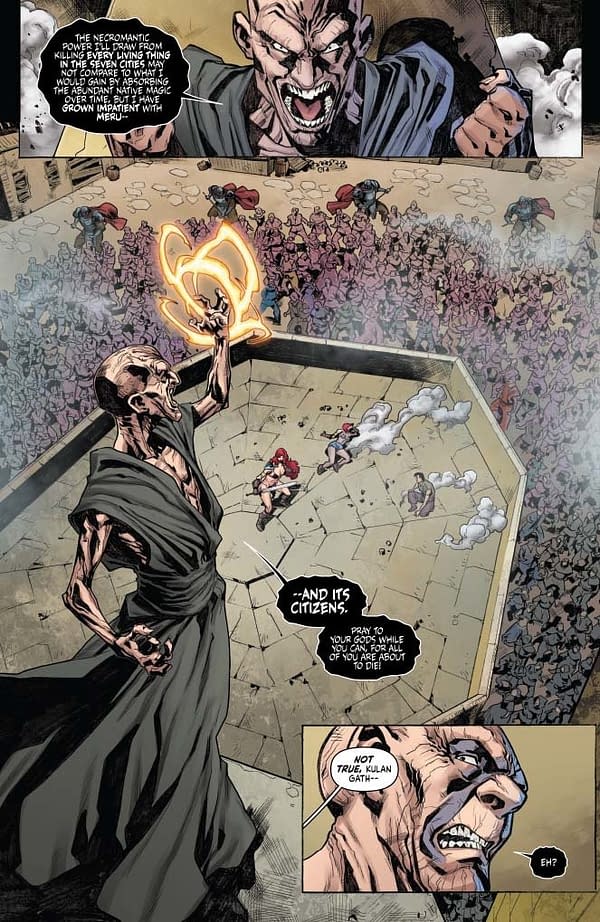 PAGES 03-04
HOLY BUCKETS! WALLACE LIVES! We didn't conveniently forget about the fact that he could create magical duplicates of himself. We keep notes to prevent such a thing. (Actually, Amy just remembers off the top of her head.)
Anyhoo, Wallace knows Meru has a foretold prophecy of doom, and its name ain't Kulan Gath.
So put that in your pipe and smoke in, Mr. Evil Wizard.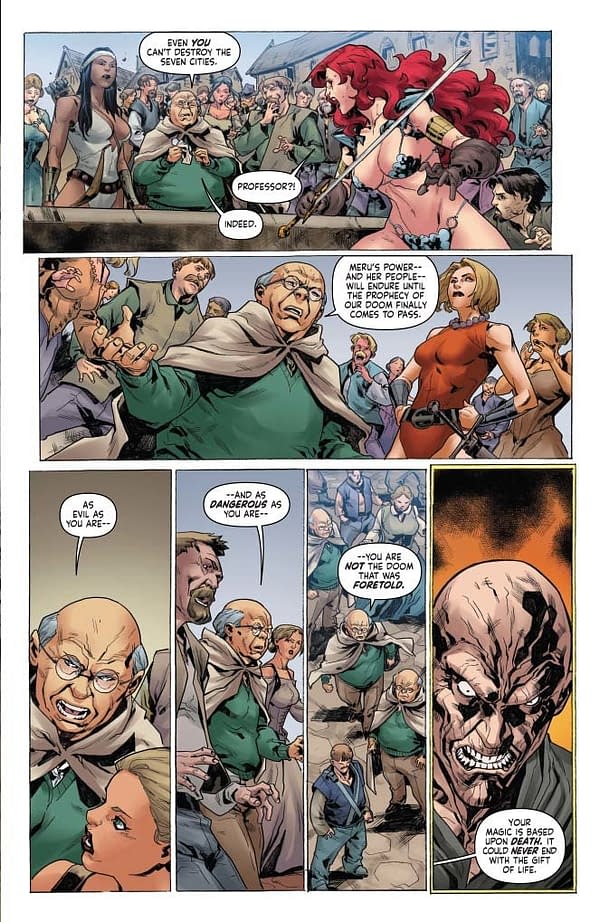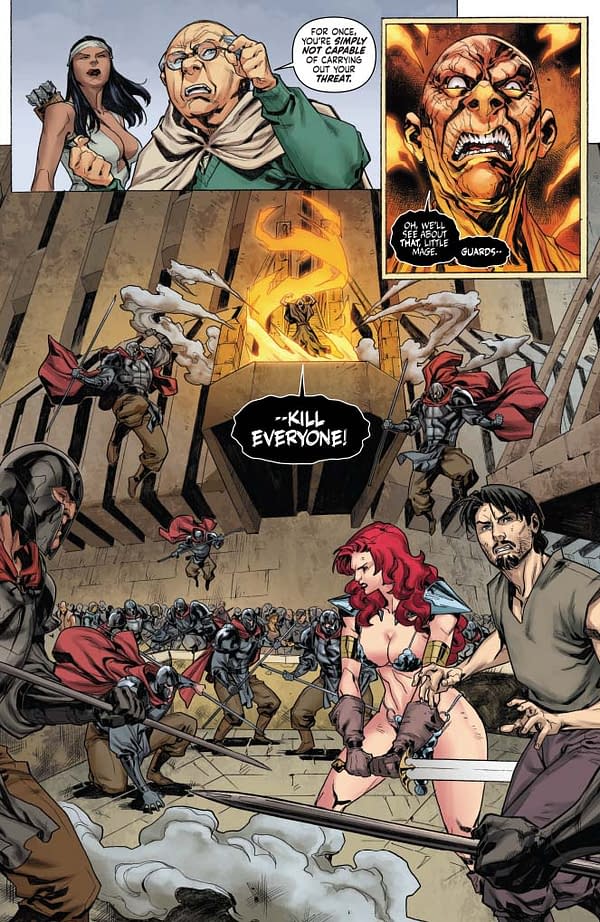 PAGE 05
Sonja! Fighting guards!
… Is it just me, or can anyone else imagine the 60's Batman fight music — complete with SFX blasts — while reading this page?
Just me?
Moving on, then.
… To three more pages of fighting and Sonja throwing a little shade at Max for HELPING THE ENEMY OF ALL THAT LIVES LIKE A TOOL.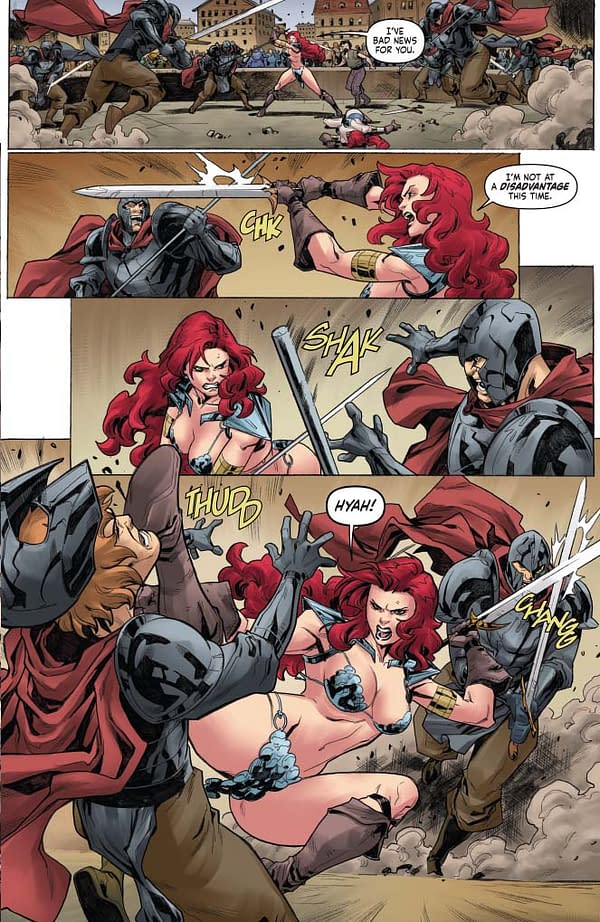 PAGE 08
The odds are stacked high when, suddenly, a fire from the heavens! It must certainly be a satellite from the future locked in geosynchronous orbit and blasting evil from the – wait, no, I'm thinking of another book.
PAGE 09
THIS IS A BIG OL' FIREBREATHING MONSTER (and its mate)!
You've seen this beast before. Many times before. Amy opened the series with it, for Pete's sake. But this time, it's on the side of the angels, as dated pop culture would say.
PAGE 10
Insert "Wilhelm Scream" here.
PAGE 11
Oh right, Kulan Gath is still there! And he has glowy magic hands and thinks he's way above a giant fire-breathing monster in the order of things.
That's called hubris, Gath, ol' buddy.
And that's why Kulan Gath gets incinerated.
Fwoosh.
PAGE 12
Is Wallace telling the truth to those soldiers? Do Gath's spells wear off with his death?
Maybe. Or maybe he was telling them that. They can't be the sharpest tools in the shed… and there's no sense fighting more when you can end things in less than 35 words.
Yaaaay, Professor!
PAGE 13
I like seeing Sonja ride flying monsters.
I think it should be her thing.
PAGES 14-16
Look! The Wonder Wheel! Max uses it to lock onto home and then discovers the truth from Wallace.
If he goes back to modern day New York City, he'll forfeit his magic.
He needs to make a choice now.
Though, to be fair, air conditioning is a lot LIKE magic, Max…
He knows where he belongs. He's not a sword and sorcery kinda dude.
PAGES 17-19
Meru is rebuilt! Everyone reflects over a beverage over what other times may or may not have offered!
And hey, Kulan Gath is finally dead again after 16 issues and change!
Sweet result!
PAGE 20
An epilogue… Kulan Gath's amulet is under guard…
Well, it was…
Next month Amy and I return with Red Sonja and Daniel HDR… but no Kulan Gath. Pinky swear!
Thanks for reading!
Enjoyed this article? Share it!