Marc Guggenheim writes a commentary on Swashbucklers: The Saga Continues #4 from Dynamite. Any other writers or artists who wish to do similar should get in touch!
PAGE ONE: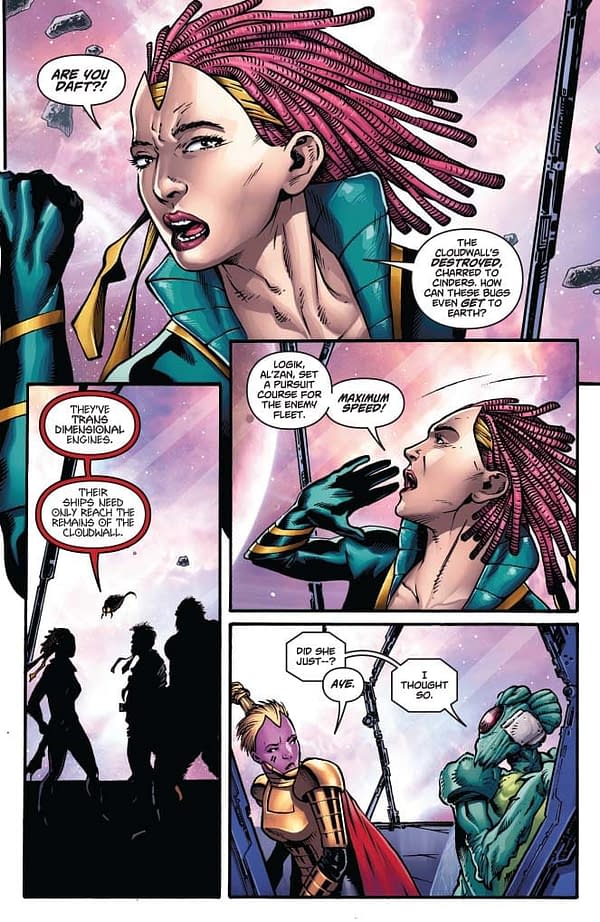 I continue to really love the look colorist Chris Sotomayor came up with for the decimated Cloudwall.
PAGE TWO: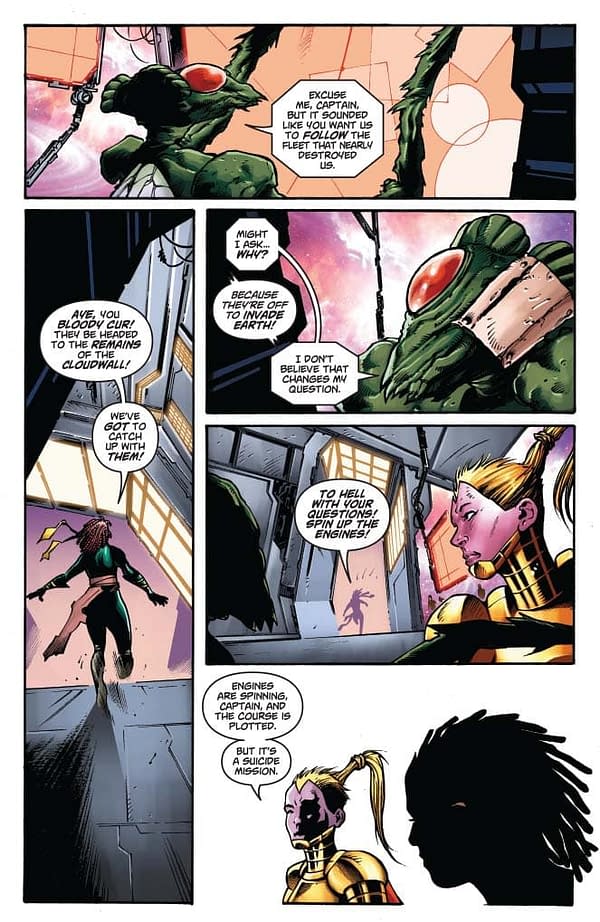 Logik is so much fun to write. Particularly because he's such an unrepentant, selfish dick. (No "write what you know" jokes, please.)
PAGE THREE: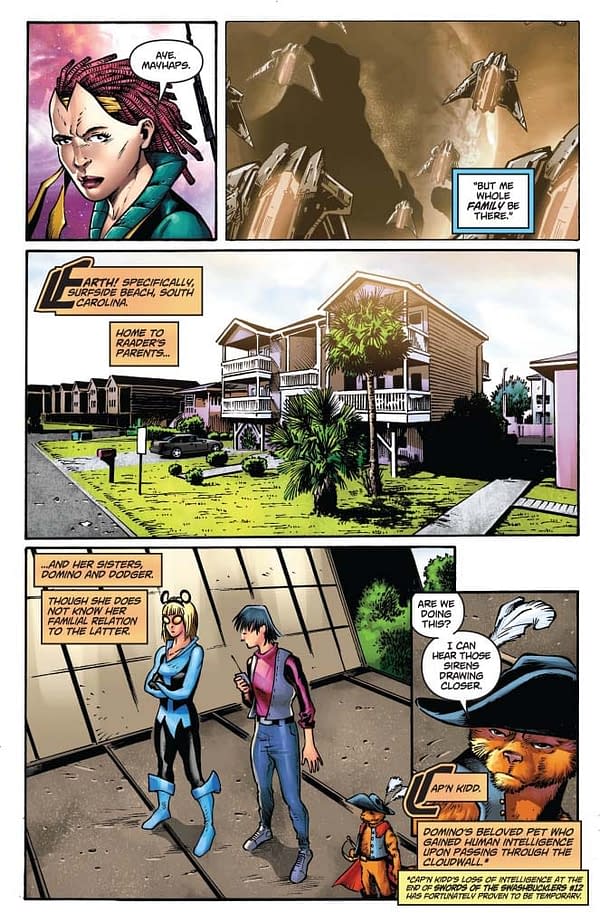 This sequence was originally colored to be nighttime, but I felt that the rest of the issue — as well as the next issue — would play better in daylight. Chris very graciously re-colored all these pages. I'm indebted to him.
PAGE SIX:
Panel 2 is probably my most favorite of the entire series. And one of my most favorite in my entire career.
PAGE SEVEN:
We really need a Cap'n Kidd spinoff comic. Just sayin'.
PAGE EIGHT:
I regret the exclamation point after "Meep" in Panel 2. I think it plays funnier without it. Please delete it from your minds. Thank you.
PAGE NINE:
In Panel 2, the cop says that Domino is dressed like an aerobics instructor. The original line had something to do with cosplaying, but then I remembered that the series takes place in the late 1980s (because it's virtually a direct pickup from the conclusion of the original series) and while there was cosplaying back then, the term was not in vogue. So I wondered what the cop would think when he saw so much spandex and — this being the late 1980s — thought "aerobics instructor."
PAGE ELEVEN:
Some fun lingo on this page. I decided it made sense to call the ship's sensors "weather eyes" as in "keep a weather eye on the horizon." The exchange between Raader and Logik in Panel 3 is fun. And "Shut your sink hole, ya midge" was a joy to write.
PAGE TWELVE:
Omniscient narration captions have fallen out of vogue in modern comic writing, but I chose to utilize all the conventions Bill Mantlo established when writing the original series. I have to say, they make life a lot easier. You can pass a lot of story through a single panel by utilizing omniscient narration.
PAGE THIRTEEN:
Some more gorgeous colors by Chris. Look at the texture of the walls. So cool and specific.
PAGE FIFTEEN:
Andrea did a beautiful job with the action in this issue. I don't know if it was intentional — I should ask him — but his lines became a lot looser and rougher once the Swashbucklers engage the Sidari in combat. It made for some very visceral and kinetic images.
PAGE SIXTEEN:
"Raader want Servitor to squash?" I love my job.
PAGE NINETEEN:
"What's a Carolina?"
Also, note the narration captions. Just as in the original series, the style of those captions changes slightly depending upon locale. When we're on the Swashbuckler side of the Cloudwall, the captions are rougher, like parchment. But once we get to Earth, the lettering is more streamlined and futuristic. I love the attention to detail Bill and company gave the original series.
PAGE TWENTY-ONE:
Andrea uses 3D computer models for the fighter jets here. He "pastes" them in at the penciling stage, then inks them by hand so that they mesh well with the rest of the artwork.
PAGE TWENTY-TWO:
That's called "going out with a bang."
Enjoyed this article? Share it!