How The X-Men Will First Crossover Into Secret Empire With X-Men: Gold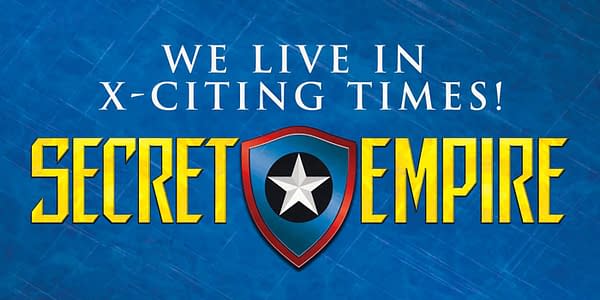 Marvel promised that the X-Men wouldn't be left out of the Secret Empire crossover. And Amazon lets us know a little of how X-Men: Gold will be getting involved.
X-Men: Gold Vol. 2 Paperback – November 28th $17.99

What does the Secret Empire event have in store for the X-Men? Find out what the new landscape of the Marvel Universe looks like for Kitty, Storm, Colossus, Nightcrawler, Rachel Grey and Old Man Logan. Will they be able to survive in a world dominated by Hydra?

COLLECTING: X-MEN: GOLD 7-12
No mention of Magneto yet.
And it looks like the Captain America: Steve Rogers and Sam Wilson titles are going to grow together closer in terms of continuity, collected together as one story for their respective Secret Empire tie-in issues.
Captain America: Steve Rogers/Sam Wilson Paperback – October 3rd $17.99

In Cap we trust! But as Steve Rogers ushers in the Secret Empire, what will this new order mean for Sam Wilson? Find out, as a crucial mission brings Sam back out from the shadows – and into the skies once more!

COLLECTING: CAPTAIN AMERICA: STEVE ROGERS 17-19, CAPTAIN AMERICA: SAM WILSON 22-24
As for Secret Empire itself – look for a $50 hardcover in November, collecting ten-and-a-half issues of the series.
2017's most startling and unexpected comic book event! Captain America, Sentinel of Liberty, has been living a lie! The world's greatest hero is secretly a true believer in the cause of Hydra, brought up since childhood to pursue their mission of progress through authority and unity through adversity! Using the trust and respect he is accorded by the great powers of the Marvel Universe, Steve Rogers has worked his way into a position where he can make Hydra's ideals a reality -and change the landscape of the world dramatically! Now, all the dominos of Steve's plan have been laid out – and it will take only the slightest push to set them into action! Hail Hydra!

COLLECTING: SECRET EMPIRE 0-9, FREE COMIC BOOK DAY 2017 DEFENDERS (SECRET EMPIRE STORY) 1
So, yes, it will be cheaper to buy the individual issues…