Emilie Badaboom reports from Wondercon with photos from Mathew Quitney. The dream team!
Valiant has a history of richly developed storytelling meshed with beautifully detailed artwork, and after reappearing on the comic scene in 2012 they've kept the juggernaut rolling. This Wondercon brought the appearance of a brightly yellow Golden Apple exclusive variant cover of X-O Manowar #1 with art by Eisner award-winning artist Bill Sienkiewicz. The printing was limited to a mere 500, so don't hesitate to when you see them! Branching out from their classic characters best known and loved in the 90s, recent additions such as the new Divinity by Matt Kindt and the much-loved character off-shoot of Faith are throughout the booth as well.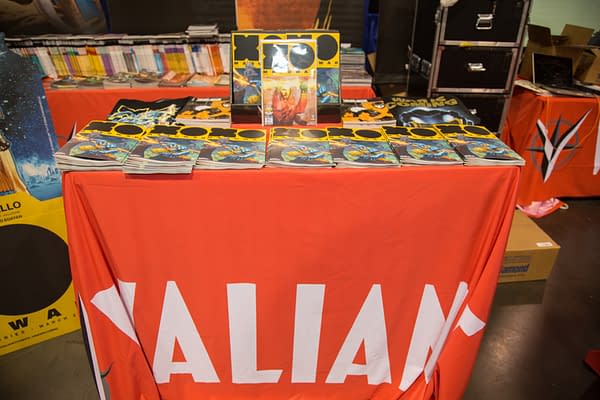 Also touching briefly on the recent Bloodshot leaks, Valiant has a 5-picture deal with Sony based on the recreated 2012 versions of Harbinger and Bloodshot to create a mini-universe spanning the two series. Both scripts have been written by Eric Heisserer, who was recently nominated for an Oscar for his work on Arrival. If all goes according to plan, the director on Bloodshot will be Dave Wilson, video-game special-effects director (Titanfall). This will be Dave Stinnett's first take on live-action directing.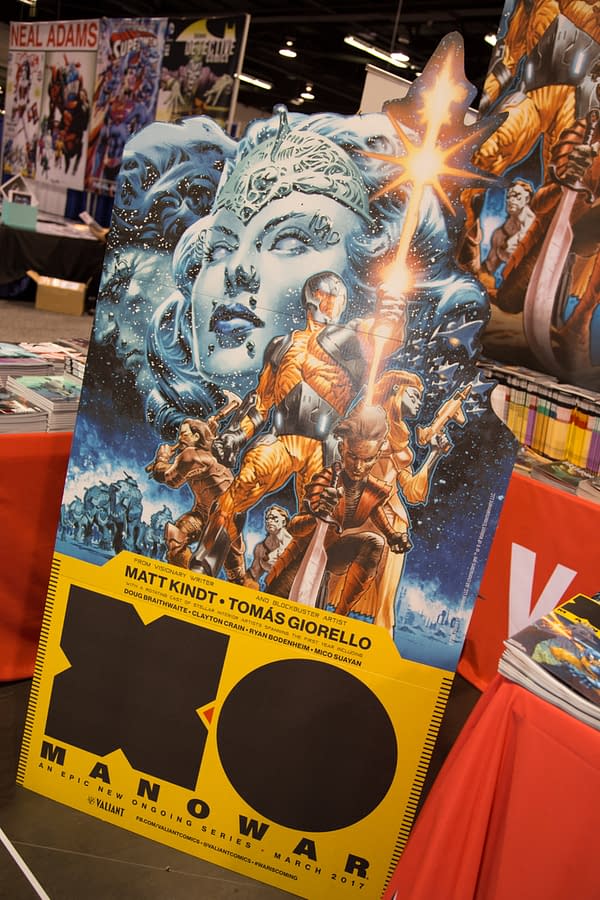 Eric Heisserer's involvement with the Valiant universe has expanded to include a new 4-part limited run of comics titled Secret Weapons. You can pick up a free preview of this comic at the booth. It focuses on Harbinger's own Livewire in her first solo book by Valiant. It has propelled her to be one of Valiant's new leading ladies. For more on this run, stop by and get a copy, complete with character designs, a teaser for the series, and a method of preordering the entire run. Enjoyed this article? Share it!