Reborn as a Vending Machine, I Now Wander the Dungeon, I've Been Killing Slimes for 300 Years, Stupid Love Comedy, Sacrificial Princess and the King of Beasts, and more new novels and manga series launch this April courtesy of Yen Press. Details below.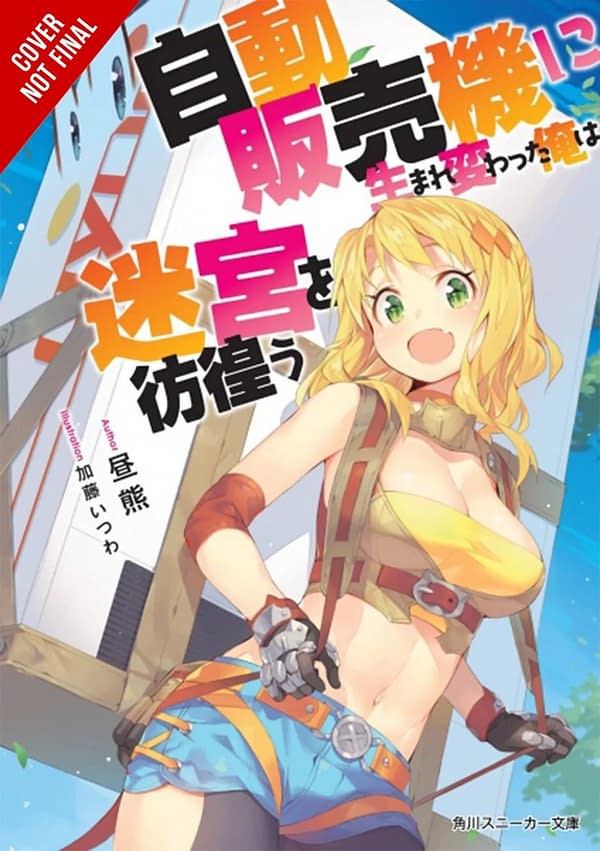 Reborn as a Vending Machine, I Now Wander the Dungeon, Vol. 1 (light novel)
Writer: Hirukuma
Artist: Ituwa Kato
A middle-aged man with only one passion in his life meets a fitting end in a traffic accident. That's where most stories would end, but instead, this is when his story begins when he's reborn as what he admired the most in life–a vending machine! But his new lease on life(?) happens in the worst place possible–what can a vending machine do in a monster-infested dungeon when he can't speak or even move on his own?
$14.00
I've Been Killing Slimes for 300 Years, Vol. 1
Writer: Kisetsu Morita
Artist: Benio
After living a painful life as an office worker, Azusa ended her short life by dying from overworking. So when she found herself reincarnated as an undying, unaging witch in a new world, she vows to spend her days stress free and as pleasantly as possible. She ekes out a living by hunting down the easiest targets – the slimes! But after centuries of doing this simple job, she's ended up with insane powers…how will she maintain her low key life now?!
$14.00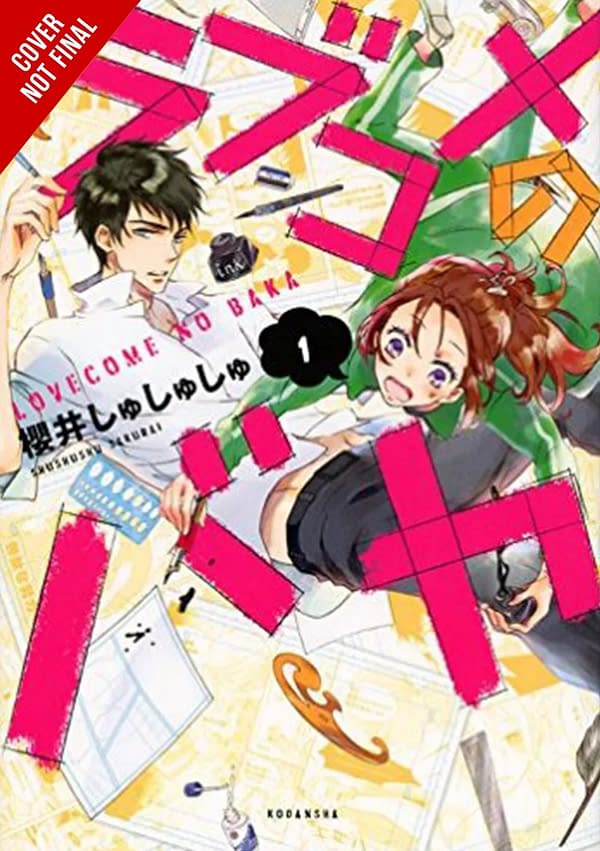 Stupid Love Comedy
Writer/Artist: Sakurai Syusyusyu
Suzu Sakura, a shoujo manga artist, is shocked at the news that the editor she's been working with since her debut is leaving her! The good news is that her new editor is a super-hot guy. Bad news? He totally looks down on shoujo manga…
$25.00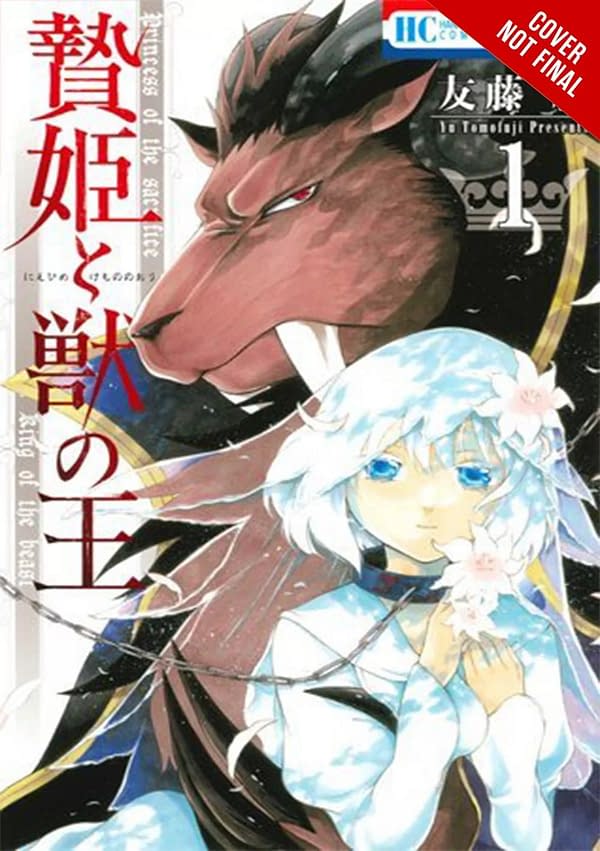 Sacrificial Princess & the King of Beasts, Vol. 1
Writer/Artist: Yu Tomofuji
A young girl has resigned herself to being he next sacrificial meal for the Beast King…but the king is no mere monster! Love is more than skin-deep in this gorgeous fantasy manga.
$13.00
Durarara!! Re;Dollars Arc, Vol. 1
Writer: Ryohgo Narita
Artist: Aogiri
Mikado Ryuugamine is just trying to pass his second year of high school peacefully, but when he gets word that someone within the Dollars gang is causing trouble, that's out the window. Everybody's in trouble: Izaya is scheming, Mikado's classmate knows his secret, and Shizuo's being targeted by a mysterious girl–just another day in Ikebukuro!
$13.00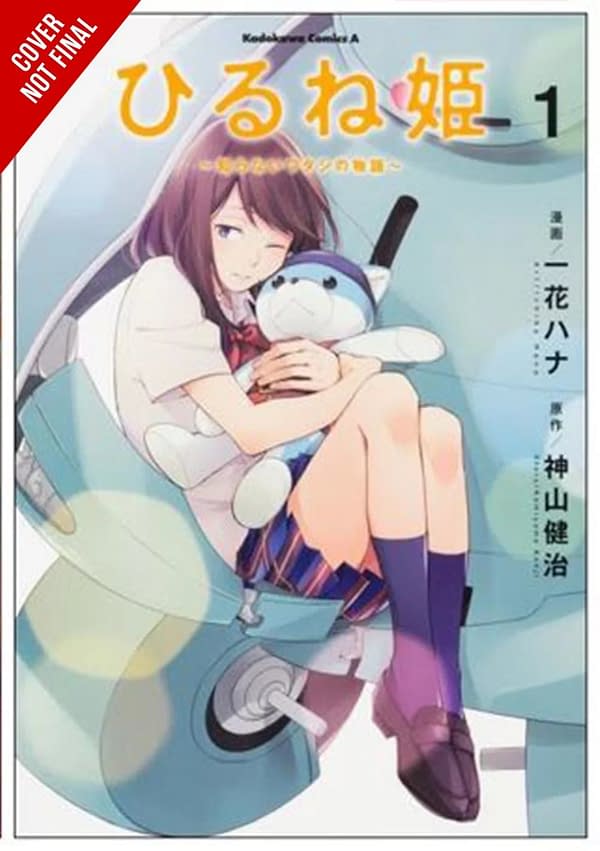 Napping Princess, Vol. 1 (manga): The Story of Unknown Me
Writer: Kenji Kamiyama
Artist: Hana Ichika
When Kokone sleeps she dreams of Heartland, a place full of technology and warring machines, where she's the Princess Ancien who possesses magical powers. But when events in her dreams and real life start to intersect, Kokone has to run from bad guys in both worlds. Will her dreams provide a way out, or get her into deeper trouble…?
$13.00
The Asterisk War, Vol. 6 (light novel)
Writer: Yuu Miyazaki
Artist: okiura
At long last, the Phoenix Festa is over, and Julis invites Ayato to visit her home of Lieseltania. But as the king throws lavish parades and parties in their honor, Ayato comes to understand Julis's concerns for her country. Meanwhile, the Witch of Solitary Venom sets her sights on the pair…!
$14.00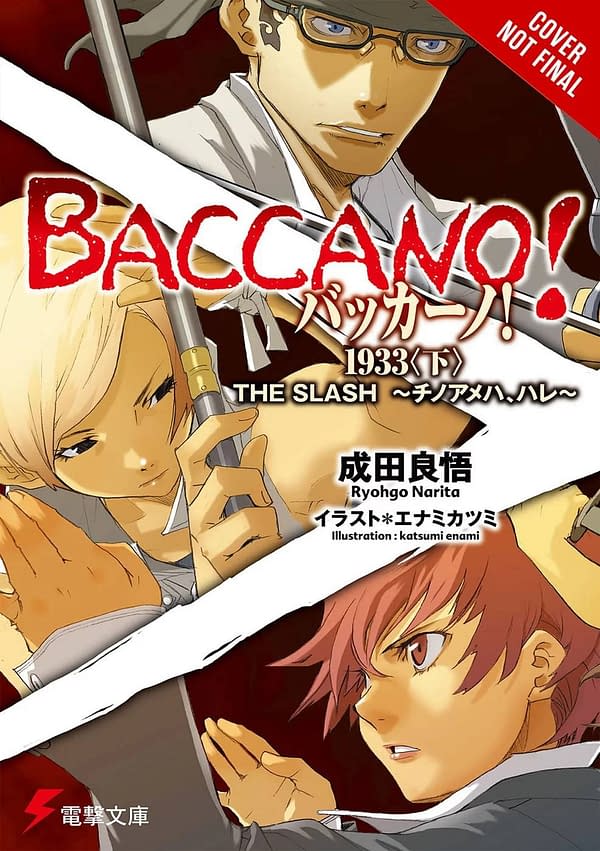 Baccano!, Vol. 7 (light novel): 1933 The Slash -Bloody to Fair-
Writer: Ryohgo Narita
Artist: Katsumi Enami
The year 1933.
Tim is a man who discarded his past but could never forget his brother. Dallas is just a thug, but he always wanted to protect his sister. A mysterious person named "Vino" is the absolute worst killer, yet he's always loved his fiancee. Will the sun peek out from behind the clouds once the bloody rain stops?
$20.00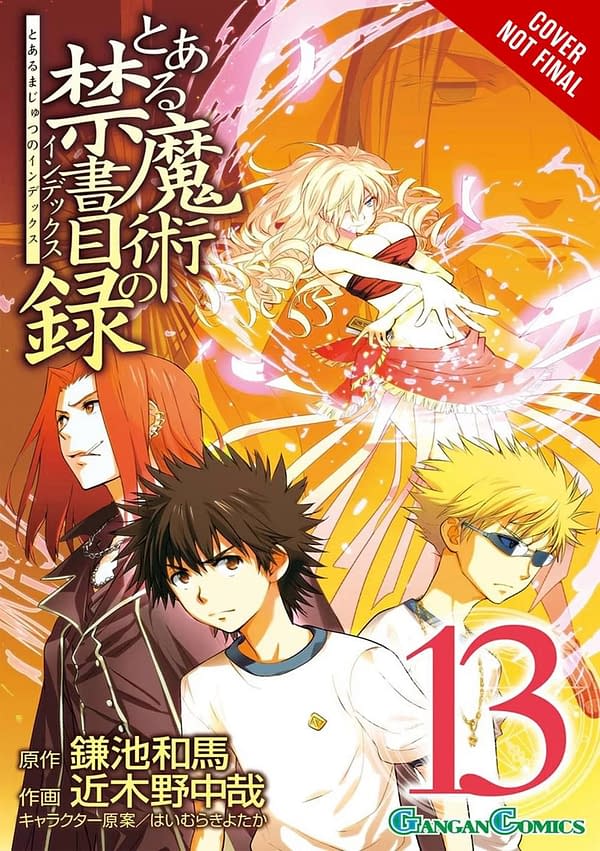 A Certain Magical Index, Vol. 13
Writer: Kazuma Kamachi
Artist: Chuya Kogino
Index faces the biggest threat to her life thus far: the assassin Kaori Kanzaki–and Touma's right hand is useless against her! When Kaori reveals the truth behind Index's very existence, Touma realizes just how bad his unlucky streak has gotten in the conclusion of the Index arc!
$13.00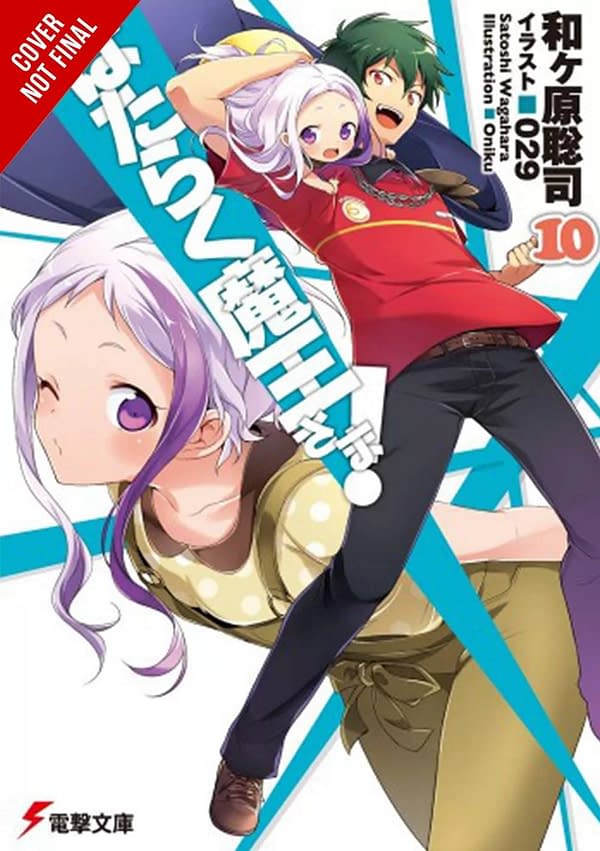 The Devil Is a Part-Timer!, Vol. 10 (light novel)
Writer: Satoshi Wagahara
Artist: 029 (Oniku)
Maou and Suzuno traveled to Ente Isla to rescue Emi and Ashiya, but for some reason…the Devil King never recovered his powers! Still stuck in his human form with Acieth, how is Maou going to save anyone?
$14.00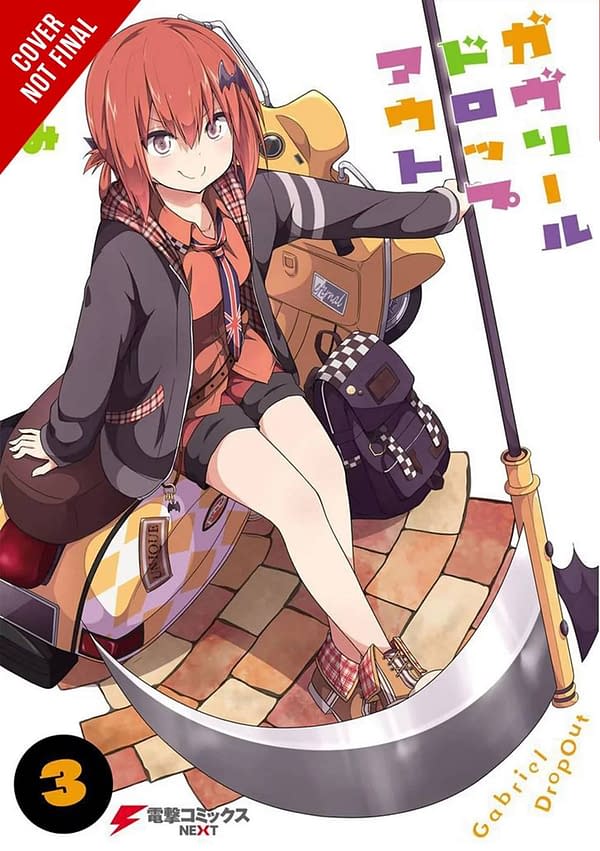 Gabriel Dropout, Vol. 3
Writer/Artist: UKAMI
Join Gabriel and her colorful cast of angels and devils in Volume 3 of Gabriel Dropout!
$13.00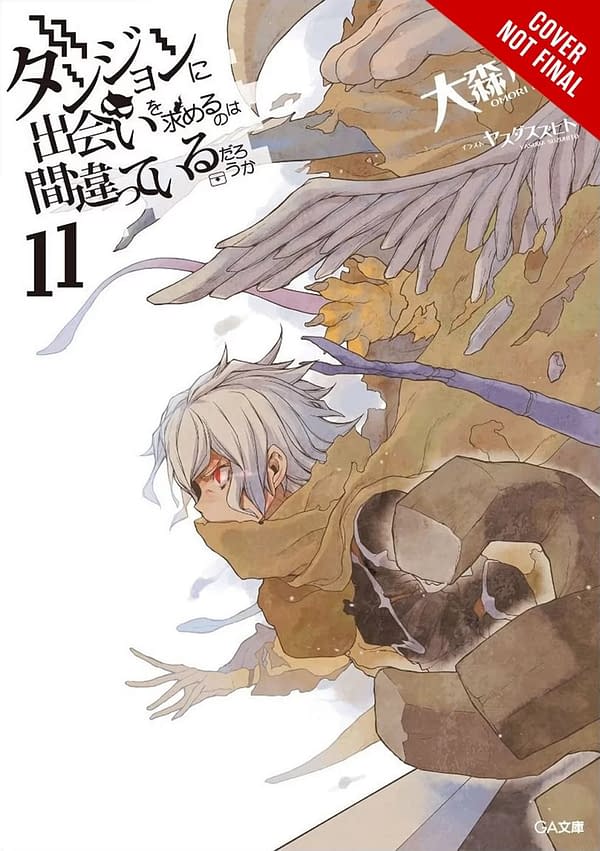 Is It Wrong to Try to Pick Up Girls in a Dungeon?, Vol. 11 (light novel)
Writer: Fujino Omori
Artist: Suzuhito Yasuda
As a cost for saving the young dragon girl Wiene, Bell's name has become synonymous with "greedy", "despicable", and "traitor." He and his familia have completely lost the trust and respect of everyone residing in Orario.
There's no time for him to feel sorry himself when his newfound monstrous friends, the Xenos, need his help to get home. But when the greatest obstacle in their way is Loki Familia, does Bell have what it takes to raise a fist against his beloved idol, the Sword Princess Aiz Wallenstein?
$14.00
The Isolator, Vol. 4 (light novel)
Writer/Artist: Reki Kawahara
After infiltrating the Ruby Eye hideout, Minoru Utsugi falls into a deadly trap but narrowly escapes thanks to the Refractor's desperate sacrifice. Though her gambit saved them both from the Liquidizer's scheme, Suu paid for it dearly, leaving her in critical condition. After this tragedy, Minoru must find his place in this new, dangerous world again but his enemies won't wait now that the Stinger has arrived, ready to crush the Syndicate!
$20.00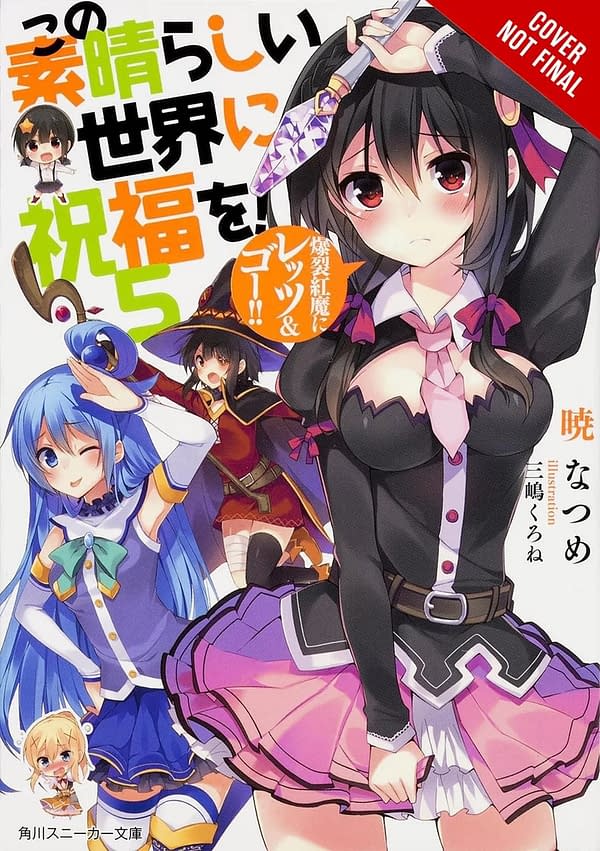 Konosuba: God's Blessing on This Wonderful World!, Vol. 5 (light novel): Crimson Magic Clan, Let's & Go!!
Writer: Natsume Akatsuki
Artist: Kurone Mishima
After Kazuma and crew's less-than-relaxing vacation, Yunyun burst onto the scene with shocking news-the Crimson Magic Clan is in danger, and she wants to bear his children to save it! Kazuma returns with her to the village, but the situation isn't quite what he expected…
$14.00
Murciélago, Vol. 6
Writer/Artist: Yoshimurakana
Rinko's just transferred into Hinako's school, and things are getting explosive… Don't miss the excitement in Volume 6 of Murcielago!
$13.00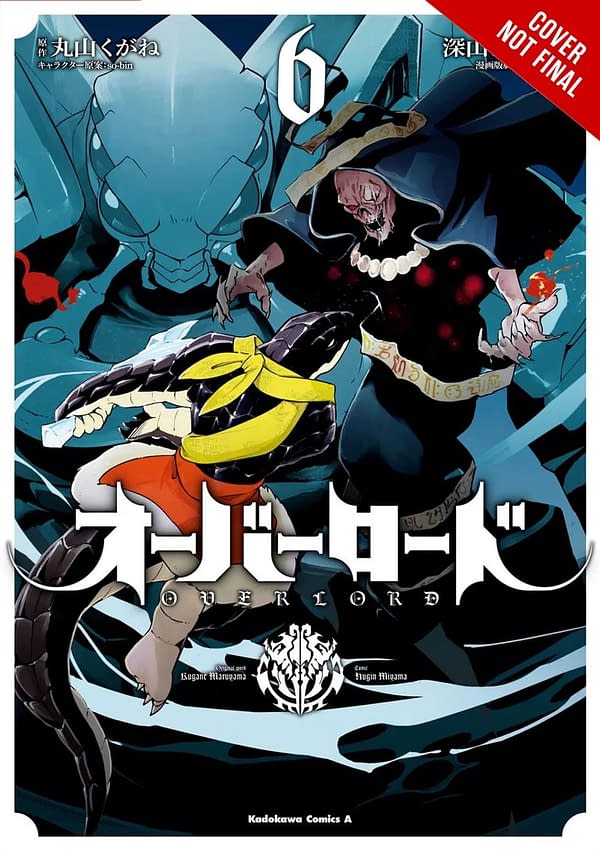 Overlord, Vol. 6 (manga)
Writer: Kugane Maruyama, Satoshi Oshio
Artists: Hugin Miyama, so-bin
The lizardmen have banded together to face this most dire of threats! Who will win–Ainz's undead army or the bickering, scaly warriors!?
$13.00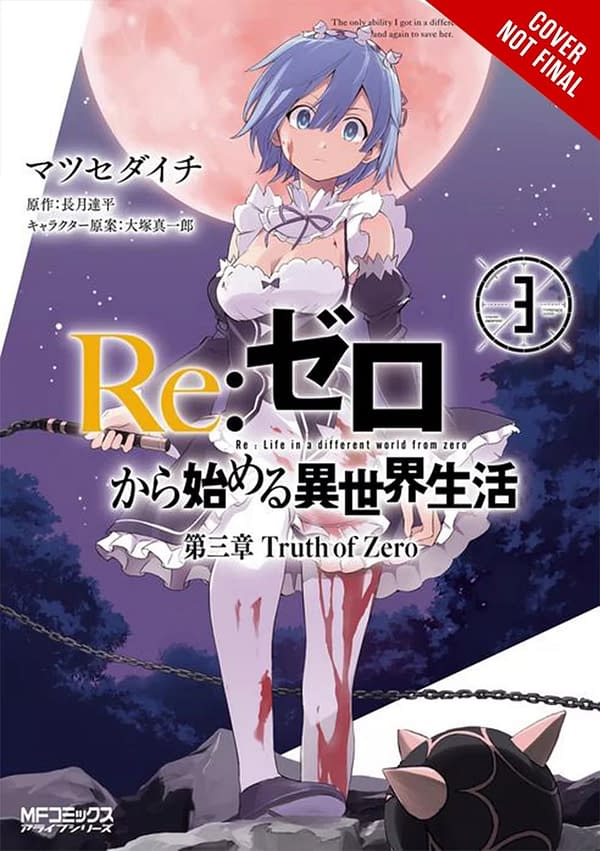 Re:ZERO -Starting Life in Another World-, Chapter 3: Truth of Zero, Vol. 3 (manga)
Writer: Tappei Nagatsuki
Artists: Shinichirou Otsuka, Daichi Matsuse
Crusch Karsten, one of the candidates for Queen of Lugunica, has invited Subaru to dinner. What could her aim be?
$13.00

Rokka: Braves of the Six Flowers, Vol. 4 (light novel)
Writer: Ishio Yamagata
Artist: Miyagi
The Braves of the Six Flowers forge ahead, struggling desperately to escape Tgurneu's latest scheme and discover the imposter among them before it's too late. But this time, the Braves have agreed to work with one of the fiend commanders…!
$14.00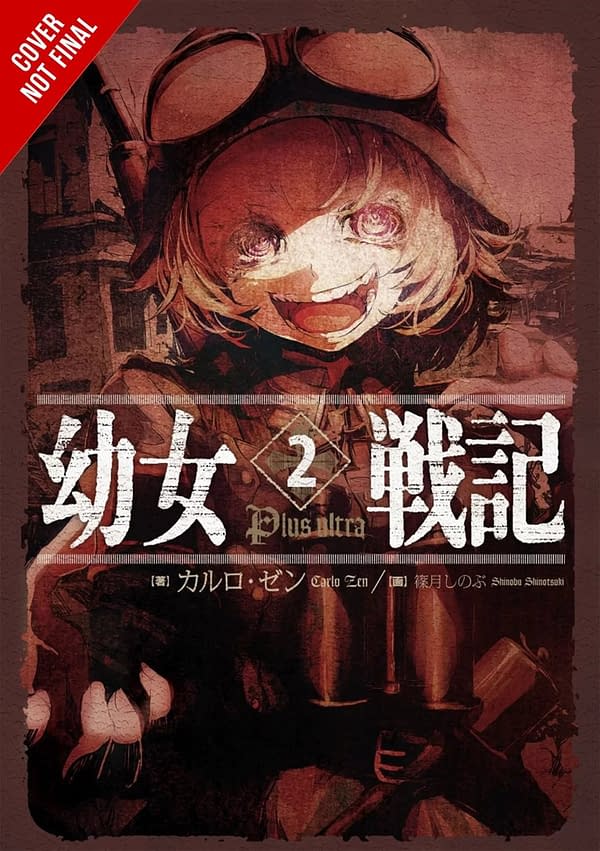 The Saga of Tanya the Evil, Vol. 2 (manga)
Writer: Carlo Zen
Artist: Chika Tojo
"Girl–this, this is war."
After being reborn and becoming a magic wielding soldier in the Imperial Army, Tanya Degurechaff bemoans her fate of being placed at the very edge of the front lines instead of a comfy place in the rear. Swearing revenge on Being X, she plunges head-first into battle, dragging her subordinate along with her!
$13.00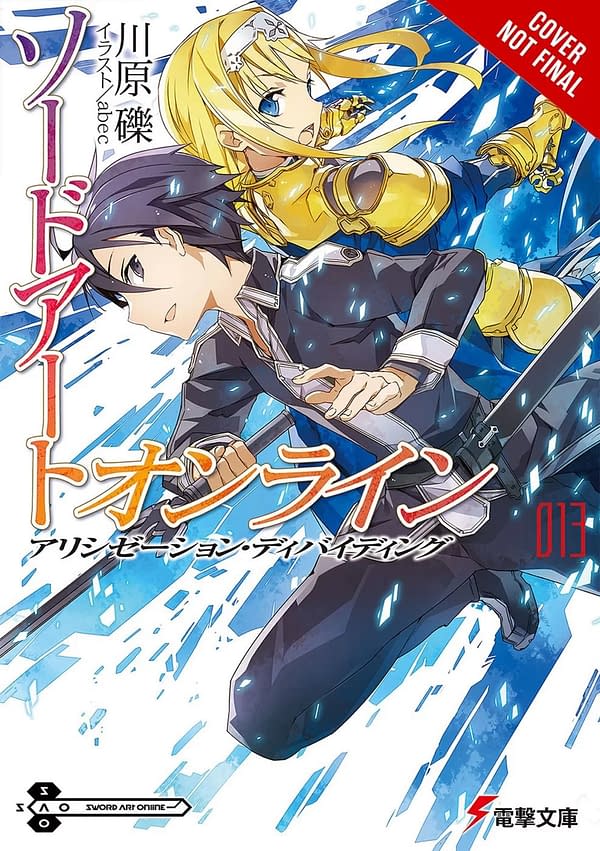 Sword Art Online 13 (light novel): Alicization Dividing
Writer: Reki Kawahara
After Kirito and Eugeo are separated in the Central Cathedral, Eugeo continues his quest alone-until he encounters a legendary hero he's admired since childhood. Can Eugeo defeat him alone…?
$14.00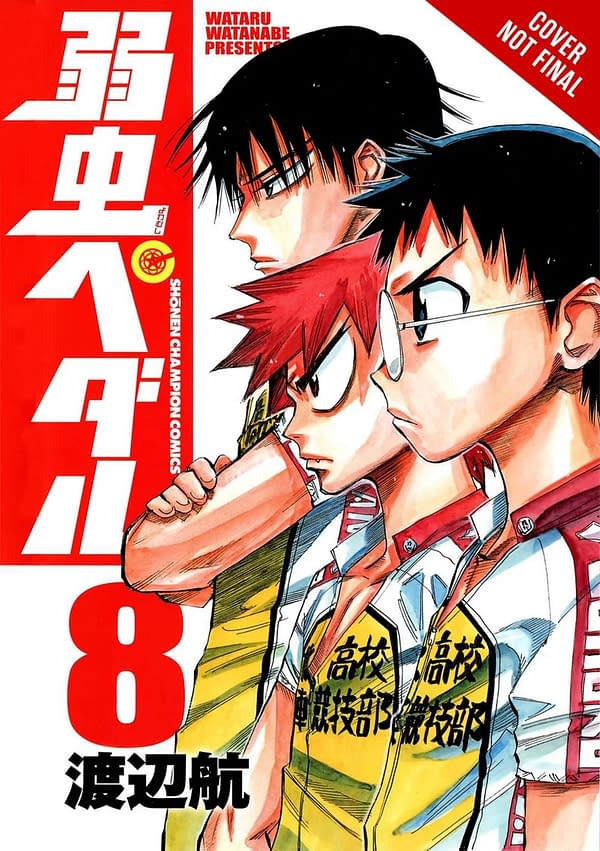 Yowamushi Pedal, Vol. 8
Writer/Artist: Wataru Watanabe
On day two of the Inter-high, Midousuji challenges Shinkai, the ace sprinter of the defending champions. It's Kyoto-Fushimi vs. Hakone Academy!
$24.00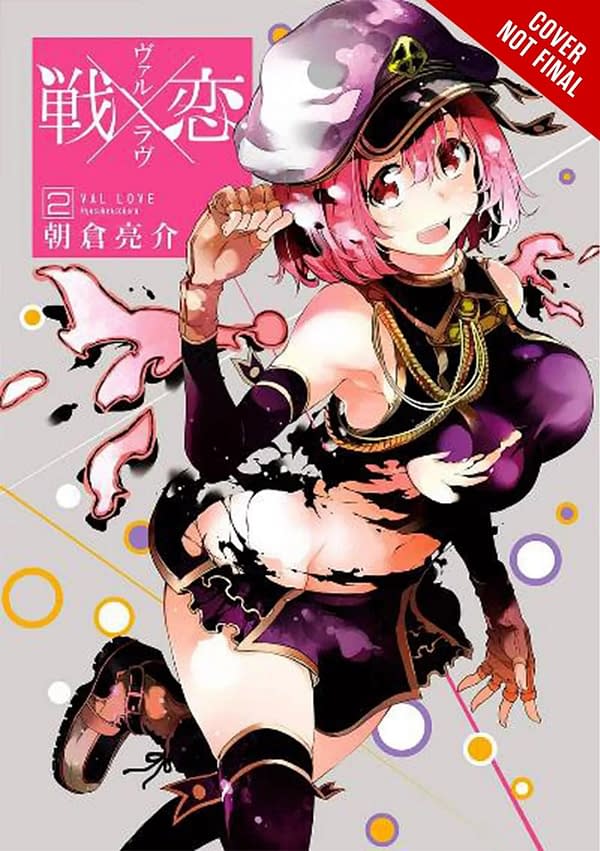 Val x Love, Vol. 2
Writer/Artist: Ryosuke Asakura
Date or die!! Get naughty or humanity is doomed!
Takuma has found himself fated to have to go on dates with Valkyries, fighting maidens, in order to save the Earth!! Like a secret date with the fresh new idol Mutsumi, or a maid cosplay date with Natsuki, one of the most popular girls in his class!! Will they be able to fight off the demons that try to get in his way and somehow manage to level up!? Things start to heat up in more ways than one in volume two of this room-sharing romantic action series!!
$13.00
Kakegurui – Compulsive Gambler -, Vol. 5
Writer: Homura Kawamoto
Artist: Toru Naomura
The main game of the idol battle might have come to a conclusion, but the event is far from over! And what better way to tie up loose ends than…another gamble?! Choosing to go against Manyuda in her Public Match, Yumeko is now faced with a game called Choice Poker. But if it's a contest that gives the advantage to whoever has a bigger pot, can Yumeko manage to come out victorious against a student council member with near limitless pockets?!
$15.00
Sekirei, Vol. 4
Writer/Artist: Sakurako Gokurakuin
Phase Two of the Sekirei Project is winding down, but MBI's CEO is determined to make sure it ends with a bang rather than a whimper! When he announces that only one Sekirei remains unwinged, all eyes turn to the North Area. It's a race to claim that final unwinged Sekirei–Kagari-san?!
$24.00

Is It Wrong to Try to Pick Up Girls in a Dungeon? On the Side: Sword Oratoria, Vol. 3
Writer: Fujino Omori
Artist: Takashi Yagi
Aiz and her friends make their way to the town nestled deep within the Dungeon only to stumble upon a macabre murder! After determining that culprit must be extremely powerful, the manhunt begins but everyone seems to think that the Loki Familia might be the most likely suspects?! On the surface, Loki embarks on an investigation of her own, delving deep into the sewers to get to the bottom of a mystery that may affect the future of all her children–and Orario as a whole…
$13.00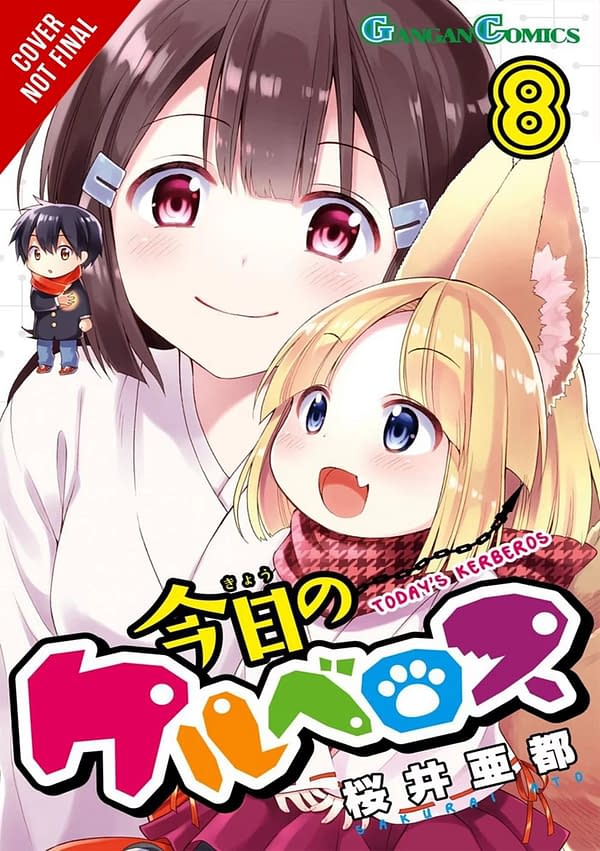 Today's Cerberus, Vol. 8
Writer/Artist: Ato Sakurai
Chiaki and the others are trapped in a labyrinth, and Hades has plans to keep his friends. Roze steps in to save everyone–hoping to see Chiaki finally smile–but then Kuro suddenly goes out of control! Forget about restoring a part of Chiaki's soul…will they manage to survive the power of one of Cerberus's heads?!
$13.00

Aoharu X Machinegun, Vol. 10
Writer/Artist: Naoe
Stage three of Matsuoka's training camp turned out to be a trip to the hot springs!! With that thought in mind, Hotaru Tachibana ventures into the forbidden men's bath… Are her teammates finally going to discover her true identity?!
$13.00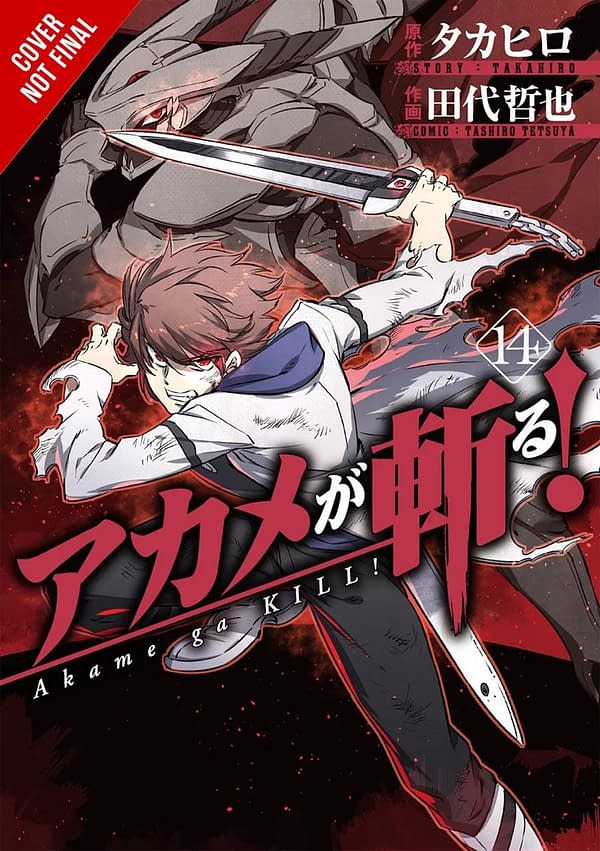 Akame ga KILL!, Vol. 14
Writer: Takahiro
Artist: Tetsuya Tashiro
The Night Raid takes its last mission!
The final decisive battle begins as Esdeath attacks the Revolutionary Army! Does only slaughter await those who have infiltrated the Empire…? Find out what happens in the penultimate volume!
$13.00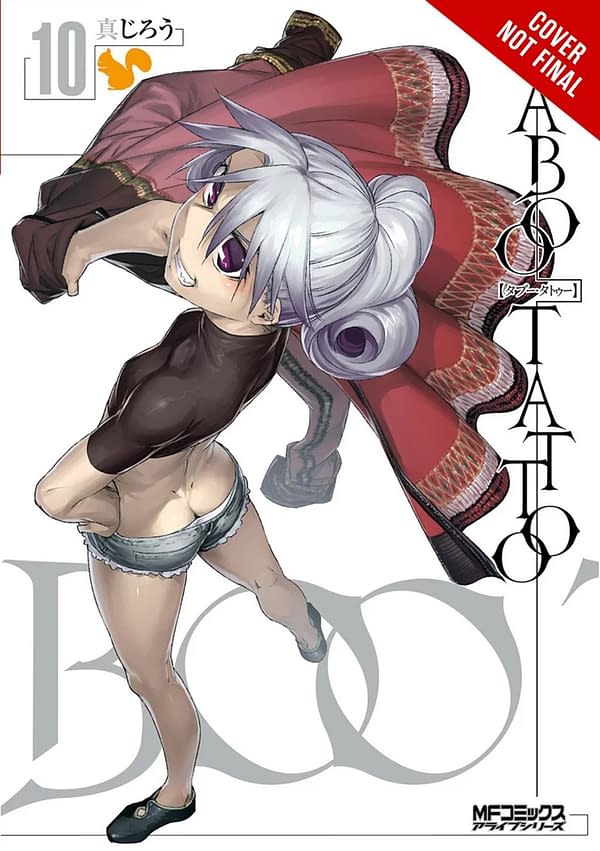 Taboo Tattoo, Vol. 10
Writer/Artist: Shinjiro
After escaping Aryabhata's wrath, Seigi gets pulled into a battle with one of her sisters-Syunya! In order to oppose a master of hand-to-hand combat and one who has far surpassed humanity's limits, Seigi will have to pay a high price…
$13.00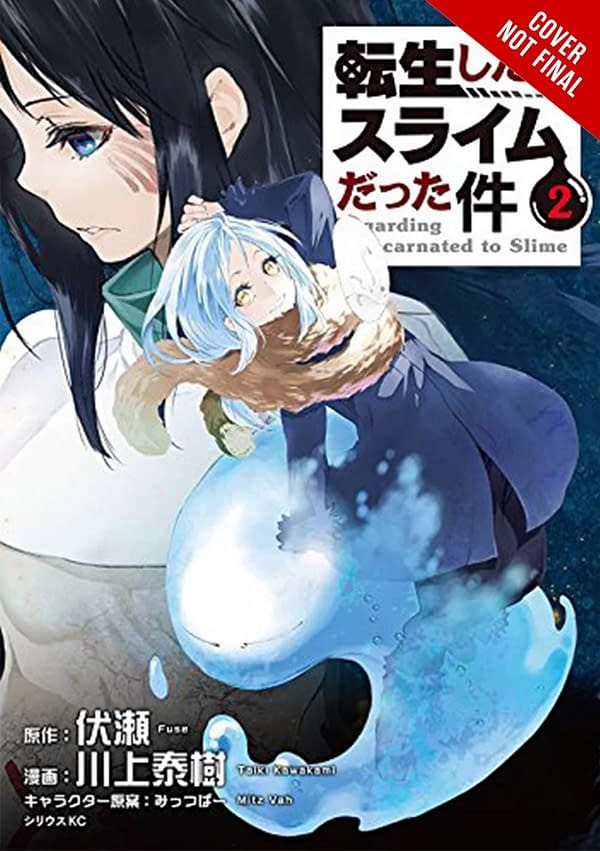 That Time I Got Reincarnated as a Slime, Vol. 2 (light novel)
Writer: Fuse
Artist: Mitz Vah
37-year-old Satoru Mikami got a new lease on life when he was reincarnated into another world…as a slime named Rimuru Tempest. But with the help of his wits, his newfound powers, and a little luck, he's started building a cross-species village of goblins, direwolves, and dwarves! Rimuru doesn't know it yet, but his arrival is bringing major changes to his new world…
$14.00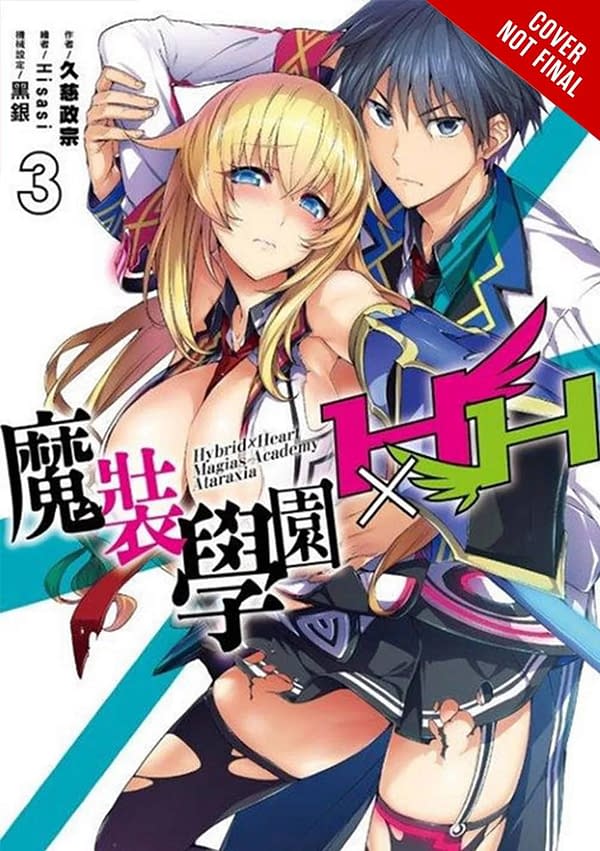 Hybrid x Heart Magias Academy Ataraxia, Vol. 3
Writer: Masamune Kuji
Artist: Riku AyakawaKizuna's next target is Hayuru Himekawa, chair of the Public Morals Committee. Straight-laced and embarrassed by shameful behavior, there's something in Hayuru's past she wants to erase!
$13.00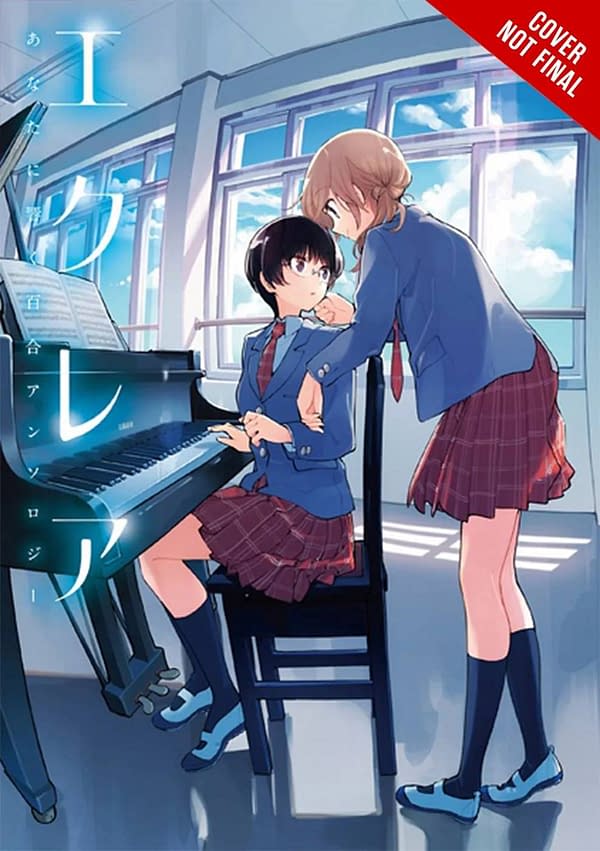 Eclair: Anata ni Hibiku Yuri Anthology
Edited by ASCII Media Works
Beating hearts and fluttering feelings. An anthology of girls' love stories to leave you breathless. With contributors like Canno (Kiss and White Lily for My Dearest Girl), Sakuya Amano (GoSick), and Nio Nakatani (Bloom Into You), this collection is sure to satisfy the desire for a sweet love story (or sixteen!).
$13.00

Silver Spoon, Vol. 2
Writer/Artist: Hiromu Arakawa
Time for a change of pace.
Yuugo Hachiken flees the hustle and bustle of city life to enroll at Oezo Agricultural High School. At first he's just trying to outrun his problems, but instead he finds a place for himself in this quaint rural community. Between the classrooms and cowpatties, the boy becomes a man.
$15.00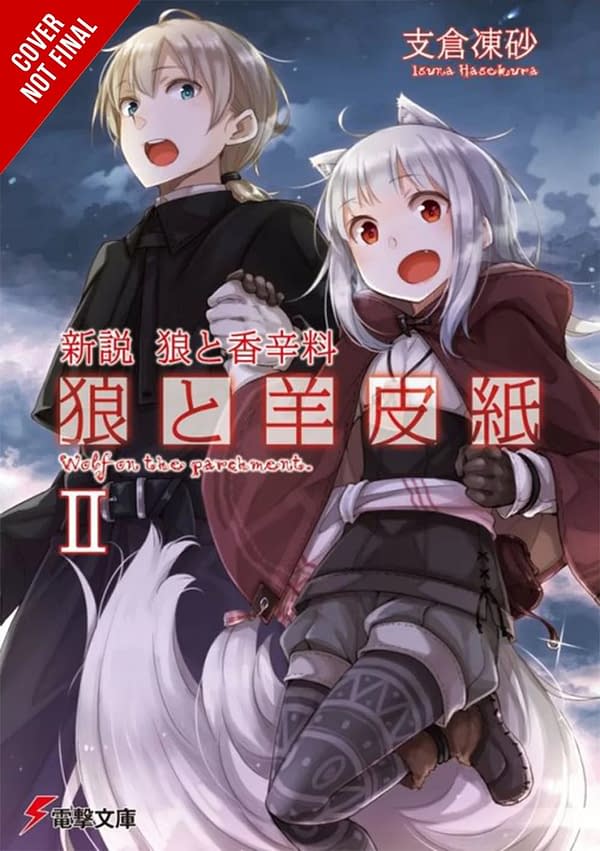 Wolf & Parchment: New Theory Spice & Wolf, Vol. 2 (light novel): New Theory Spice & Wolf
Writer: Isuna Hasekura
The young man Col and the daughter of the Wisewolf, Myuri, survived the scripture riots in the port town of Atiph. Col spends intense days being pined for after Myuri tells him about her love.
Meanwhile, Heir Hyland commissions them for another next job. In the coming war with the Church's forces, control over the strait between the Kingdom of Winfiel and the mainland will play a crucial role. While Myuri is excited for a new adventure, Col cannot hide his unease after hearing about potential heresy among certain pirates for their faith in the "Black-Mother"!
$14.00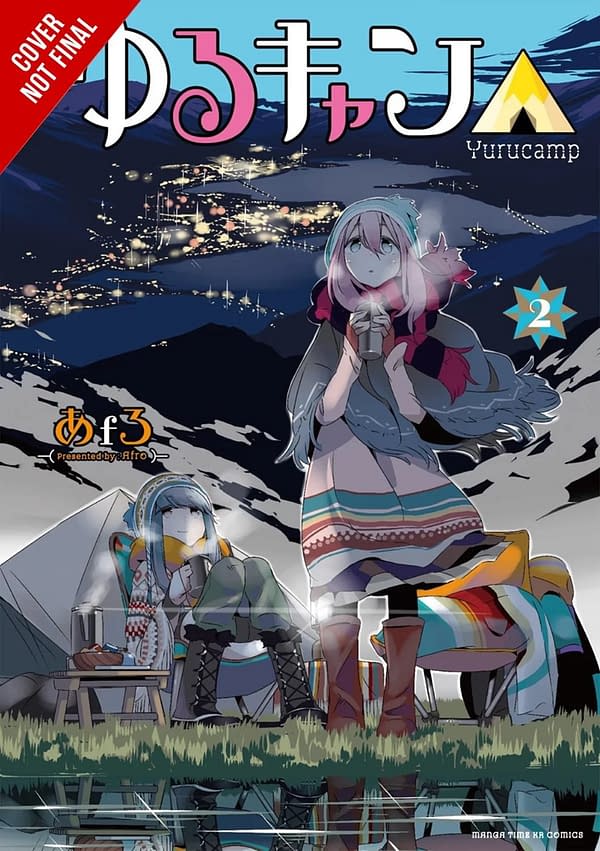 Laid-Back Camp, Vol. 2
Writer/Artist: Afro
Rin's always loved to go camping solo, while Nadeshiko's learning to appreciate camping more and more. What sights will they take in when they bump into each other, especially with the entire Outdoor Exploration Club in tow?
$13.00
Enjoyed this article? Share it!