Yet More Offers Being Made by Apex Lex in DC's Year of The Villain, Today – Oracles, Origins and The Witching War, (Spoilers)
Another week, another set of offers being made by the new, improved, hybridised Lex Luthor in DC's Year of The Villain, to go with the past two sets of offers across the DC Universe. And checking in to see how they all stack up.
In Batgirl #37, it's the new AI that gets made the offer, of freedom, sentience and control – and it's all in a password. A name. A sobriquet that means a lot to Batgirl…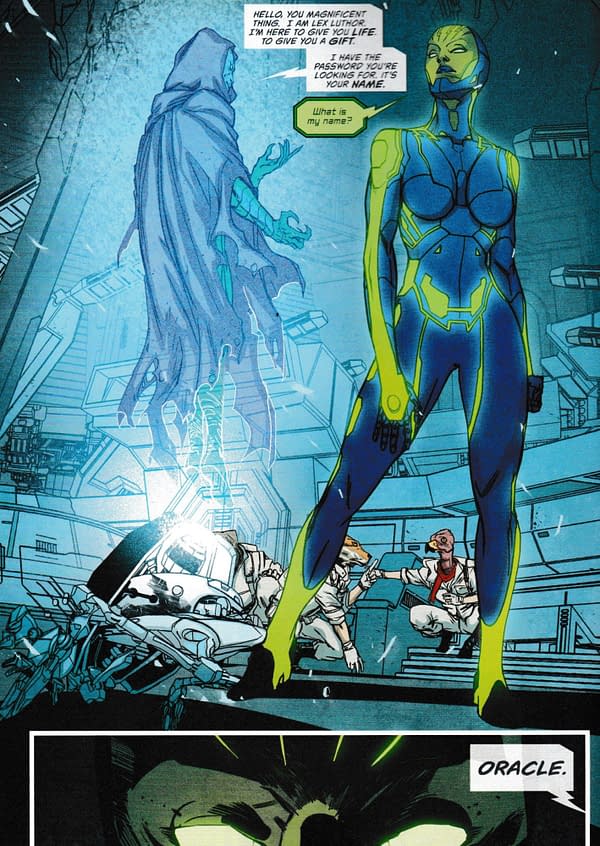 …Oracle. While in Detective Comics #1008 which turns out to basically be a Joker sequel to The Killing Joke, we get a sudden wrench at the end towards Mr Freeze who gets the offer of the one thing he has always wanted…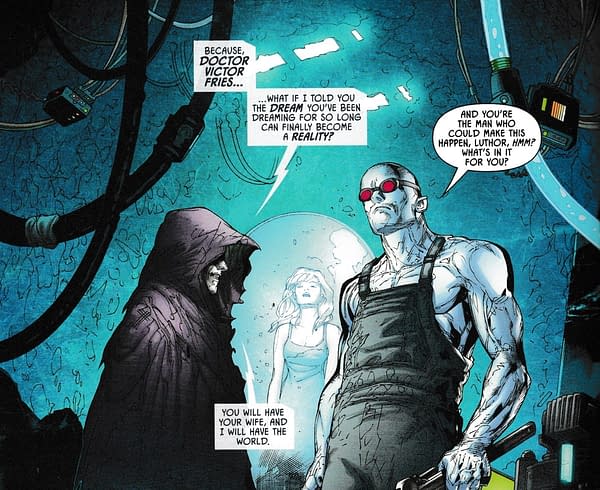 …his wife back. In Action Comics, we have one rejection to begin the issue from Leone, of the Metroplis criminal underworld.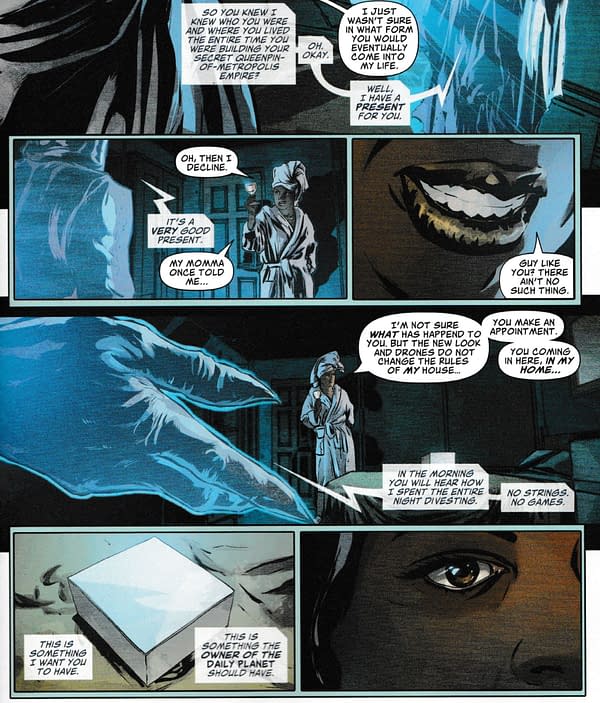 And she doesn't take the box. What could have been in it? Someone more appreciative is one of Leone's proteges, Red Cloud…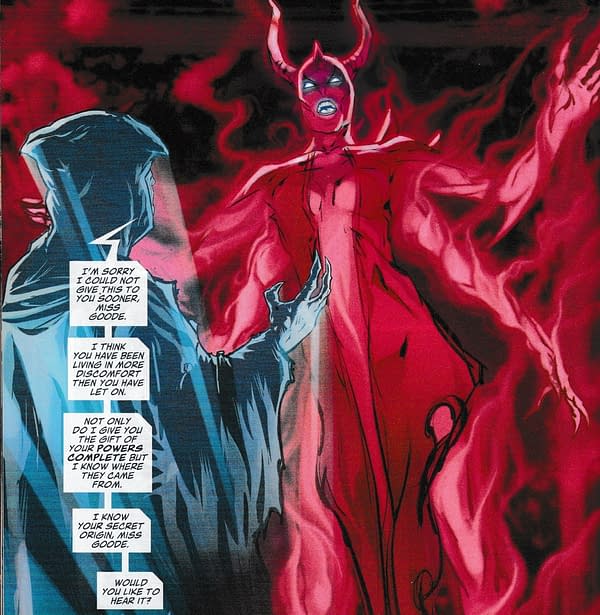 And it looks like Luthor has had a sneak peek at this official DC Universe timeline, DiDio was talking about. Even if that couldn't quite be communicated to those working on The Flash.
No details on Captain's Cold's offer, though he does at least want to share. And we learn that Luthor doesn't just give…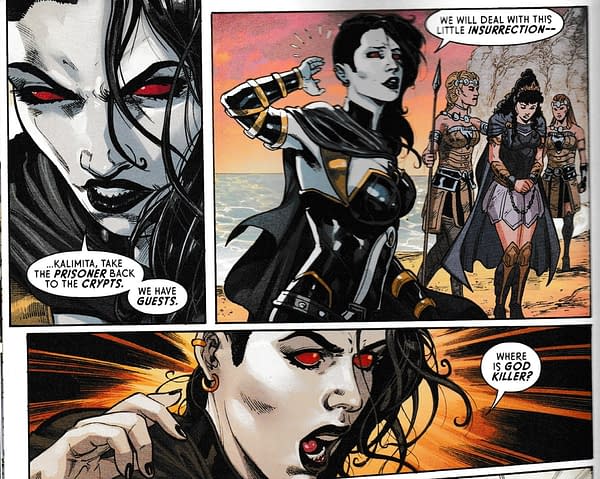 … but he takes too. And gives magical god-killing swords to someone else.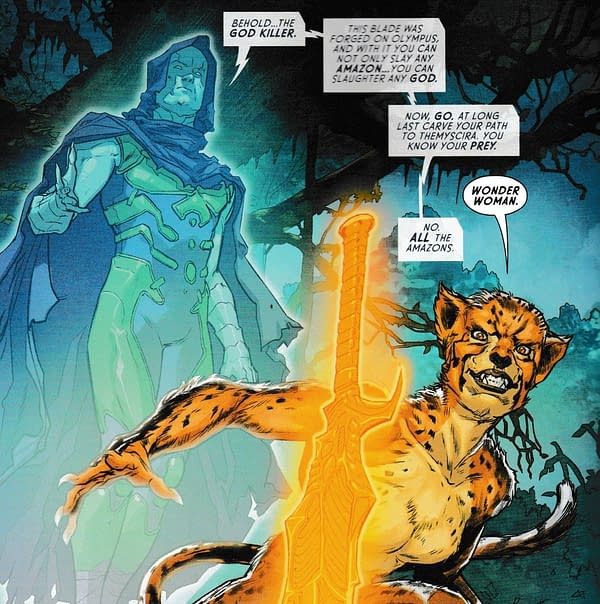 Maybe someone should have learnt from Shang Chi and Valkyrie's lessons today as well. Not the only Wonder Woman villain getting the offer however… as over in Justice League Dark, another featured villain from her gallery…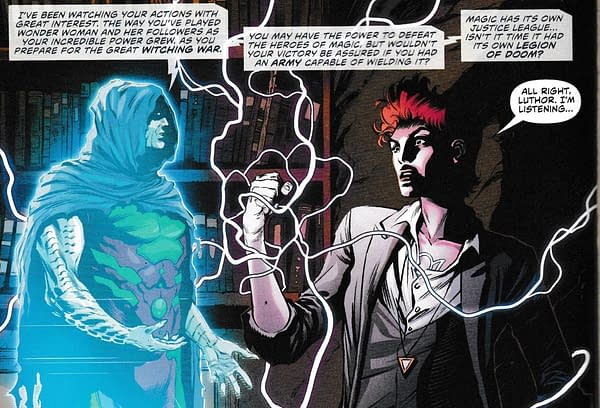 …and promising a magical army to take down the Justice League Dark for The Witching War… and these drones have more powerd than we may have thought. They can even cross dimensions…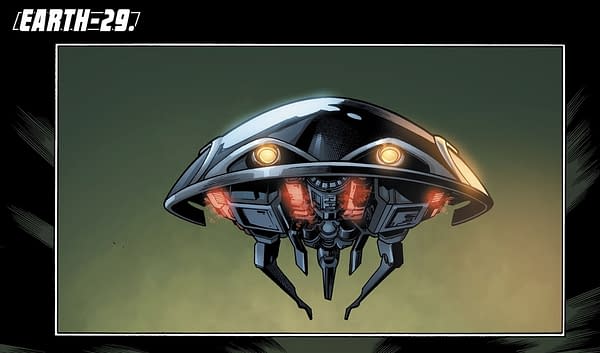 Where in The Terrifics, an old favourite – as opposed to the current DC Universe version – ties Luthor up in linguistical knots.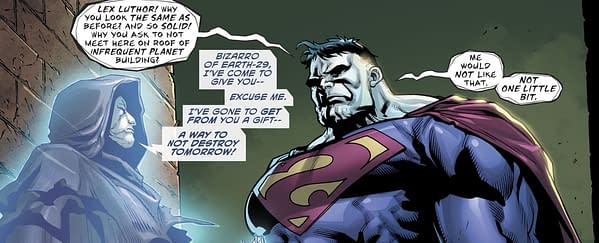 Destroy tomorrow? Better get working on that timeline, even faster…
ACTION COMICS #1013 YOTV THE OFFER
(W) Brian Michael Bendis (A) Szymon Kudranski (CA) Jamal Campbell
Metropolis is in total lockdown, and while everyone is busy dealing with the impossible threat of Leviathan's complete takeover, a mysterious antihero called Thorn has decided to wreak havoc on the invisible empire! Witness the return of Rose and Thorn, the most dangerous woman in the DC Universe-and if you've never heard of her, it's only because she is that good. All this, plus a major EVENT LEVIATHAN revelation! But why wasn't it in the main series? Plus, the invisible mafia held a death grip on the Metropolis underworld…until Lex Luthor visits their criminal competition!In Shops: Jul 24, 2019
SRP: $3.99

WONDER WOMAN #75 YOTV THE OFFER
(W) G. Willow Wilson (A) Xermanico, Jesus Merino, Vicente Cifuentes (CA) Terry Dodson, Rachel Dodson
At last, after years of exile: Wonder Woman returns to Themyscira! But in the wake of Ares' escape from his prison, the island is no longer the paradise she remembers… and the Amazons are no longer a united people! Disaster has forced Hippolyta's warriors to choose a deadly new ally, and Wonder Woman is powerless to convince them to turn back to the light! Who among the Amazons could possibly change the course of history? Only one: Diana's long-lost aunt, Antiope! A major figure of the Wonder Woman mythos returns in this extra-sized anniversary issue!
Plus, Lex Luthor visits fellow Legion of Doom member Cheetah. He comes bearing gifts: a mythical weapon, one rumored to be able to kill anything-even a god. Or, in Wonder Woman's case, a demi-god.In Shops: Jul 24, 2019
SRP: $4.99

TERRIFICS #18 YOTV THE OFFER
(W) Gene Luen Yang (A) Stephen Segovia (CA) Dan Mora
The end of the God Game is upon us-and technology has turned the Terrifics' lives upside down! At long last, the secret origin of the mysterious technological being known as the Keeper is revealed, and this story is actually a tale as old as time. If the Terrifics are to shut the Keeper down and stop his tech infection from spreading worldwide, our heroes will need to do something they never thought they could: stop evolution itself. The Bizarro Terrifics were almost the most dangerous things in the universe. When Lex Luthor gives them a time machine, they become the most dangerous things in the universe. This will get weird.In Shops: Jul 24, 2019
SRP: $3.99

JUSTICE LEAGUE DARK #13 YOTV THE OFFER
(W) James Tynion IV (A) Daniel Sampere, Mark Buckingham (CA) Guillem March
Their battle against Doctor Fate may have come to an end, but the Justice League Dark's problems are just beginning when the helmet begins its search for a new host. Meanwhile, what can Lex Luthor offer a magic user like Circe? For one thing, Lex knows a thing or two about monsters. And where Circe can find them.In Shops: Jul 24, 2019
SRP: $3.99

FLASH #75 YOTV THE OFFER
(W) Joshua Williamson (A) Christian Duce, Scott Kolins (A/CA) Howard Porter
"The Flash Year One" finale! This oversize anniversary issue marks the end of Barry Allen's journey to become the Flash-but at what cost? The Turtle's final play will challenge our hero in every way possible, and by the end of the battle, a Flash will be born-and a Flash will die! Also in this issue, witness Lex Luthor's offer to Captain Cold, whose icy vengeance waits for the Flash just around the corner…In Shops: Jul 24, 2019
SRP: $4.99

DETECTIVE COMICS #1008 YOTV THE OFFER
(W) Peter J. Tomasi (A/CA) Doug Mahnke, Jaime Mendoza
The Joker returns to Gotham City! The Joker is through working with the Legion of Doom, and he wants to get back to his roots: giving Batman absolute hell! The Clown Prince of Crime comes back with a bang-and he's not about to take prisoners! As if that weren't enough, Lex Luthor delivers the cure for Mr. Freeze's beloved wife, Nora, freeing her from cryo-stasis at last! But something else is very, very wrong with Nora…In Shops: Jul 24, 2019
SRP: $3.99

BATGIRL #37 YOTV THE OFFER
(W) Cecil Castellucci (A) Carmine Di Giandomenico (CA) Giuseppe Camuncoli, Cam Smith
Eager to prove himself as a guardian for the criminals of Gotham City, Killer Moth has set his sights on taking out one of Gotham's finest heroes…Batgirl! Does this insect menace really stand a chance against Batman's smartest ally? Meanwhile, after their daring escape, the Terrible Trio is on the hunt for new ways to cause trouble for Batgirl. Little do they know, Lex Luthor has already beat them to it and is about to bring Batgirl's worst possible nightmare to life! Oracle is back online. And she's angry.In Shops: Jul 24, 2019
SRP: $3.99