I don't know if this is a meme, a trope, something from the zeitgeist or just plain weird. But Bleeding Cool's publisher Avatar Press has two comic books out today, Cinema Purgatorio #14 and Crossed Plus 100: Mimic #1.
Cinema Purgatorio is the Alan Moore-curated anthology comic, featuring a lead strip from Moore and Kevin O'Neill, a look at the history of cinema through the eyes of a cinema viewer seemingly in hell or purgatory. Today's sequence looks at the life of director Tod Browning, the influences on his stint as director of the first Dracula movie, and then how he directed the film Freaks afterwards. And it illustrates some of the stranger experiences in his life. Such as this…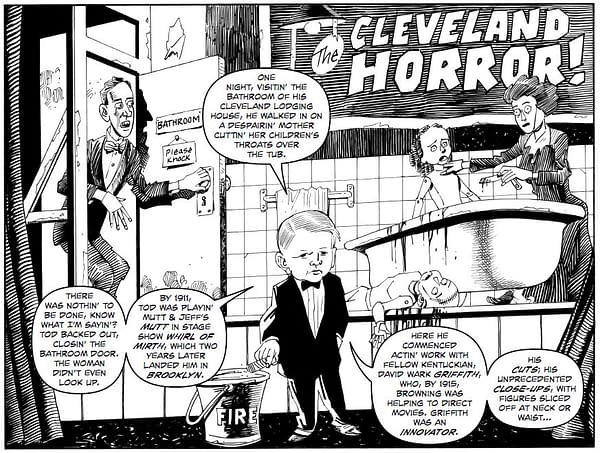 Horribl. But as ever, Cinema Purgatorio remains an engrossing read and this one has crossword clues as well. It's basically what Alan Mooe would have done if he'd publisher Warrior Magazine.
And then there is Crossed +100, launching its new series. Based on Alan Moore's future version of Garth Ennis' Crossed, in a world where language has changed, and so have both humanity and the Crossed, we are seeing how the Crossed have evolved, and in this first issue, are being used to enact revenge on the abused – for no. No doubt it will all end horribly. But it's was odd to go from Cinema Purgatorio's scene… to Crossed +100: Mimic.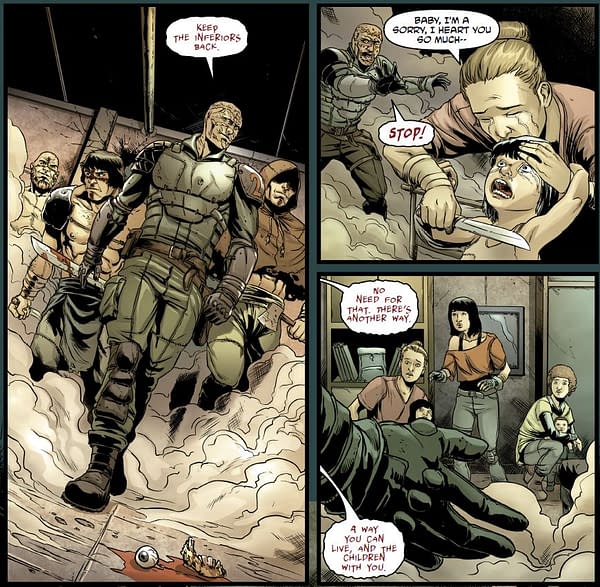 Oh it will all end in tears, we know it.
Both comics are published by Avatar Press today
CROSSED PLUS 100 MIMIC #1
(W) Christos N. Gage, Patrick Shand (A) Emiliano Urdinola, Raulo Caceres (CA) Gabriel Andrade
Crossed is back with a giant-size new series!  The world of Crossed +100 was created by Alan Moore and introduced us to an entire civilization and language set one hundred years after the Crossed outbreak devoured humanity.  Now Christos Gage delves into that future with MIMIC, as one of Beau Salt's disciples invades a military base to pick apart the best and brightest.  Each issue also has a second feature as writer Pat Shand teams up with artist Raulo Caceres to deliver a chapter of AMERICAN HISTORY X, based on the events Moore spotlighted as key points in the saga. Available with a sizzling array of covers:  Regular by Gabriel Andrade, History X Wraparound and American History X by Raulo Caceres, Fatal Fantasy and Hellish Homage by Renato Camilo, and Ms Mayhem by Christian Zanier.  Don't miss the three-cover Crossed Over set by Matt Martin, each limited to just 250 copies, not the Gold Leather by Zanier that is limited to just 150!  Lastly, a Century (of Blood) cover limited to 100 copies by the artist who started it all, Gabriel Andrade!In Shops: Jun 27, 2018
SRP: $5.99
CINEMA PURGATORIO #14
(W) Alan Moore, Garth Ennis, Max Brooks, Kieron Gillen, Christos N. Gage (A) Raulo Caceres, Nahuel Lopez, Gabriel Andrade (A/CA) Kevin O'Neil
Join a master class of sequential artisans as they spin stories to terrify and delight in the finest anthology in comics.  Now showing: Cinema Purgatorio by Alan Moore and Kevin O'Neill, A More Perfect Union by Max Brooks and Gabriel Andrade, Code Pru by Garth Ennis and Raulo Caceres, Modded by Kieron Gillen and Nahuel Lopez, and The Vast by Christos Gage and Gabriel Andrade. Each story has its own cover by the series artist and there is also an Ancient Tome Premium edition limited to 1000 copies.In Shops: Jun 27, 2018
SRP: $6.99
Enjoyed this article? Share it!