Zenith Comics Goes Heroic
Pat Bellavance writes for Bleeding Cool I am not new to the Zenith Comics universe but most of you are. I met Andrew Collas a few years ago where I was invited to play in one of his games he was running. While I was more of a 'swords and sorcery' kind of gamer who loved delving into dungeons and fighting the odd dragon, he was running a Superheroes game. I took him up on his offer and this is how I began to discover the Zenith Comics universe.
With those first few games I experienced, one thing became abundantly clear: Andrew was a first and foremost a story teller. When I heard the news that the comic he had been working on was finally about to launch, writing the piece you are reading now seemed to be the best way to help as well as get the word out to people who might be interested. With that in mind, I interviewed Andrew and this is what I got:
Me: Heroic is the first issue of a new comic series about to launch but it isn't the first project to be published by Zenith Comics. Could you tell us a bit more of your previous efforts and how Zenith Comics came about?
Andrew: Zenith Comics came out primarily through years and years of creating my own superheroes and supervillains for role-playing games. The product that came out beforehand was a roster book of supervillains released for the BASH, Icons, and Villains & Vigilantes role-playing games. Along with those three superhero systems, we now have a version out for Supers! — a game co-owned by Zenith Comics and Hazard Studios.
In the end though, the comic book version of the Zenith Universe is a very different beast. I actually blogged about this (Blog here) because what you do in a comic book and what you do in a role-playing game are two very different things and it's always important to keep those separate for me.
So that's how it came about – through years and years of building up a universe.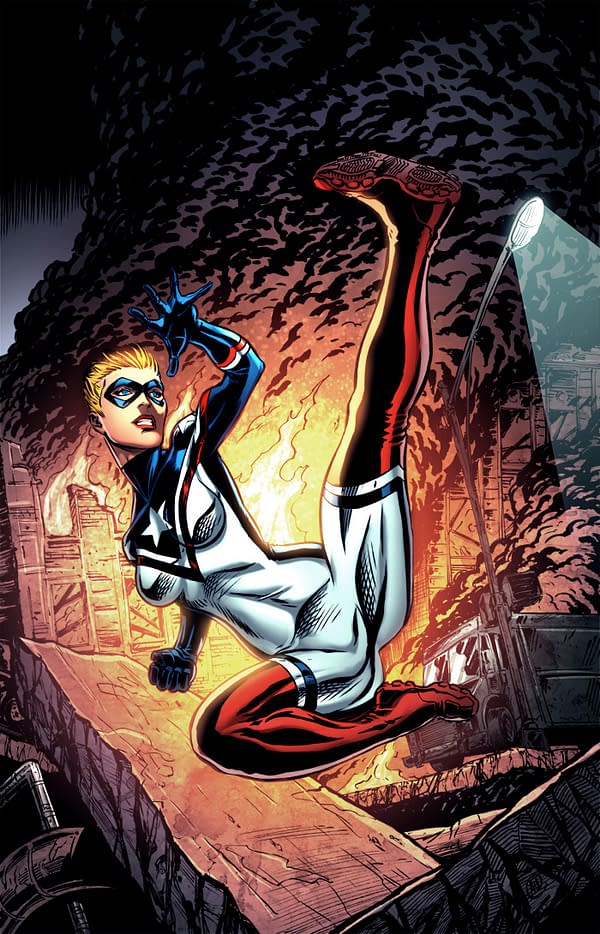 Me: With this new comic, you are revealing a vision of a new universe to a world of comic book fans. Prior to the release of this first issue, the Zenith Comics universe has had years of development go into it. Using this as a backdrop for your stories means conveying a wealth of information to the reader. Do you feel the first volume strikes a good balance between delivery of this background information while telling a compelling story? Would you classify the first issue as a classic super hero origin story?
Andrew: I would not consider this to be that universe because I have learned one invaluable lesson in this writing process and that is streamlining. Wheat from the chaff. I don't need the endless back story that I've tracked – I just need key elements from it to further the story I am trying to tell. Again… very different from a role-playing world. In a comic book, I need to focus on one thing and one thing only and that is moving the story forward. In a role-playing game obviously, I have more room and I want players to be inspired by vaster concepts – an open field. In a comic book, I want to make sure the reader is focused on the story I'm telling and not getting lost or sidetracked so it's kind of an important thing.
As for striking a balance between delivery of background information and telling a compelling story, a compelling story is 100% of the focus and the background story I'm telling serves primarily to move the plot along as much as humanly possible. At least that is how I see it working.
As to the third part of that question, no – I would not classify this as a classic super hero origin story. The classic super hero origin story is essentially the entire heroic journey in one issue. We're not doing either of those things. We will look to the heroic journey for some ideas but this is not a traditional super hero story by any stretch of the imagination.
Me: Can you tell us about some of the characters you meet in issue 1?
Andrew: The characters you meet in issue one are limited in their scope. You don't get the time to know anybody and that is done on purpose. The idea is to meet those characters and then we see where we go with them in issues 2, 3, 4, 5, and 6. But there is a story going on. So I can't really tell you anything about them except to say that they are a distillation of the Zenith Universe I had previously created down to the what I think are the most important characters and archetypes that we have.
Me: Comic Books have gone through many changes in terms of style and the sorts of fans they attract. Older established comics as those put out by Marvel and DC have also had to reinvent themselves — especially as some of these stories transition to the big screen. Then there are the many and varied independent comic books that have sprung up since the 70's and 80's. Are there any particular influences which helped inspire Heroic and do you feel the story you tell will remain relevant years from now as it is today?
Andrew: I am somewhat disappointed with the state of modern comic book storytelling – it's as if the herodom has been lost. To my mind, heroes shouldn't change to fit the times. Heroes are beacons in the darkness; heroes are lights. There is a reason why the word 'hero' has lasted and come down to us from ancient Greece and the epic tales of Gilgamesh and what-have-you from Sumeria. Heroes are heroes. Their actions are designed to inspire us, they're meant to make us strive to be better, and they're made to show us that the world can be a better place. When we reduce them to be like the guy next door but doing something with a gun or some gear, I think it loses something of herodom. I am a big fan of the bronze age of comic books. There is a humanization of the heroes while remembering they're heroes at the same time. Therefore, if I've done my job properly and tell a heroic story, then hopefully that will resonate 20 years from now and when someone picks up the comic and reads it will say this is a great story much like I've read stories from 40 years ago in comics that still resonate with me today.
Me: In creating a new comic, there are many challenges as an independent. This particular comic has had it share of challenges. Would you be able to give us an idea of some of the issues Zenith Comics has had to deal with in order to finally create Heroic?
Andrew: Let's just say it's been a 'heroic' or a herculean task. It's hard to do something when you don't have a lot of money to throw at problems and then have to find creative way around them. I've been very lucky – I have a strong script that has resulted in people supporting it, wanting to work on it, and doing the best they can within the reality of their needs to provide their services me. But at the end of the day, it all comes down to money and one of the big problems we've had is getting this money. This is why we're going to Kickstarter since we cannot afford to produce the comic out-of-pocket on our own. The comic is good enough that we feel it should be out there and we want it out there. The people who rallied their creative abilities to us obviously need to paid but they rallied to us because the script is good. They believe in the project and they believe it will resonate with the people who read it. I think the chores, tasks, and issues… the labours if you will… that we've had to overcome have all essentially brought us to this point where we have the strongest script, the strongest art, the strongest colours, the strongest lettering, and the strongest support we can have at this time. That means we are producing the best product we can.
Me: Creating a project of this magnitude requires many different types of talent. Can you tell us a bit about some of the Zenith Comics crew that are behind this inaugural issue?
Andrew: Alex Williamson is on pencils and inks and he is astounding. His bio will be going up on the Kickstarter page and we will have a little paragraph about everyone involved but he is amazing. Then we have Nicholas Chapuis who is doing the colors for us and, again, we're talking about absolutely amazing colours and this guy's work is just mind-numbing. Lastly, we have HdE to do the lettering (yes HdE is his name) and of all the people who came to us for the lettering, he was phenomenal. His work stood a full head-and-shoulders above everyone else's and there were some damn good people who answered the call for a letterer but this guy was the best. Interestingly enough, we have an American artist, a German colourist, a British letterer, and a Canadian writer so I think we're getting a little bit of a multicultural world going on for Zenith Comics and that's kind of fun.
Me: In a matter of days, Zenith Comics will be launching a Kickstarter to pull in the necessary funds to see the first issue go to print. Many independent comic books don't last for very long beyond the first issue and some don't even see a second. What does the future look like beyond issue one and what would it take for this one succeed where others have not?
Andrew: Readers and demand. For it to succeed, people are going to have to want it. If that means showing us that they will support a Kickstarter for issue 2, then great. If that means we sell enough comics post-kickstarter to build up enough money to do an issue 2 without Kickstarter, then even better. Ultimately, what will move it forward is the demand. We have a 12 issue story to tell in two 6-issue arcs – that is our 'open'. I am focused on issue 1 but then we have the rest of the story to tell and after issue 12, that story doesn't end. It just means the universe has been opened up now and now we can start telling more interesting stories beyond just 'Zenith Comics Presents: Heroic'.
Me: As this is a crowd-funding effort, is there any rewards for the Bleeding Cool fans who support you?
Andrew: Indeed! We have created 2 reward tiers that are specifically for Bleeding Cool fans. One is for a digital copy of the comic and the other a print copy, but BOTH will include a special "sketch wallpaper" that Alex is designing that will directly thank the Bleeding Cool audience for their support.
And there we have it. The Kickstarter for issue 1 of Zenith Comics Presents: Heroic should launch VERY soon. If interested to know more, please consider checking out their facebook page here: