Rose City Games Announces "Floppy Knights" With A Reveal Trailer
Rose City Games, along with publisher Those Awesome Guys, revealed a brand new indie game on the way this year called Floppy Knights. The game is a bit of a mesh between deck-building titles and tactics games, as you'll send out creatures to do battle on a grid. Each one with their own skills and abilities as you'll have to strategize how best to use them without having them killed off and sent to the graveyard of your deck. We have the announcement trailer for you below as well as more info on the game. Neither company announced when we'd be seeing it released. The best guess would be in late 2020.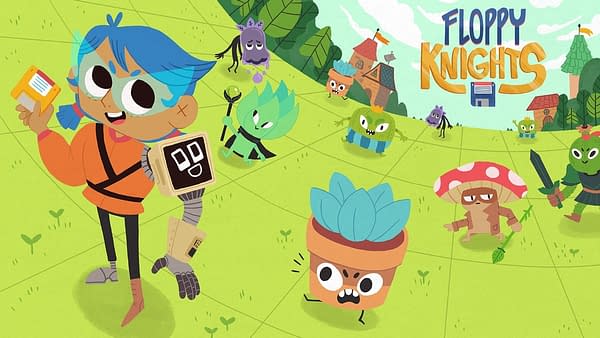 What do you get when you bring a microprocessor to a knight-fight? A deck-building, sword-swinging, tactical adventure! Meet the Floppy Knights: tangible projections summoned from floppy disks. They'll help Phoebe and Carlton earn cash and perhaps even save the world in the process.

Turn-Based Tactics meets Deck-Building
A fresh take on two familiar genres! Mix and match your favorite cards to craft your deck with care. Once you're ready, lead your Knights to victory across a turn-based battlefield.

Vibrant world filled with retro tech and magic!
Enter a fantastical land where cassette tapes and alchemy co-exist. Knights and enemies spring into action in hand-drawn visuals by Marlowe Dobbe (Dicey Dungeons).

Achieve Squad Goals
Get ready for gutsy goblins, sassy succulents, and more! A colorful and diverse assortment of Floppy Knights will be at your fingertips, ready to boot up into combat.

Easy to pick up, hard to put down
We took the best elements from deck-building and tactics games, condensing them down into a quick-to-learn, simple-to-understand format.