8-Bit Adventures 2 Releases For PC & Consoles Today
8-Bit Adventures 2 has been released today, bringing the classic old-school RPG adventure genre to PC and consoles.
---
Indie developer and publisher Critical Games have released their anticipated sequel, 8-Bit Adventures 2, for PC, Nintendo Switch, and Xbox today. Following up on what was probably one of the best indie retro games of the last decade, the game takes you back to an era of '80s and '90s JRPG adventures where you and a plucky crew travel around, fighting enemies, getting to know each other, and attempt to take down a monster looking to destroy the world. You can play a free demo of it on GOG and Steam if you'd like, but the game is out right now for those looking to jump back into the adventure.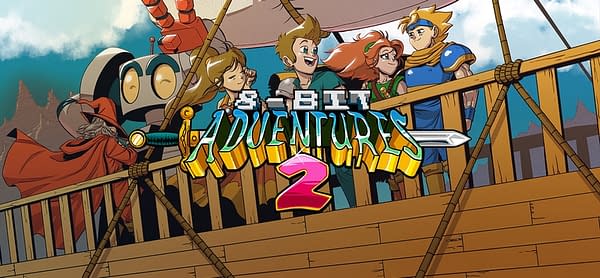 "8-Bit Adventures 2 is everything you love about NES, SNES, and PS1-era JRPGs – with all of the charm, heart and soul, but none of the inconvenience. That means an earnest, engaging storyline; relatable, easy-to-love characters; strategic turn-based battles; deep party customization; bizarre monsters; an unforgettable soundtrack; and a large, fantastical world traversed by Airship and filled with people full of personality – all brought to life by vibrant 8-Bit inspired visuals. Enjoy a feel-good adventure filled with love, laughs, and drama, which deals with the dark stuff but always wants to leave you feeling uplifted over its 30-40 hour playtime."
"Experience constant variety – everything from exploring ancient ruins to solving a robot murder mystery – realized through charming pixel art which walks the line between authenticity and aesthetic. Explore an expansive World Map filled with secrets and optional locations to discover, both on foot and via Airship! The world of 8-Bit Adventures 2 is full of the character-driven side-quests and challenging Super Boss battles that any RPG fan expects. Engage in turn-based JRPG battles with depth and strategy inspired by games like Final Fantasy X, Chrono Trigger, and Mother 3. Freely swap allies in combat, equip Augments to customize your characters, and unleash 99 unique abilities, including Team Attacks and Omega Burst finishing moves. Meet a lovable cast of seven playable characters who form relationships, make mistakes, and struggle with their past but still work to save the world and overcome their demons."