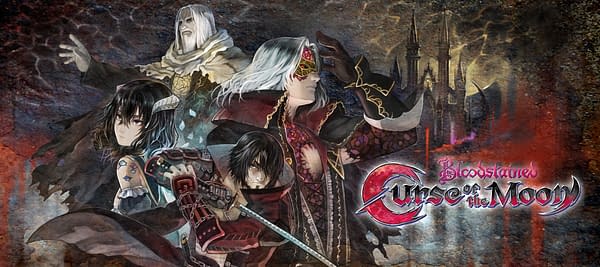 During a panel at Bitsummit in Kyoto, Inti Creates and Artplay announced the 8-bit game Bloodstained: Curse of the Moon. This will be a spin-off of Koji Igarashi's Bloodstained: Ritual of the Night. In fact, the 8-bit title is part of the Bloodstained Kickstarter campaign's stretch goals.
Curse of the Moon is a nostalgic 8-bit game designed to evoke memories of the Castelvania. And considering Konami's lack of any new Castlevania games that aren't on mobile, it'll likely be the closest we get to a proper current gen Castlevania game. Bloodstained: Curse of the Moon will come with four characters playable at launch: Miriam, Zangetsu, Alfred, and Gebel.
The game will release on may 24th for PS4, Xbox One, Nintendo Switch, 3DS, PS Vita, and PC on Steam.
Bloodstained: Ritual of the Night backers who donated $28 USD or more will receive Curse of the Moon for free. The game does not have a retail price at this time.
In other Bloodstained: Ritual of the Night news, Artplay released a survey to determine how fans felt about the possibility of DLC coming to the game. The results of that poll have yet to be revealed.
The announcement trailer for Curse of the Moon features a short message by Igarashi, along with some gameplay and character overviews. You can check it out below.
Enjoyed this article? Share it!