A Chat With the Cast of the Sci-Fi Podcast Voyage to the Stars
A brand new podcast launched yesterday called Voyage to the Stars, and if you're a sci-fi nerd who loves the humor of life in space, this will be up your alley. The show is produced by MWM in partnership with Earwolf, bringing you a half-hour improvisational program. Meaning there is a main script that serves as a guide the cast but a lot of the dialogue is made up on the spot between the cast. The primary four members of the ensemble are Colton Dunn, Felecia Day, Steve Berg, and Janey Varney, along with an incredible list of guests who will visit the show throughout the initial run of 17 episodes. We got a chance to chat with Varney and Berg, along with the writer and co-creator of the show, Ryan Copple, to talk about how it came together and the fun they had making it.
Steve Berg, Ryan Copple, & Janet Varney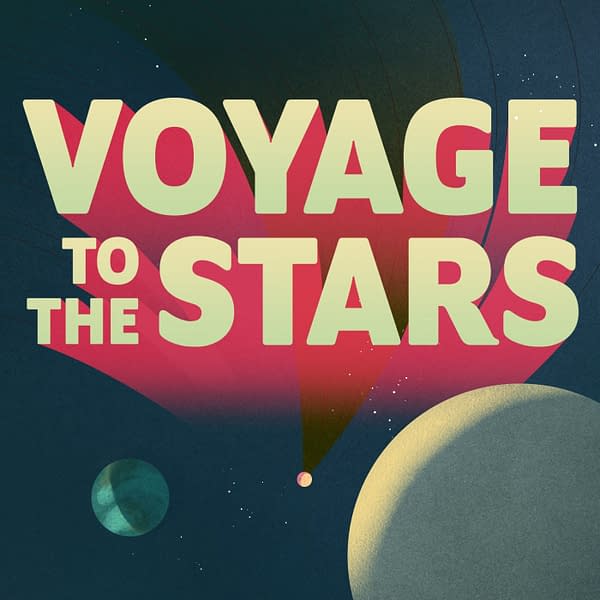 BC: For those who may not know you, tell us a little about yourselves.
RC: I'm an avid gamer who grew up in the midwest and have been obsessed with fantastical worlds my whole life. I had a brief stint as a forensic psychologist before really stepping myself in geek and gaming entertainment, eventually writing my own stuff. I'm also obsessed with Pokémon and became a meme for the first Pokémon Go fest. Fun story.
JV: I'm Janet Varney, and you might know me as the voice of Korra in The Legend of Korra, or for my roles on Stan Against Evil, You're the Worst, my podcast The JV Club, or some other fun stuff I've been lucky enough to be part of.
SB: I'm originally from Omaha, Nebraska. I got my start in Los Angeles as an improviser and sketch comedian coming up through The Second City LA, Improv Olympic West and UCB.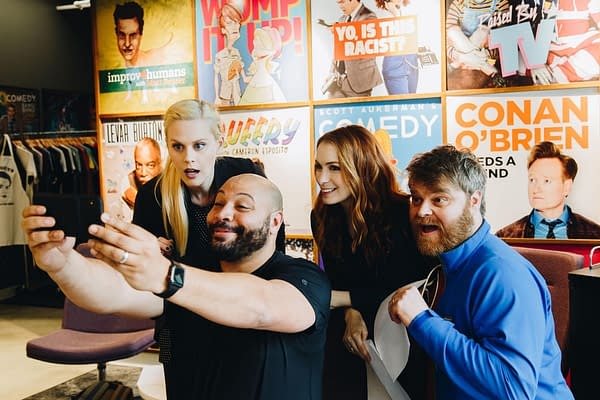 How did the concept for Voyage to the Stars come about?
RC: I've been wanting to do something that combined world building story-telling with improvisation. I know quite a few amazing improvisers and just really loved watching how imaginative they could get when provided a large sandbox. I'm also obsessed with shows like Lost in Space, Futurama, Hitchhiker's Guide to the Galaxy and more and I realized we had a really unique opportunity to combine improv comedy with genre story-telling to create a new type of narrative experience.
JV: Voyage is the creation of my friend and colleague Ryan Copple, with whom I worked on a really fun escape room show for Geek & Sundry. We had been looking for the opportunity to work together again, and he came up with this wonderful idea for an intergalactic space adventure that is really tightly outlined, so there's a very clear, carefully written storyline, but with the characters/actors improvising through the plot points so that it still feels totally spontaneous in a really exciting way.
SB: Ryan had this big idea, and big ideas, especially when they take place in space are very exciting to me. He bought me a fancy Hollywood salad lunch and pitched me the idea, and I replied "when do we start" and that was that. I was on board within minutes.
Considering the content of the show, were you aiming to create a new podcasting experience with it, or is this more of an updated radio play format?
RC: We were definitely trying to create a new format that basically maintains the intimate, conversational nature of podcasting while blending in a larger, overarching sci-fi narrative. We could've gone full scripted with it, but ultimately it would've just been like an audiobook recording or radio show. We wanted to show that you could tell epic, sweeping tales with just audio that really steep people into a world they're not actually seeing.
JV: I would definitely say a new podcasting experience. To me, it's very much a reflection of how savvy and involved listeners are in their experiences with podcasts. It's got some real meta elements to it, and there's a whole world we're building that we see extending past the podcast itself as well!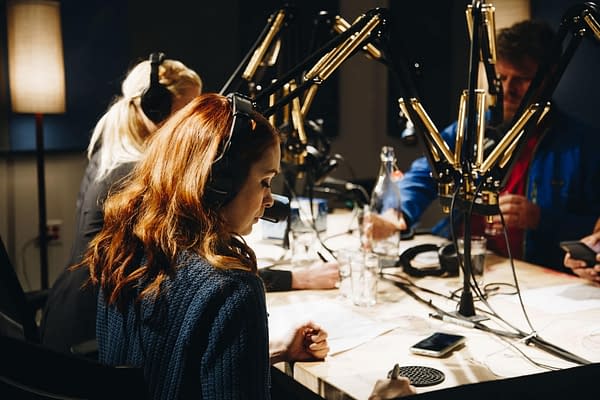 What made you decide to keep all of them at 30 minutes, and how did you get to 17 episodes?
JV: Honestly, we were planning for fewer episodes, but when we were recording, we realized that there was just too much great stuff happening with our wonderful cast (and I'm speaking as a producer here—let's leave me out of the talent pool for the time being, haha), so we knew we wanted to expand to allow for all of the funny to make it to our listeners' ears!
RC: We liked 30 minutes because it made it feel like a half-hour comedy that we're used to digesting. I love how long podcasts can get, but I also know the length can be daunting for new listeners. This way, it really feels like you're getting a 30-minute experience. As for the 17 episodes, that's just what we needed to tell this first chapter of the story!
What was the process like in writing each episode up and making them true to the show and the fandom?
SB: Ryan would give us an outline for each episode with a pretty tight narrative structure for us to improvise around. The story is very important, so the challenge was not only to try and make it funny/interesting, but also drive the story forward and pay tribute to what Ryan had laid out.
RC: The writing process was really fun because it's basically like a very detailed outline. We know we want the story to go from point A to point B, but how they get there ultimately gets decided by the cast. There's definitely rails built in but there's also a ton of room to play. Fan art is also going to be a big part of the show. We wanted to throw in a lot of really evocative scenes and moments and see how the community interprets it and the colorful characters we have.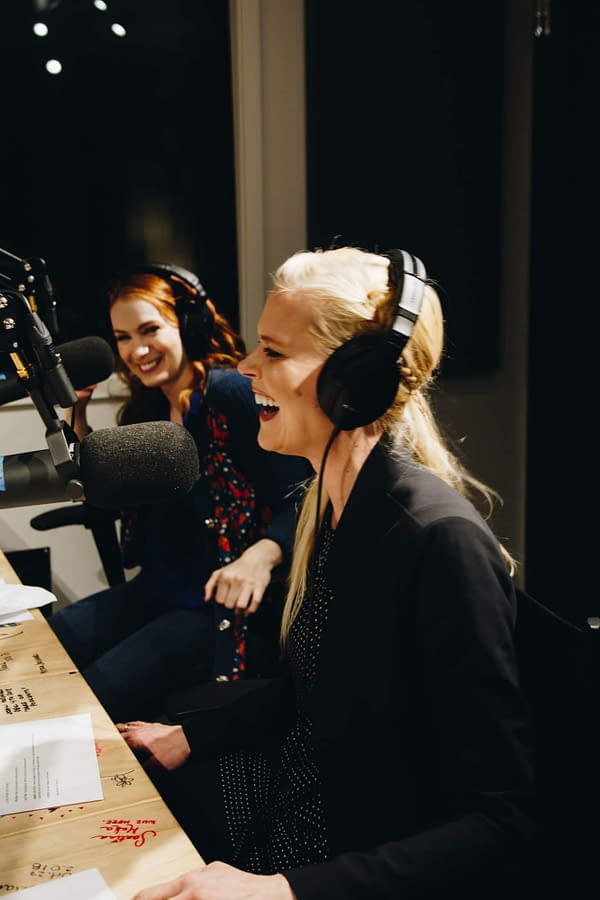 When they were being written up, were you aiming to do a lot of fourth-wall breaking and kind of tongue-in-cheek humor? Or is this more along the lines of a show where you know the audience is in on the joke so you roll with the humor like it's normal?
RC: It's definitely more absurdist, tongue-in-cheek humor in nature. What's important to know is that this is a group of people who have really good intentions and are really bad at the follow through, and basically everything they encounter will be left much worse than when they found it. We also built in a lot of pop culture references and fun pokes at older sci-fi tv shows, movies, and tropes.
How was it for you defining your characters through your voices and bringing them to life?
JV: To be honest, I really do have kind of a special love of doing robot voices. I'm kind of obsessed with that very particular faux-friendly tone of an automated voice on, say, your phone company's main helpline, where she seems both friendly and completely cold and uninterested at the same time? That's what I was shooting for with Sorry.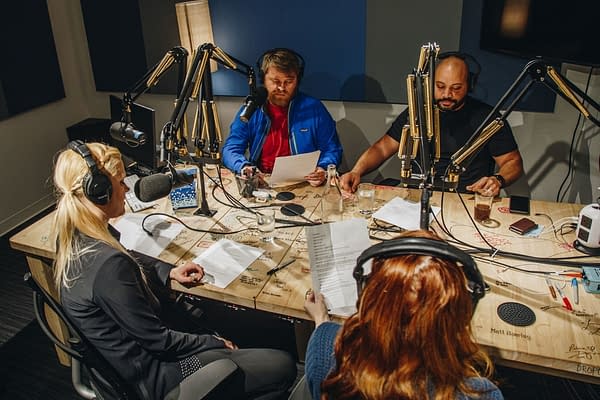 Who did you each have the most fun interacting with while recording?
JV: No way to choose! I am so crazy about the other cast members- they're all brilliant and constantly surprising me. And our guest stars were sublime!! SO MANY amazing performances. Every time a guest star finished their work with us, I was sad to say goodbye.
You got a number of guest stars for the show. What was it like working with some of the talents you were able to bring in for sessions?
RC: I was really impressed with the guest talent we had on the show. Not only were they hilarious, but they seamlessly dived into a pretty unconventional format. And, it was really fun to see what they chose to bring to the characters that weren't even on the page.
JV: Just fantastic. As a producer, I was very lucky to have a hand in casting some of my favorite improvisers from a bunch of different past projects or live shows I've worked on or seen/heard. Gary Anthony Williams and I, for example, have known each other probably 15 years now and first worked together on a web series, that's how we met. And I've basically tried to muscle him into everything I've ever worked on since. And that's just one example of the brilliant guest stars!
SB: The guests we have on are incredible—I'd love to share who they are, but I think I'd get in trouble. I will say there are some great voices you will get to from the comedy world. Very exciting stuff!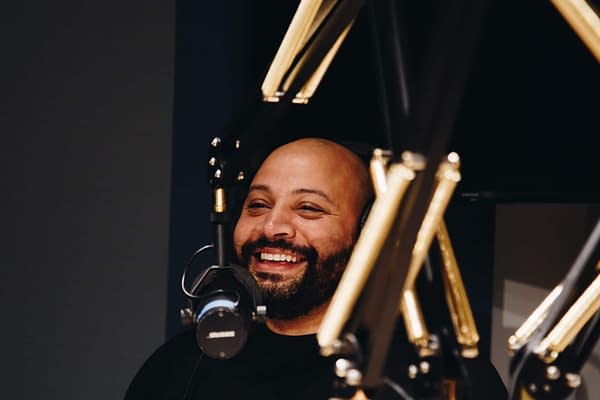 10. Without spoilers, are there any particular moments you enjoyed in the show?
RC: There's one moment mid-season with Hal Lublin that still makes me laugh when I think about it. But, honestly, there's so many amazing moments that the cast built off one another that just really makes it special.
JV: That's so hard to say without spoilers! I will say that there are clips of the live show we did at SF Sketchfest with the regular cast and guest stars Tom Lenk and Kirsten Vangsness, and that was a spectacularly fun experience, some of which you can see now!
SB: Hopefully people get some hard laughs out of this show, but also, get to enjoy an imaginative sci-fi world with great story-telling. That's the goal!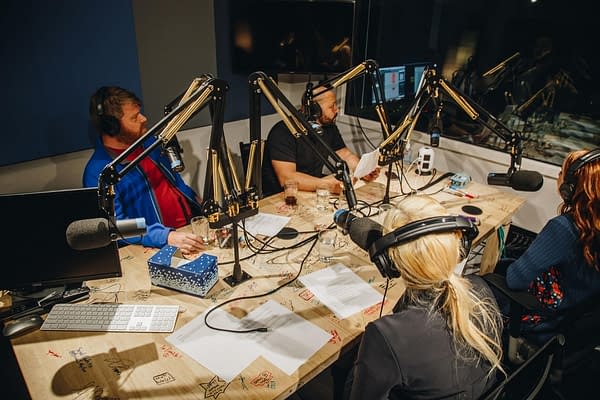 11. What do you hope people take away from the show?
RC: I really just hope people enjoy what we've tried to accomplish with this newer format, and use it as a distraction from all the other stuff happening around us!
JV: I just hope people enjoy this format since it's been a really cool one to be a part of. It kind of created new improv/storytelling synapses in my brain. Hopefully, people will feel the energy we felt when we were recording.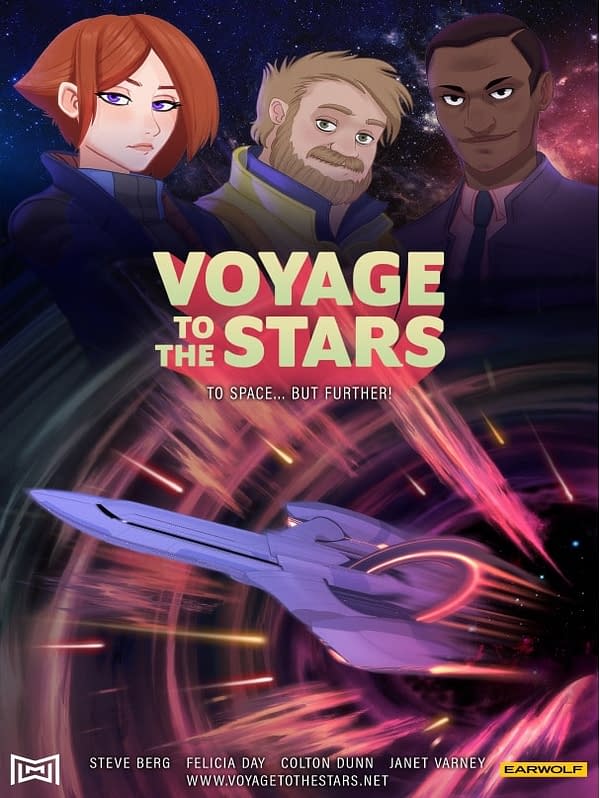 Any plans for a second season yet? Is it a one-and-done? Or just waiting to see how people react to it?
RC: Definitely have plans for seasons two and on. We're already talking about a comic run to bridge the gap between seasons one and two. I think people will really be surprised by the conclusion of this arc though. This isn't just a sci-fi comedy where they bounce from planet to planet. We made sure there's a ton of world building and bigger arcs tied up by the end that'll make the next chapter equally silly and exciting.
JV: Definitely want to do more! Yes!
SB: Oh yes, we would love to do a second season! I know there are plans story-wise, but I suppose we will have to wait and see if the citizens of Earth want more first. I hope you all enjoy as much as we enjoyed making it!