A Sealed Copy of Super Mario Bros. Sells For Over $100k
An interesting way to spend $100k, as an original copy of Super Mario Bros. for the Nintendo Entertainment System sold for $100,150 this week. A group of collectors got together on February 6th and plunked down the cash to purchase what is basically an untouched version still in plastic and sealed away in a case. The buyers include Jim Halperin, Founder and Co-Chairman of Heritage Auctions; Zac Gieg, owner of Just Press Play Video Games, and Rich Lecce, renowned coin dealer, pioneering video game collector, and owner of Robert B. Lecce Numismatist Inc. The game itself attained such value for being in Near Mint grade of 9.4 with a "Seal Rating" of A++. The three sent out a press release about the purchase this week with some quotes.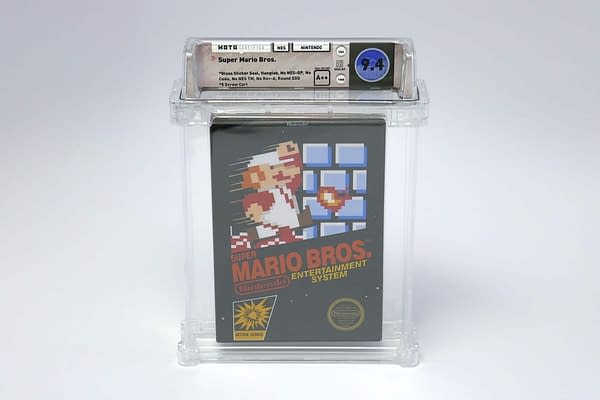 "Not only are all of NES sticker sealed game' extremely rare, but by their nature of not being sealed in shrink wrap they usually exhibit significant wear after more than 30 years," Thrower said. "This game may be the condition census of all sticker sealed NES games known to exist."

"Super Mario Bros. is not only the most recognizable game of all time, it saved the video game industry in 1985," said Wata Games President, Deniz Kahn. "In terms of rarity, popularity, and relevance to collectors, this game has it all. Mario is the most recognized fictional or non-fictional character in the world, more so than even Mickey Mouse. Super Mario Bros. launched the world's largest game franchise and this copy is the only known sealed example from Nintendo's test market release.

"I would have loved nothing more than to be a part-owner, and even though this game was already certified, I didn't want the remote perception of any conflict of interest due to my position at Wata," Kahn said.
We have a picture of all three men following their purchase for you here.