A "Left Bros" Copy Of Super Mario Bros. 3 Is Up For Sale

In the massive world of games collecting there are a few boxes that get special attention, like the "Left Bros" version of Super Mario Bros. 3. Currently, on Heritage Auctions, there is a copy of the game, still boxed and wrapped, that contains the "Left Bros" look going for $16.5k and it ends on July 10th. You can read in greater detail what that means below, but the shorthand is the word "Bros." doesn't appear over Mario's head, it appears over his hand on the left side of the box, meaning it's one of the first copies made in production before they corrected the art. Making it a rarity for anyone who owns a copy, even if it's just the cartridge. Best of luck to you getting it if you have the cash and want to snag this super rare piece of early '90s gaming.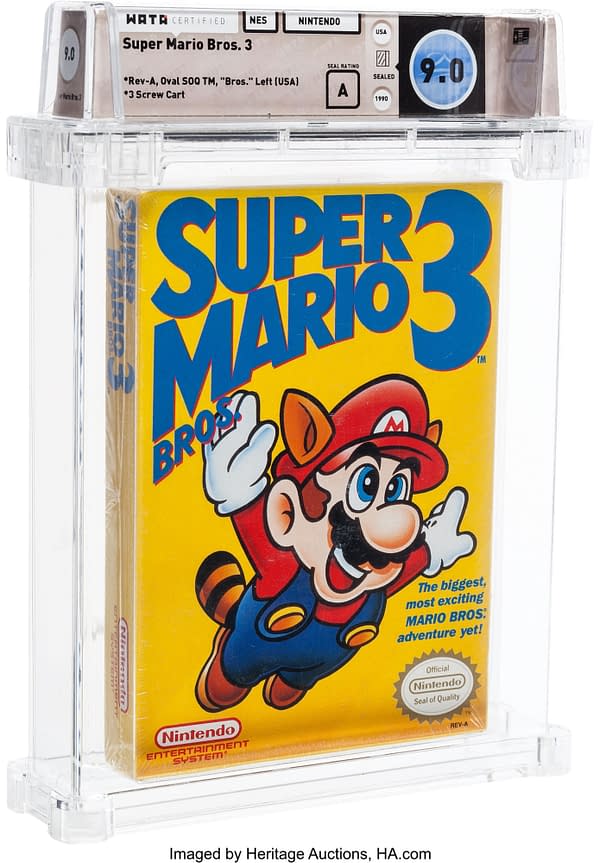 This is the first sealed copy of the "Left Bros." variant of Super Mario Bros. 3 that we have ever offered in our auctions. Make no mistake, this copy is not at all to be compared with any sealed copy of the "Right Bros." variety; the "Left Bros." is in a completely different league. This variant's nickname refers to the justification of "Bros." on the front of the box, which indicates this copy is from the earliest production run of the title. It is as close as one could get to saying this copy is from a "first printing." While there are certainly a fair number of complete in box copies of this variant out there, sealed copies of the "Left Bros." variant exist in the low single digits. Which is understandable, considering the earliest produced copies of a game are much more likely to have all been sold early on (and opened). For many collectors, the prospect of finding a sealed copy of this variant of Super Mario Bros. 3 has been such an unlikely task that many have forked over a pretty penny for a high grade complete in box copy. For example, in April 2019, we sold a Complete in Box copy of this title, graded 9.4 by Wata, for over $5,000. What a high grade sealed example such as this one will go for is anybody's best guess; there are no verifiable auction records of an example ever being sold.

As a means to better explain the significance of this variant, it isn't much of a stretch to say "Left Bros." is to Super Mario Bros. 3 as "Dr. Wright" is to the first Mega Man game. We have a feeling that many collectors who have longed to own a sealed "Left Bros." will be practically jump at the chance to finally add this coveted game to their collection.