Well, that's one way of getting Nintendo's attention. Wanna prove that the Splatoon 2 system is hackable? Hack it and then ask them to fix it. A Reddit user named PleaseAddAntiCheat with a love for the game went into the Rank X leaderboards (which recently were made to be the cream of the crop leaderboards), hacked the system, and then confessed to doing it on the Splatoon subreddit to prove how easy it was for anyone to get in and do it. Here's their statement below, along with the snapshot they took as their proof.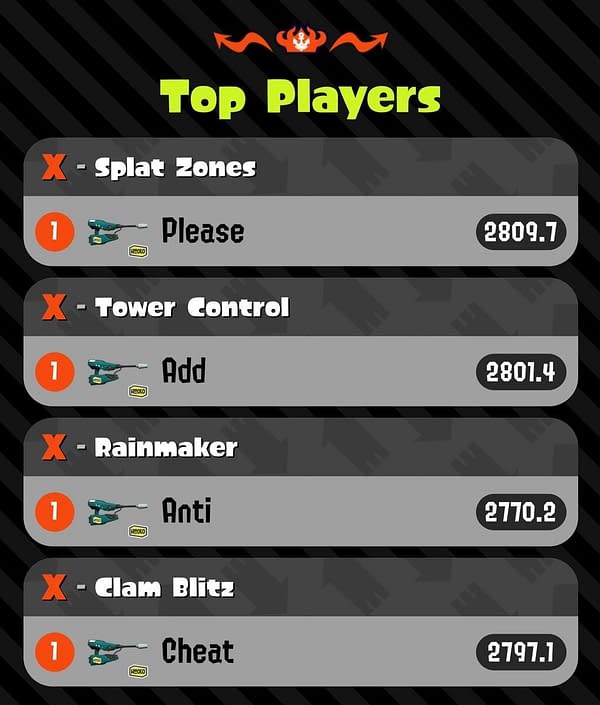 Splatoon 2 is a game that I love so very deeply. Despite having its connectivity issues, I think it provides a healthy and competitive environment for all players; it advocates strategy and a strong sense of team work. It is because of this, everyone enjoys Splatoon, and enjoys the fun of fighting for a rank or a league position.

However, this will not be true as long as there are cheaters lurking around.

I've never personally played the first Splatoon, but I heard how bad it was, being overrun by cheaters who tamper with the game and impose unfair advantages on others. I, at first, was relieved that the Switch had a decently strong system security. Perhaps that's what the development team thought as well. Yet it doesn't justify removing all the security measures from the first game, and leave the game and its players completely defenseless to ill-purposed griefers who mod their game to victory. I figured that someone needs to deliver a message to Nintendo.

And a loud one.

Nintendo, you're welcome to ban my console any time. My purpose was to call attention to the current issue that plagues the game, and I've done that. But my message is, please make protecting your players the top priority.

Please add anti-cheat.
Nintendo has not responded to the bold statement publicly, but they did take one specific action privately that was later highlighted by the user in question. Their Splatoon 2 account's X Power rating was cleared out and they're now back down to zero, but haven't banned the account. So if anything, we know they got the message.
Enjoyed this article? Share it!