AVerMedia Launches a New Live Streamer Microphone With the MIC 133
The crew over at AVerMedia have released details for a brand new live streamer microphone on the way with the MIC 133. According to the specs, the Live Streamer MIC 133 includes the AM133 unidirectional cardioid condenser microphone, which can be connected to pretty much any device you'd like, including being mounted on a camera via its built-in camera shoe mount. This particular model is unidirectional and is optimized to capture the speaker's voice while rejecting audio from the sides and rear. It also comes with a compact bag and a few other accessories to help you out. We have a quick quite from AVerMedia about the mic.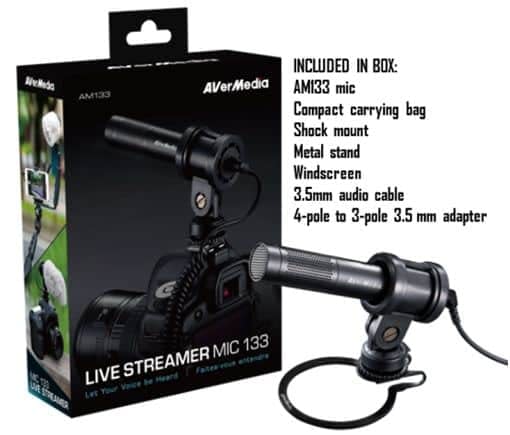 "The Live Streamer MIC 133 gives live streamers a complete, highly portable package with everything needed for high quality audio recording using a camera, laptop, or mobile device," said David Kao, Sales Director of AVerMedia. "When you combine the quality, reliability, form factor, and maximum flexibility of our mic package, it offers an unmatched real world solution for video creators."
You can currently snag this microphone for $70, we hope to have a review of it for you in the near future.