BBC Studios Announces New VR Game Doctor Who: The Edge Of Time
BBC Studios, along with Maze Theory and PlayStack, has announced a new VR title in the Doctor Who universe with Doctor Who: The Edge Of Time. The game will put you in the role of The Doctor as you will explore several worlds both familiar and new with all the tools of the trade to discover problems and attempt to fix them, all while doing a lot of running and wibbily wobbly timey wimey stuff. The first story will put you in the role of the current Doctor, played by Jodie Whittaker, who while it isn't specifically specified in the press release, will probably be voicing the character as well. (I mean, we can't see why not, it's an official BBC game.) The game will launch in September 2019 on PSVR, Oculus Rift, Oculus Quest, HTC VIVE, and the eventually released VIVE Cosmos. Here's a little bit more on the story as well as a trailer for the game.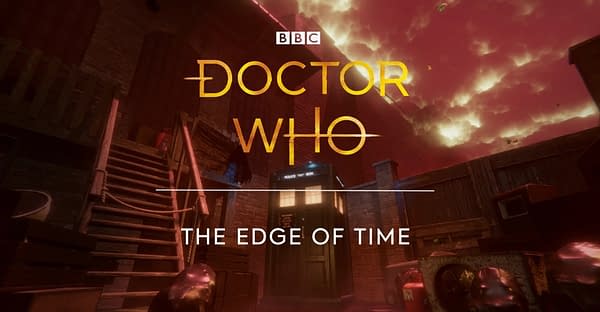 Armed with the iconic Sonic Screwdriver, players will solve mind-bending puzzles, grapple with classic monsters and encounter new horizons in a quest to find the Doctor and defeat a powerful force that threatens to destroy the fabric of reality. They will face the infamous Daleks and other known faces from the Doctor's world plus some brand new never-before-seen monsters as they travel through stunning cinematic environments that truly bring the show to life!

The Doctor has been hurled through time to the end of the universe. A virus that threatens to rip apart reality itself has been unleashed. Players can pilot the TARDIS on a journey across worlds both familiar and strange to recover a series of powerful time crystals that can repair spacetime and ultimately, save the universe itself.