Beadle & Grimm's Shows Van Richten's Guide To Ravenloft Silver Edition
The folks at Beadle & Grimm's unveiled their latest Dungeons & Dragons set with Van Richten's Guide To Ravenloft Silver Edition. The company has had an amazing run with these sets as they bring the game to life in a whole new way, same as the early box sets they used to make back in the TSR days for certain campaigns. With the next adventure guide coming out this May, the company is again working with Wizards of the Coast to make a special version for players who are looking to boost the experience with custom maps, special items, and a lot more. This particular box will be their second D&D boxed set accompanying a setting book, the first one being the awesome Gold Edition of Eberron: Rising From the Last War.
This version will be the same as that with custom content packed into the box to help the campaign go for months with fun additions. What's more, this will be the first time they're printing four different covers of the box, each one a different mark of horror included in the book, so you can choose what you want the box to look like in your collection. We have a full list of everything included in this set for you below along with some images of what you'll be getting. You can pre-order the box now at the link above, as those who purchase a box within the first week will receive a free Ravenloft-themed T-shirt.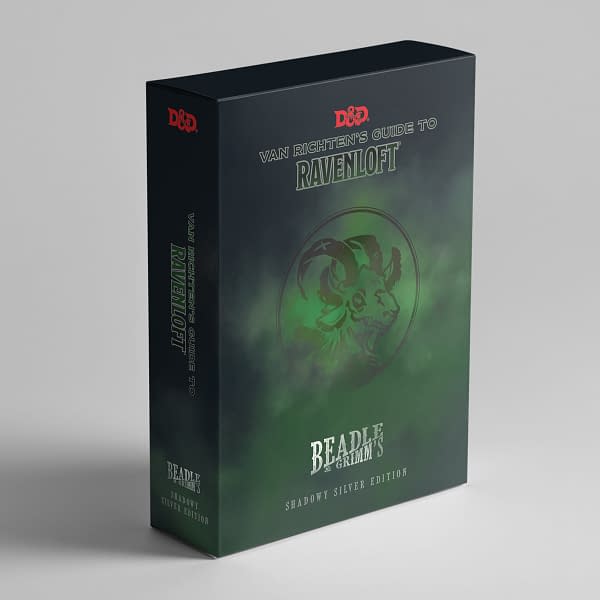 Van Richten's Guide To Ravenloft Silver Edition

The book, broken out into four easy-to-digest booklets

Three different in-world jewelry pieces

Encounter Cards (40)

In-World Handouts

Four short bonus adventures in four different Domains of Dread

Battlemaps for the House of Lament adventure included in Van Richten's Guide to Ravenloft and our original bonus encounters

Player maps for Domains of Dread like Lamordia, Kalakeri, and, of course, Barovia

Artwork pulled from the book on high-quality paper