Blizzard has finally revealed Overwatch's 27th hero and as expected, it is long sought after character Brigitte.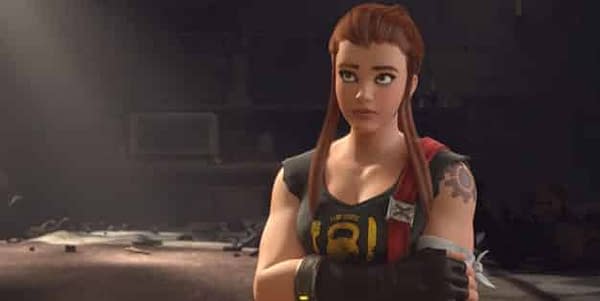 This has been coming for a while. From the official teases (to the accidental leaks) people have been expecting the long canonised character Brigitte to be the next Overwatch character. It turns out, those expectations were well founded as she has now been confirmed. The tease yesterday hinted she would have a shield leading many to think she might be a tank, somewhat like Reinhardt. That would make sense to as she is his squire in the lore of the world.
However, she isn't a tank but instead a support character, but you would be forgiven for thinking that at first glance. She is not a 'squishee' like all the other supports in the game, with a whole lot of health and armour to keep her alive. Her kit seems constructed to get her in the fight, rather than in the back like other healers. She has a melee flail that heals characters as she hits others, a personal shield so she can protect herself, she can dash with that shield too. She can also directly heal and increase character's overall health pools while also having a basic knockback ability. Her ultimate speeds her up and provides a whole bunch of armour for her team. Think a Zenyatta Transcendence, but with armour instead of pure healing.
You can see a description of the hero from Jeff Kaplan just here:
And here is her story trailer:
I've gotten hands-on with her a little bit already and she seems incredibly neat. I'm not sure exactly how she will fit into the game yet, but she seems like she could be properly excellent, especially for newer or less DPS focused players. A Tank-Support hybrid most certainly has big potential.
Enjoyed this article? Share it!