Busting Out A Better Stream: We Review The Elgato Cam Link
A few months ago we got the chance to review the Elgato Stream Deck, which is an amazing piece of tech that, as we put it at the time, gives you the power to a TV studio in one device. Elgato tends to make some really awesome products geared specifically toward Twitch and YouTube streamers who are looking to make the best possible content and would like to remove about 75% of the junk that may be cluttering up their workspace. The latest addition to this is the Elgato Cam Link, which we got a copy of so we could test it for review. The link itself is what you see above—an small portable device that has a USB 3.x on one side, and an HDMI port on the other side. The box it comes it directs you to a link that will allow you to download HD game capture software as part of the purchase. Also in the box was a small USB extension cord just in case you can't plug directly into your tower or laptop due to space and need a little wiggle room. You also get a sticker and some safety instructions, but all in all, a small package with only the necessities. As you can see from the diagram below, the goal is to do a true HDMI link into any computer or laptop for your camera to get the best possible picture, without doing any kind of special rigging or going through a physical switcher. Everything goes directly in as a direct feed and then is managed by the software itself for game capturing, but it is compatible with OBS and other broadcaster systems, which all you'll need to do is select the source on your drive and give it a proper name.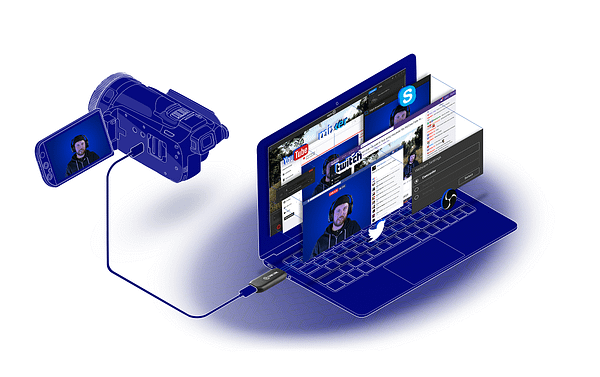 I tested this out with a couple different friends and their cameras, most of them being Canon products as well as rigging an iPhone and a Galaxy S7 up using a reverse USB-to-HDMI setup one of them had. Everything we got turned out to be high-quality video, even on the phones.So if you're a streamer on a budget, it wouldn't take much to utilize devices you wouldn't immediately consider as a streaming camera. Meaning with the right setup, you could broadcast HD quality video on the go with a GoPro or a smart phone and a laptop with a dedicated wifi signal. That's pretty awesome as far as quality goes. Because this device is so unique as far as sending HDMI footage, I wanted to give it one final test with a friend of mine who directs short independent films. We did a little experimentation and hooked his Canon EOS 5D Mark III with an HDMI cord into the Elgato Cam Link and hooked the USB directly into a 1TB storage device. Only using the option on the camera, we were able to record footage directly onto it without any kind of degradation to the video or the audio that was recorded. So in theory with the right setup, you can use this for filming other projects in the best quality possible directly to storage. Ultimately, the Elgato Cam Link is a badass addition to any setup, and I would dare say it is a requirement at this point to get the best out of your video quality. The price is going to kill some people as it sells for about $130. But, think about this: The price of software, cables, and other port connectors you probably use over the course of five years is going to run about $200, maybe $250 if you buy the higher-end materials. This one device cuts out a lot of that crap and makes connecting a camera far easier than you realize. It becomes an investment if you're a professional streamer and something that a lot of people who love great video quality shouldn't ignore.