Cable Guy Launches New Line Of "Avengers: Endgame" Chargers
Cable Guy will be bringing something awesome to Gamescom this year as they have a new line of Avengers: Endgame chargers. This little beauty can charge most any game controller for Xbox One or PS4 (no word on Nintendo Switch), as well as most smartphones and tablets. This one is designed to look like Iron Man from the latest Marvel movie and will be on display at their booth during Gamescom 2019 this year. You can currently pre-order it on Amazon for £25 ($29). Here's a proper description from the company about the charger.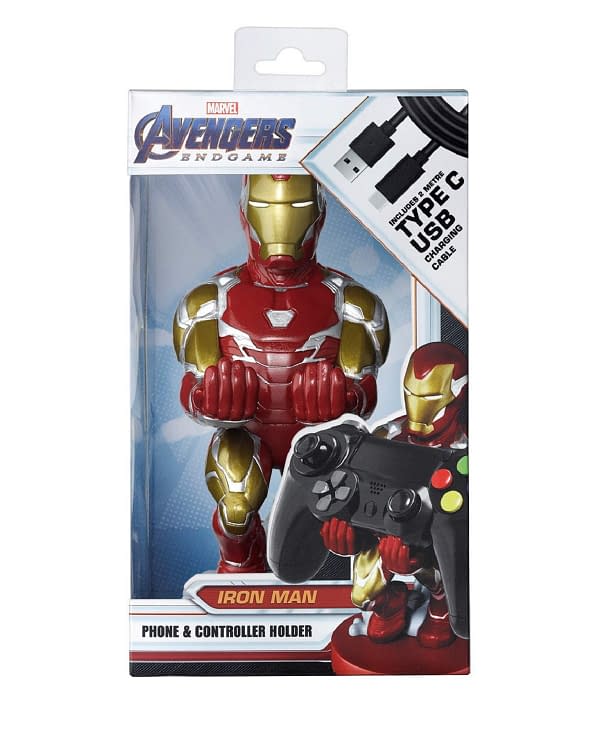 For film and gaming fanatics meet the marvellous Iron Man, for those who want to keep everyone safe. At last Iron Man can look pristine in your own home, or around your desk. It holds most gadgets, such as mobile phones and gaming controllers, whilst also powering them up. It's ideal for those who don't want to join secret boybands, or believe that following isn't really their style. Set the trend and lead the way with Tony Stark's favourite invention.

The Avengers: Endgame Iron Man Cable Guy Controller Holder stands at a mighty 8-inches tall with a 6-foot long USB C charging cable for your devices. You don't need to be a genius, billionaire, playboy, philanthropist to grab The Iron Man Cable Guy. Iron Man is compatible with most console game controllers and almost all smart-phones and tablets.