"Call Of Duty: Black Ops 4" Announces "Operation Dark Divide"
Before Call Of Duty: Black Ops 4 rides off into the proverbial sunset for Modern Warfare to take over, Treyarch have released one more mission. Treyarch has announced Operation Dark Divide today, putting you in a situation of heroes versus villains with a BO4 twist. Plus, this mission will come with a massive update for all players. You'll get two new multiplayer maps, a new Blackout mode and a variety of hero-themed personalization items and gear. And the Aether storyline will be coming to a close with the most epic zombies chapter to date called "Tag Der Toten". As always, PS4 players with one of the Call Of Duty: Black Ops 4 passes will get access to the content first. In the meantime, here's details from the devs themselves along with pics and a proper trailer.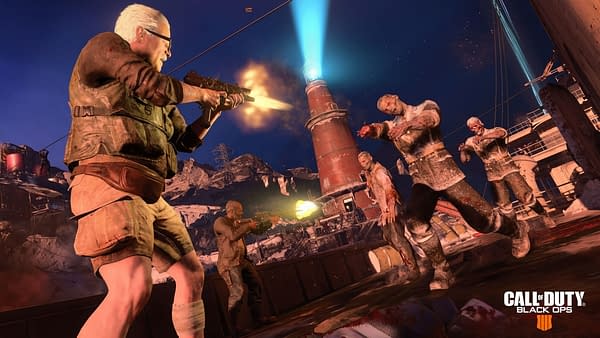 "For our final operation of the Black Ops Season, the team at Treyarch had a blast creating the ultimate battle between good and evil, imagined through alternate universe versions of our Specialist characters as heroes and villains," said Dan Bunting, Co-Studio Head, Treyarch. "In addition to the heroic experiences of the operation, we can't wait to share the epic final chapter of the Zombies Aether story – the end of an adventure more than ten years in the making."

Mark Gordon, Co-Studio Head, Treyarch continued, "Having introduced Zombies as an easter egg in Call of Duty: World at War, this final chapter for the Aether storyline marks an emotional moment for us as developers. We've poured all of that energy and emotion into Tag Der Toten, and we can't wait for players to experience it for themselves."

Operation Dark Divide's free, new content includes:

New Blackout Updates – Blackout features a fresh new comic book aesthetic. Additionally, players can now double-jump and catch some serious air in the limited-time game mode, Heavy Metal Heroes. With Heavy Metal Heroes new equipment such as flare guns and a brand-new tank vehicle have also been added to the battlefield to help players in the ultimate Battle Royale fire-fight.
New Zombies Features – Operation Dark Divide introduces a new Perk and two new Elixirs as players experience the final chapter of the Aether story.

o Secret Shopper Elixer: Players will be able to go on an ammo shopping spree and buy any ammo for any gun they're holding from any wall buy.

o Power Vacuum Elixer: The drop rate for all power ups is boosted significantly for a few minutes after activating.

o Blaze Phase Perk: Players can become a charging fireball that knocks enemies back or burns them to a crisp.

New Black Market Gear – The Black Market has been restocked with a variety of new outfits fit for both heroes and villains, personalization items, weapon camos and gestures tailored for Operation Dark Divide.This includes new weapons like the VMP SMG, AN-94 Assault Rifle and the Echohawk Dual Bore Assault Rifle, that players can acquire and learn to master. Also available are the MkII and the Mastercraft variants of the VKM 750, the Predator S6 Stingray Mastercraft, and two super outfits for Nomad ("Lupine") and Crash ("Rigor Mortis").