"Call Of Duty: Modern Warfare" Launches "Outback Relief"
Infinity Ward has decided to do something to help with the Australian firefighting efforts by launching Outback Relief in Call Of Duty: Modern Warfare. The company let people know on Twitter this morning that they have added a new pack of items that are Aussie-related that you can purchase in the game. Everything that you purchase in the game from this pack will go towards the efforts.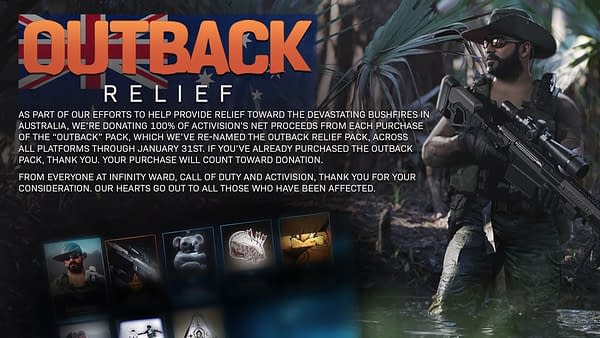 Right now you have until January 31st to get these items. No idea if they will stick around or be re-introduced later. But if history serves as an indicator for fundraising, we're guessing they'll all be gone at the end of the month and won't return. It's a cool chance for all Call Of Duty: Modern Warfare players to help out just by gaming and showing off the gear and getting others to donate.