Call Of Duty: Modern Warfare Season 4 Launches June 3rd
Activision and Infinity Ward will be launching the next season of Call Of Duty: Modern Warfare on June 3rd, which brings more story to the game. The next season will bring about a continuation of the primary campaign, as the story will pick up where the credits leave off. Which ended with Captain John Price putting together his special forces team of people he can trust and knows will get the job done. With a new team put together, you have new missions ahead of you. Which the developers have given a briefing about that you can read here. It's really awesome to see there will be a continuation of the story, as it made for a good relaunch of the series and it would be nice to see them get some experience under their belts before Infinity Ward dives into making the sequel. You can read a little about it below and check out the trailer for it as well.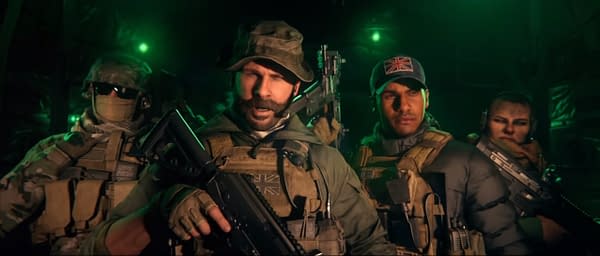 After the credits roll on the Campaign, the battle is won, but the war is far from over.

This greater evil has taken over the Eastern Hemisphere, and it is up to the global alliance Armistice, a joint force of Allegiance and Coalition Operators led by Kate Laswell (CIA) and Sergeant Kamarov (FSB), to stop and sever a global terror organization's access to weapons, funds, intelligence, and hardware. In theory, this global alliance – which includes a familiar task force – was formed to stop this suddenly amplified Al-Qatala threat which has been fortified by the mysterious Mr. Z. You'll advance the story by playing Operations, four player co-op experiences where you use your Operators and team up with friends – or the Call of Duty community – to infiltrate the city of Verdansk and slow the spread of Al-Qatala's influence.