EVO 2020, if it even happens at all this year now, will look a lot different after both NetherRealm Studios and Capcom announced they have pulled out of the event. For those of you unaware, new allegations of misconduct were posted on social media about EVO's president and organizer Joey Cuellar. The organization responded to the matter on Twitter saying, "We are aware of the accusations that have been made against Joey Cuellar. The behavior in these accusations runs directly counter to Evo's mission of building a safe, welcoming environment for all of our players and attendees. We take this responsibility seriously. Accordingly, Joey has been placed on administrative leave pending a third-party investigation."
The news prompted many players to announce that they would no longer be taking part in the event, regardless of the outcome of the investigation. The most prominent of them being SonicFox, who made it clear on his own Twitter account he would not be a part of it. Now two of the biggest companies involved with the tournament are no longer going to participate.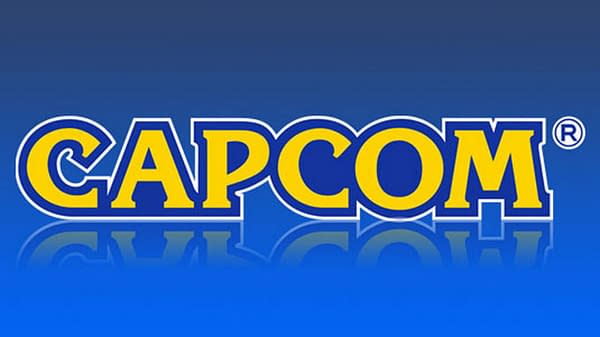 Capcom issued a statement this evening on Twitter saying, "In light of the recent accusations of misconduct made against Evo organizer Joey Cuellar, Capcom will no longer be participating in Evo 2020. Out of respect to those who have been affected and to the current investigation, we felt this was the appropriate course of action. We apologize to the players and fans who were looking forward to these tournaments."
NetherRealm Studios responded with their own statement today saying, "We stand in solidarity with those who have spoken out against abuse. We will be pulling MK11 from EVO Online."
Capcom's departure will remove Street Fighter V, one of the biggest games in the tournament, as well as killing the retro Marvel Vs. Capcom 2 tournament they were going to have. While NetherRealm Studios will remove Mortal Kombat 11 from the competition, it was added to the sub-tournaments system after not initially being one of the major games involved. With the company stepping out of the tournament, it feels like it's only a matter of time before others follow suit. We could be seeing EVO 2020 canceled before an investigation ever comes to a conclusion. We'll keep you updated as things progress.
UPDATE: EVO has issued a statement this evening on Twitter, effectively ending Joey Cuellar's involvement with the organization. Here is the statement below.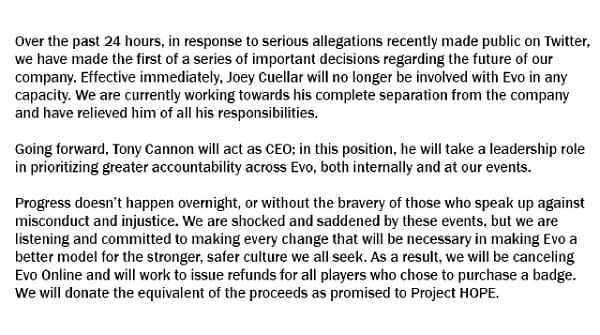 Enjoyed this article? Share it!