We checked out board games at PAX East as well this year, and some of the cool ones we got to see were at the Breaking Games booth. We'll start with Little Diablo, which is a Simon-like game where you have to complete a pattern of 10 to win. The catch: you're being taunted by a devil voice bu Jon Lovitz. Yes, the same Lovitz from SNL fame. And we're not just talking distracting nonsense, we're talking vile cursing at you to get you to laugh and distracted. Oh, did we mention the game doesn't turn off until you beat a row of 10? Seriously, that's a thing. The battery is secured in a case you can't open, either. You'd have to rip the doll apart and smash the battery to turn it off if you can't beat the game. Even if you walk away from it, it keeps talking until you beat 10 rounds. Have fun torturing people with that one!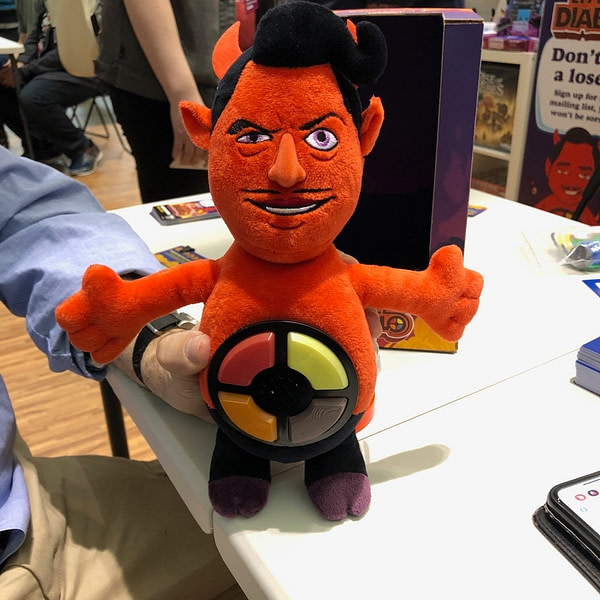 The next game we saw is one called It Dies With Me. The object of the game is to either get to the end of the path, or spell out the name of the game in cards that you draw. The winner gets a secret written by someone on rice paper using a food coloring marker. You have to write a real secret no one knows about you, and the winner gets to read it and then eat the paper. It's a pretty simple game, kinda fun if you're honest.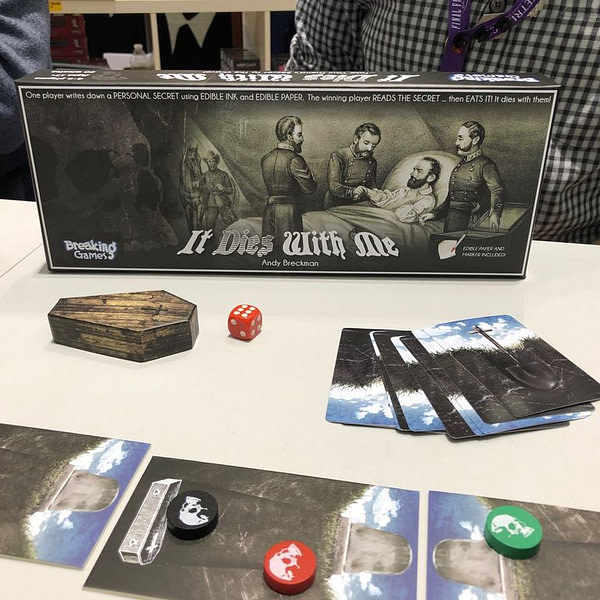 The next game was Sparkle*Kitty Nights, which if you've ever played the original, you have a lot of the game already down. The changes to this one are that players all represent knights who went to save a princess, except she found her own and now you're trapped in a castle full of danger that you need to navigate and make your way out of. Everyone's tower is different and everyone else can mess with you, which is a nice spin on the original version.
Finally, we have We're Doomed! This game is for up to 12 players in a situation where the world is coming to an end. We're basically screwed, so we decided to band together and build a rocket to get off this rock. However, everyone's interests and resources are different, and you have a 15-minute timer to build the ship or you all lose. There are cards in the mix that keep the pace going and force people to make actions or suffer the consequences. There are also people who have influence and can get priority after the ship is built to be on board. It feels like the Secret Hitler of the apocalypse, meaning you have to trust people who you don't know what their objectives are for a common goal, only in this case you all die if you can't. I love it and look forward to reviewing it!