Chun Li Gets Her Own Shoe With Street Fighter & Onitsuka Tiger Crossover
It looks like more shoe companies are embracing making special video game versions as we now have a Street Fighter crossover with Onitsuka Tiger. The Japanese Capcom website made the announcement this week, showing off two different designs of sneakers based on the character, one having a white design with blue and yellow highlights, the second being yellow with blue highlights and white trim. The shoes will be available worldwide on July 27th for a price point of ¥18,000 plus tax (which comes out to about $163 without the tax). Here's a little more info on the shoes from Capcom.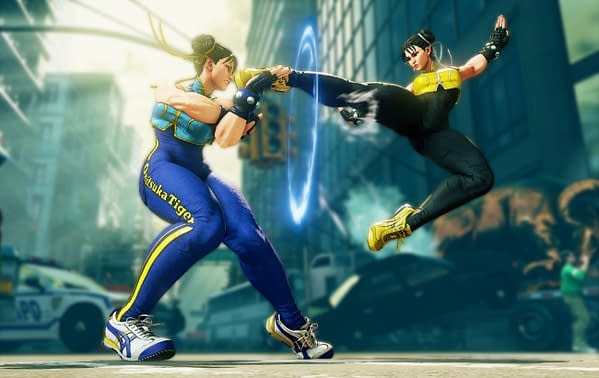 Based on the model "MEXICO 66 SD" which can be regarded as the icon of the Onitsuka Tiger, the color of costume of the character "Chun Li" appearing in the game, blue and yellow are dropped into shoes, and all 2 colors are prepared. The entire upper is printed with a graphic of a dragon that is used for the banding of costumes worn by Chun Li, and the heel flap is engraved with the Onitsuka Tiger and Street Fighter logos.

The shoes also include a "card with a product code" that allows you to use Chun Li's original Onitsuka Tiger costume in the game. By entering this product code, you will be able to select Chun Li's costume wearing Onitsuka Tiger's original costume and the "MEXICO 66 SD" shoes to be released this time. In addition to the Onitsuka Tiger "MEXICO 66 SD", it has become a special model in collaboration with Chun-Li in the game.