Cookie Run: Kingdom Developer Announces TwitchCon Plans
Devsisters, developers behind Cookie Run: Kingdom, Dead Cide Club, and Brixity, have announced their TwitchCon plans. The company is planning to hold a number of events at its booth this year, including several giveaways, meet and greets, presentations, and more. We have the full calendar below along with details of what they have in mind.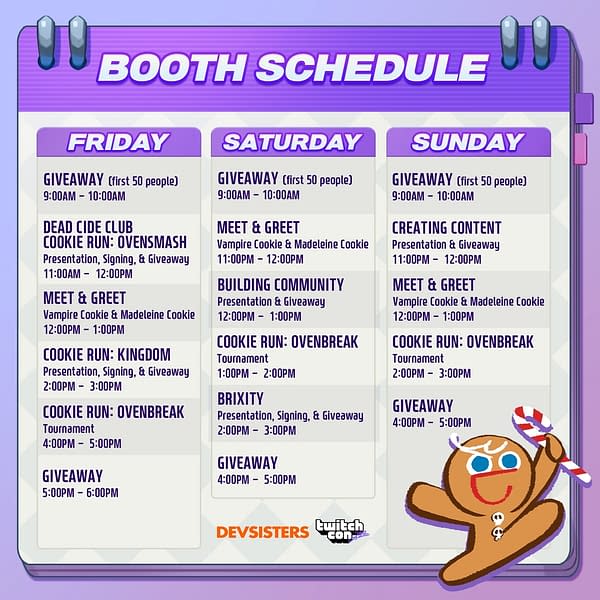 At Devsisters' booth #1845, TwitchCon-goers will get the chance to enjoy a host of activities including the opportunity to experience hands-on gameplay for Cookie Run: Kingdom, Cookie Run: OvenBreak and Brixity along with special presentations by the developers to share updates on Dead Cide Club, Brixity, and Cookie Run: Kingdom. A full breakdown of activities include:

Special Booth Presentations – Game developers will hold daily presentations on Devsisters and their roster of games, providing updates and unveiling new features. Presentations include: Cookie Run: Kingdom (Story, Characters, and Worldbuilding), Dead Cide Club and Cookie Run: OvenSmash (Press A), Building a New World (Brix By Brix (Brixity), Creating Content (One Idea at a Time), and Building Community: Memes, Dreams, and Silly Little Things That Build Community.
Gameplay Demos – The popular Cookie Run: Kingdom, Cookie Run: OvenBreak and upcoming city-building game Brixity, will be available for demos in the booth along with opportunities to stream gameplay directly from the game station.
Daily Giveaways, Cookie Run Swag, and Claw Machine – In addition to free swag for booth visitors, Devsisters will offer premium daily giveaways and feature an impressive claw machine with an assortment of special items.
Autograph Signings – Game developers Ethan Yang, Samuel Melzner, and members of Press A will be present at the booth daily, signing autographs of their favorite characters and in-game art.
Photo Ops – Fan-favorite Cookie Run characters Vampire Cookie and Madeleine Cookie will be ready to party with fellow Cookie Run fans at the booth and will be available for photo ops.