This morning, Activision announced they were adding a new free level to Crash Bandicoot N. Sane Trilogy with 'Future Tense'. Prior to E3, the company released a brand-new trailer for the DLC, which will be coming to the game on June 29th. We suspect we'll be trying this level out this year at the con, but for now, here's a description and a look at it from their press release this morning.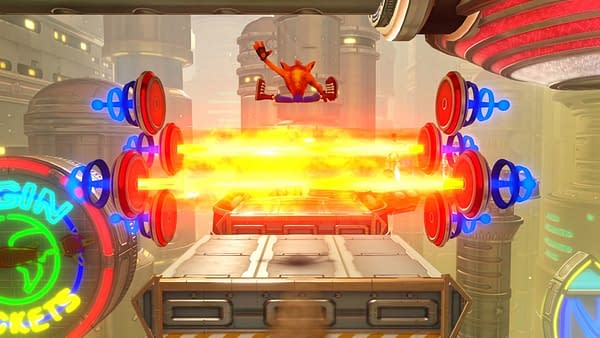 In Future Tense, Crash and Coco will take on some familiar enemies and hazards in new and fun ways. Players will love playing the heart-racing, high climbing level repeatedly to explore hidden areas and experience unexpected moments, including a challenging Death Route. Future Tense will be accessible via a new platform in the Warp Room of Crash Bandicoot 3: Warped, and playable at any point in the game's progression.

"Adding a new level to Crash Bandicoot N. Sane Trilogy was something we always wanted to do, and introducing Future Tense allows us to give all Crash players something new to play just in time for the multi-platform release," said Jennifer Oneal, Studio Head at Vicarious Visions.

"We hope Future Tense will allow players to re-experience that feeling from the good 'ol days when they first cracked open a Crash Bandicoot game and had to figure out how to get past a brand-new challenge, or find that one last crate," added Future Tense level designers Ben Dorsey and Stephen Ivanauskas. "And frankly, Crash Bandicoot levels are fun to make!"
Enjoyed this article? Share it!