Posted in: Card Games, Games, Pokémon TCG, Tabletop | Tagged: Mitsuhiro Arita, pokemon, pokemon cards, Pokemon TCG, sun & moon
---
Complete Set Review: Pokémon TCG: Sun & Moon – Team Up
Complete Set Review: Pokémon TCG: Sun & Moon – Team Up's introduction of Alt Arts makes it one of the most influential sets of all time.
---
Four years ago, Pokémon TCG released the ninth main series set of the Sun & Moon era. The expansion, Sun & Moon – Team Up, came out on September 9th, 2022. Sun & Moon – Team Up added quite a lot to the hobby, including a special card type that would later become the most sought-after style of chase card in the Sword & Shield era. I'm talking, of course, about Alternate Arts. Sun & Moon – Team Up also introduced TAG TEAM Pokémon-GX, which featured two Pokémon on a single card. These species shared at least one of their typings. TAG TEAM Pokémon-GX were available as standard TEAM TEAM GX cards, Full Arts, Alternate Arts, and Rainbow Rares. Sun & Moon – Team Up was also the last set to include Prism Stars. This English-language expansion was based on the Japanese set Tag Bolt and took inspiration from the Kanto-themed games Let's Go, Pikachu! and Let's Go, Eevee! Let's look back on this influential set and appreciate the artwork that would lay the groundwork for the current Alternate Art-themed era of Sword & Shield and beyond. Today, we conclude our journey with a complete set review of Sun & Moon – Team Up.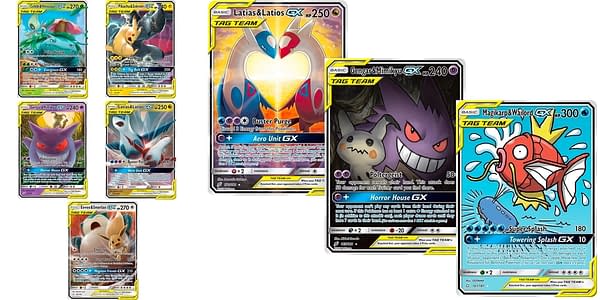 The cards of Pokémon TCG: Sun & Moon – Team Up
Sun & Moon – Team Up is a set of transitions. It closed out the Prism Star card type with a few strong final entries, including Shaymin and Tapu Koko. It kicked off the new TAG TEAM GX card type, which would influence the entire final year of Sun & Moon era sets for the better. It introduced Alternate Arts as a major part of these expansions. We'd previously seen a Secret Rare Alt Art Mewtwo in Shining Legends as an anomaly, but it was Sun & Moon – Team Up that brought them into the Full Art section of the set, included multiple, and started a pattern of these showing up with every main series release until Sword & Shield began and took a year off.
Because of the style of TAG TEAM GX cards and Alternate Arts, this was, at the time, the best and most artistically diverse set of the Sun & Moon era. When looking at the entire era with time apart and context, it isn't quite as strong as some of the sets that ran with the pattern that Team Up started, but it remains a powerful collection of cards.
Mitsuhiro Arita
The coolest part of Sun & Moon – Team Up is that iconic Base Set Charizard artist Mitsuhiro Arita illustrates the standard version of every single TAG TEAM GX card. This makes it a bit hard for the Alternate Arts to compete, as Arita's artwork is top-notch. He beautifully illustrates the dynamic between each Pokémon. Celebi and Venusaur appear to be a serious team. Pikachu is bolstered for battle by having Zekrom next to it. Gengar and Mimikyu strike a Team Rocket-esque post, and so on.
The only Alternate Art that can stand up to Arita's standard cards in this set is the Latias & Latios TAG TEAM GX Alt Art by Sanosuke Sakuma which shows the two dragons pushing their heads together so their necks form a heart shape.
Final Rating
9/10: Perhaps the most influential set in recent memory, Sun & Moon – Tag Team introduced multiple card types, including Alternate Arts, which will impact the Pokémon TCG's new releases to this day, leading to a much greater diversity of artwork in the hobby.
Thanks for joining us on this journey through this teamwork-themed set as we spotlighted the cards and artwork of Pokémon TCG: Sun & Moon – Team Up. Next time, we begin again with an examination of a modern set, Crown Zenith.
---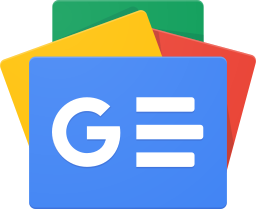 Stay up-to-date and support the site by following Bleeding Cool on Google News today!