Curse Of The Dead Gods Receives The Cursed Temple Update
Focus Home Interactive has released a brand new update for Curse Of The Dead Gods being called The Cursed Temple. The Cursed Temple brings with it a few new ways to play the game, which includes the debut of the deadly Eternal Curse modes. These are a series of "replayable thematic challenges" with special modifiers. Those include a constant speed increase buff, taking less damage in the shadows, playing with a retro display, and more. But nothing comes for free, as the cursed aspect comes into play with some disadvantages you'll have to play against. You'll also have double the number of curses, more weapon variety, some bug fixes, and more. You can read more about it below along with a trailer showing off the update.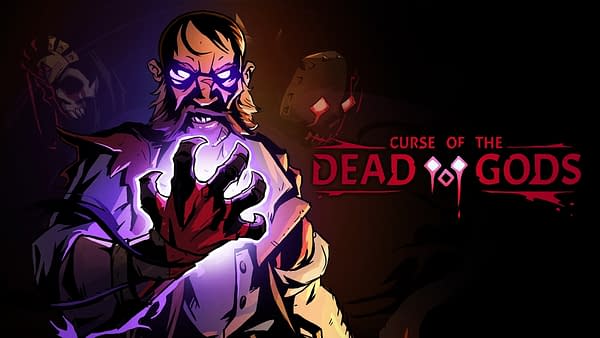 With the Eternal Curse game modes, rediscover the Jaguar Temple and each Exploration with different rules and thematic runs. New ways to play, creative challenges and unpredictable themes are available to unlock in our first Major Update for Curse of the Dead Gods: The Cursed Temple. We have lined up some fun modes for each level of difficulty in Curse of the Dead Gods and we are excited to share them with the community! Step foot in the Temple and face a new batch of Curses: turn them to your advantage, but don't be too greedy. The new set of Cursed weapons and relics may also aid you in your quest to defeat the Dark Avatar of the Jaguar.

2 New Cursed Weapons:
+ Fulmination, Death's Rampart: Parrying reflects projectiles
Design Note: We are introducing reflected projectiles with this weapon! According to community feedback, we may extend this mechanic to more weapons or even to generic parry itself.
+ Annihilation, Bow of Madness: Perfect Shots explode on impact in a Dark blast, dealing damage to ALL characters around

1 New Regular Weapon:
+ LeMat Grape Shot Revolver: Perfect Shots deal damage to all targets in a cone behind the impact

2 New Cursed Relics:
+ Accursed's Codex: +50% to all weapons' base damage, +50% to all damage taken
Dev Note: Localization for other languages than English and French will come soon!
+ Glyph of Darkness: Level +1 on Cursed weapons
Dev Note: Localization for other languages than English and French will come soon!