Cyberpunk 2077 Is Getting An Xbox One X Themed Console In June
Cyberpunk 2077 fans will be getting a special surprise in June ad CD Projekt Red has teamed with Xbox to make a special themed console. Xbox is no stranger to making themed console as they seem to have a grand supply of them over the past five years. Everything from Sea of Thieves to ones based on Nike shoes, they've become a popular item for people to get their hands on. There are even hardcore collectors who have sprung the cash to own as many of them as possible just to have them on display. So you can't blame the company for making several versions of these for the diehard fan who needs everything in their life to look a certain way. Or just be able to pay homage to whatever fandom they're into. So it shouldn't come as any shock that as the company prepares for the release of the much-hyped game, that they decided to work together to create a special version of one for fans to buy.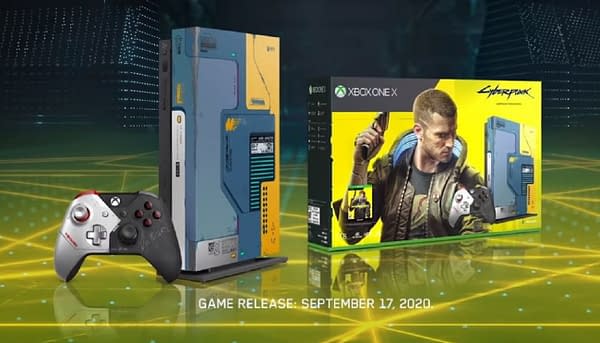 As you can see from the artwork above and the video below, this one is designed to have that sort of futuristic '80s vibe. As in it looks like something that was designed a couple decades ago, complete with the weird Seocho Electronics logo etched into the side, but with all the plating and material on the design to look like it won't be around for another 50 years. It comes with a single wireless controller that looks like it was pieced together from two other controllers, along with the words "No Future" written on the right. This was tailor-made for anyone who has been following the game since development began and are looking to own all things Cyberpunk 2077. The weird part about all this is that while the game itself won't be available until September (provided CD Projekt Red doesn't push it back again), the Xbox One X will be available in June. So you can get your collector fix on before the game comes out, but your console won't come with a copy of the game until it is released.