Out of the blue this morning, Kojima Productions Released a ton of information and a new extended trailer for Death Stranding. First off, let's start with the fact that we FINALLY have a release date for the game as it will be coming out on November 8th, 2019. Now that we have that important detail out of the way, we also get to see the Collector's Edition, which was revealed by Sony today as it will include a ton of stuff from the game. As you can see here, this will come in a special carrying case and include a custom steelbook, a Ludens keychain, a BB pod, Bridges Cargo case, and several items of in-game content from glasses to hats to gear for Norman Reedus' character.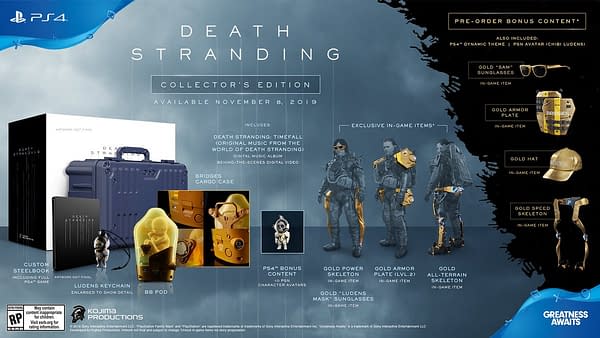 Kojima Productions also revealed these nine posters all with different characters from the game with the phrase "Tomorrow is in Your Hands". We still don't know who half of these people are or what relevance they have to the game. But we might get a few clues to that as we have here at the bottom a newly released extended trailer for the game, which we were all expecting to see during E3 2019. Enjoy the nearly nine minutes of insanity, all shown through a baby's mouth. Yes, you read that correctly, because Death Stranding is basically insane at this point, and we can't wait to see more!
Enjoyed this article? Share it!