Devolver Digital Releases Devolverland Expo As A Free Game
To close out the Devolver Direct livestream, the folks at Devolver Digital decided to give everyone a little surprise in the form of Devolverland Expo. COVID-19 basically put an end to all conventions in 2020, and while a lot of people are looking to a physical reality in 2021, few have given thought to what they could still do in 2020 beyond your regular Zoom meetings. This is where Devolver decided to step in as the company has created a completely free game on Steam where you are essentially going to as convention. Well… kinda. In their own weird version of what is clearly an E3 parody, you are trapped in a convention hall after hours with a marketing machine that seems to have gone above and beyond what is required to promote a game. And wouldn't you know it? There's a bunch of Devolver games here for you to check out!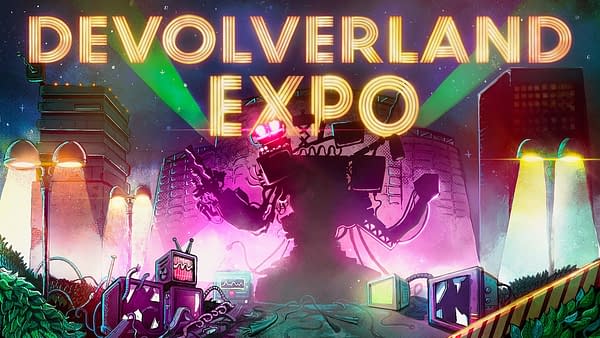 The fun irony of all this, which will be lost on those who have never attended E3, is that Devolver Digital doesn't hold any of their stuff inside the Los Angeles Convention Center. Instead, at least for the past few years, they've held their booths across the street in a parking lot. Yes, they do go indoors for things like PAX West, but it's entertaining for those of us who have gone to see that this is nowhere near what Devolver actually does each year, which adds an extra level of hilarity to this onion. You can download the game right now on Steam, but before you dom enjoy the trailer below!
Devolverland Expo is a first-person 'marketing simulator' set within an abandoned convention center after the annual Devolver Digital game expo was mysteriously canceled. Break into the convention center and avoid the advanced security systems to watch and retrieve all the trailers, gameplay demo videos, and other secrets lost in the expo's cancellation.