Ed Boon Teases Another "Mortal Kombat 11" DLC Character Reveal
It looks like we may be getting another Mortal Kombat 11 DLC character reveal shortly, and according to co-creator Ed Boon, it appears Nightwolf is on deck. When last we saw Nightwolf in the game's canon, he was a revenant under the control of Quan Chi after sacrificing himself to stop Sindel in Mortal Kombat 9. He didn't make an appearance alongside other revenants in the NetherRealm in Mortal Kombat 11, which was odd since one would think Liu Kang and Katana would have welcomed his help. We thought the character would be ignored for good as just dead and gone until dataminers leaked Nightwolf would be in the game as a DLC character clear back in April. Since then, we've just been patiently waiting for his appearance.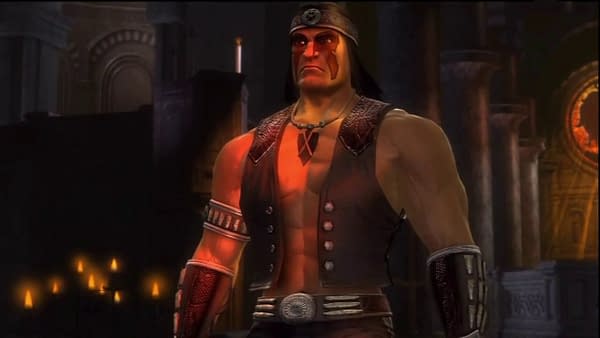 Well, that may happen this weekend as Ed Boon sent out the tweet below, showing a blurry Shang Tsung approaching a figure holding a tomahawk. Based on the feathers, the coloring of the leg armor, and the obvious axe weapon in his hand, there's little doubt Nightwolf is next to be seen.
As to when we'll see him… well, CEO is happening as we speak. And if there was ever a time to do a surprise character reveal, Sunday afternoon at the conclusion of all the MK11 tournament fighting might be the place to do it. Only time will tell if it comes to fruition, but it's a pretty safe bet we're seeing the character before the weekend is up, and if not then, sometime next week.