Konami decided to reveal last week that they were going to be adding in a co-op mode to the Apple Arcade exclusive Frogger In Toy Town. Now you can face off against a friend on another mobile device as you play the classic title revised. Now you have a second chance at winning as the toddler may go after your opponent instead. What's more, the game will be getting a winter theme for the holidays soon, though a release date was not confirmed. Here's a few more details of what's to come.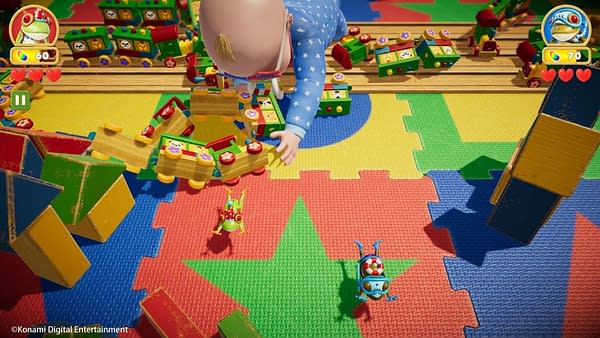 In Frogger in Toy Town, players are tasked to guide their frog forward to safety, with each level delivering numerous obstacles to evade and challenges to conquer. With toppling blocks, falling books, and other hazards to avoid along the way, Frogger in Toy Town delivers a rich action experience that's brought to life with cute and colorful 3D graphics. Additionally, gamers can gather with friends and family in local cooperative multiplayer mode to team up on the challenges that lie ahead.

Perfect for the season, users will also be able to play in a new House theme, Winter Nightmare. The game already boasts three different House themes, which you unlock along your Frogger journey: Suburban House, Hobby House, The Mansion and soon, Winter Nightmare.

The Winter Nightmare House brings vampiric, skeletal and ghostbuster-themed costumes for Frogger, while the new House will see players experience eerie eyeballs, peculiar pumpkins and terrifying teddy bears. Further details and a release date for Winter Nightmare will be announced soon.
Enjoyed this article? Share it!