Gearbox Developer Confirms Handsome Jack's Fate in Borderlands 3 Interview
For those of you hoping that we might see Handsome Jack come around in Borderlands 3 to stir up some trouble, we now have confirmation on what's become of him. Bloody Disgusting recently had an interview with the company's Managing Producer of Narrative, Randy Varnell, talking about the game in general over a number of topics. And in it, we now know for sure Jack is gone and what they're doing to move on. Here's a snippet from that interview.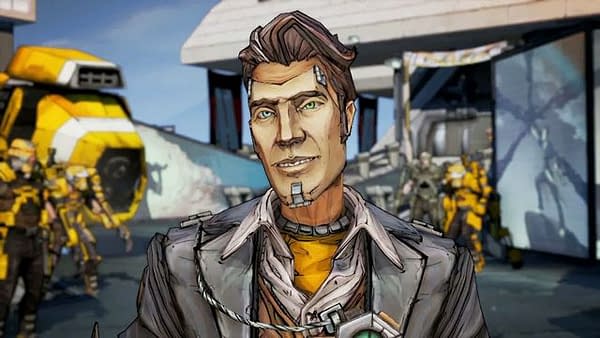 BD: So, on an unrelated note: Handsome Jack is dead.

RV: So dead.

BD: There have been three games, Borderlands 2, Tales from the Borderlands and Borderlands: The Pre-Sequel, that have all developed Jack and worked with Jack's personality. Is it difficult to move on from Jack? And what were the challenges of developing new villains to fill that hole that he left?

RV: It is. Handsome Jack was unusually successful as a villain. Good villains are hard. And I think your heroes always feel more heroic when they have a good villain to oppose them. I think Handsome Jack did that so well for Borderlands. I think 'healthy respect' is the best way to describe how we approach coming up with a new villain. We also listen to our fans a lot and after the three games you cited it was so much Jack that we actually heard from a number of fans, 'You know what? We're good for now if you want to take a little breath and show us someone else who could be bad for a second.' So, canonically, yes, Handsome Jack is dead. You had a little ghost remnant of him in Tales and that's even been dealt with. So, we wanted to come at the Calypso Twins and we looked at it from two ways: What are the lessons that we learned from Handsome Jack that are really important to preserve? His humor, his relatability, some of the snark, his presence in the world. You understand his goals; he's after something that you can relate to and that's really important. But, we also wanted to come with some twists.

Handsome Jack, while he had the Loaders and all that they were all expendable resources. And while the Calypsos might still see the bandits as expendable; they are definitely selling the line that they are a family, they are a group, they are a cult, they are a religion and they want to be worshipped as godlike power for all that brings. But, the Calypsos are also a hands dirty. They're willing to get in the world. You saw a little bit of that today. They showed up as holograms but you see Tyreen's work; you've seen the bandits that she has already drained all the life out and left as husks there in the world. You'll continue to see that… You'll see them diverge even more and more from that snarky humor that kind of draws you in into something that is even more threatening than Handsome Jack was.