Hasbro has introduced a new version of Monopoly this week as they attempt to bring the pay gap issue to light in gaming with Ms. Monopoly. The game is designed to celebrate women trailblazers with a new character gracing the box cover who shares the game's title. In this version, properties are replaced by inventions and innovations made possible by women throughout history. And rather that building houses, you build business headquarters to run industry in a modern world. The game also gives women characters an advantage by paying out more than male characters, kicking the Patriarchy right in the wallet with a bit of role-reversal. The game will hit shelves mid-September, you can read more about it from snippets of the press release below.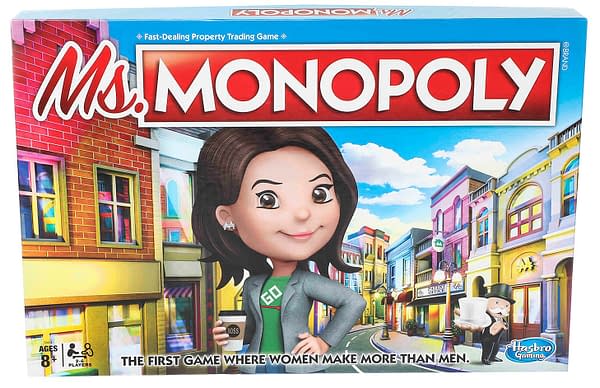 Ms. Monopoly was created to inspire everyone, young and old as it spotlights women who have challenged the status quo. To celebrate, in lieu of Monopoly winnings, Hasbro surprised young female inventors and entrepreneurs with the recognition they deserve –approximately $20,580 in REAL money to fuel their inventive spirit and further their projects – which just so happens to be the same amount of Monopoly money featured in the game. You can see all of their reactions to the surprise here. All of the young inventors come from very different backgrounds, but with a common goal to help others using their inventions:

Sophia Wang, a 16-year-old from Connecticut invented a device that can detect sinkholes before they occur, and after two years of work, her prototype is now 93% accurate. She is hoping to get it patented and in the hands of communities in Florida that are vulnerable to sinkholes.
Gitanjali Rao, a 13-year-old from Denver came up with an invention that helps detect lead in drinking water so that individuals can do the test themselves and get results sooner. Her goal is to create an inexpensive, easy to use, portable device so that people all around the world can use it.
Ava Canney, a 16-year-old from Ireland, invented a spectrometer that measures the amount of dye in candy and soda. After studying the harmful effects of additives in our food, Ava set out to help people make educated decisions about the toxins they put into their bodies.

"Through the introduction of Ms. Monopoly and the money these young women have received to invest in their future projects, we want to recognize and celebrate the many contributions women have made to our society and continue to make on a daily basis," said Jen Boswinkel, Senior Director, Global Brand Strategy and Marketing, Hasbro.
Enjoyed this article? Share it!