This morning, Hasbro along with D3 GO! and Emerald City Games announced a new mobile title on the way with G.I. Joe: War On Cobra. The game will take your favorite characters and more from the '80s cartoon series, give them an updated look, and throw them into a PvP title. The game will have you collect troops, heroes, command, and vehicle cards from the series and toy lines, place them down on the battlefields, and face off against each other online. One side will always be the Joe's and one side will always be Cobra. You can fight each other at bases located on different areas with land, sea, and air attacks at your disposal. Not to mention characters like Duke, Scarlett, Roadblock, Snake Eyes, Cobra Commander, Baroness, Destro, and Storm Shadow to choose from. The game will launch worldwide on the App Store, Google Play, and Amazon Appstore on January 20, 2020. You can already pre-register for Google Play today. Here's a few quotes from this morning's announcement, as well as screenshots and the trailer.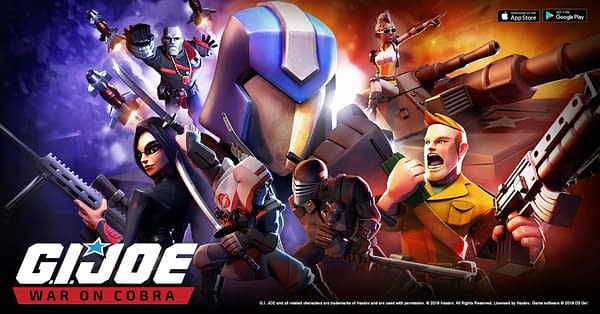 "For us, G.I. Joe is more than just a brand. It's a shared piece of cultural history that's near and dear to fans worldwide," said Brian Etheridge, Vice President of Publishing at D3 Go! "With a proven track record in the mobile space and a passionate team of creatives, we've found the right partners with developer Emerald City Games to bring the fun and excitement of the world of G.I. Joe to mobile devices with this game."

"G.I. Joe has a long, rich history and countless fans around the world," stated Richard Cleveland, Vice President of Digital Gaming at Hasbro. "We look forward to launching a new way for current and new fans to enjoy the brand, and know that this game brings the brand to life in a new and exciting way!"
Enjoyed this article? Share it!