Horizon Forbidden West Gets An Announcement Trailer
During the PS5 Reveal livestream today, Guerrilla Games dropped a bombshell on us with an announcement trailer for Horizon Forbidden West. The company did a great job of showing off what was to come in this much-0anticipated sequel, but they didn't really go into great detail about what we could expect. Below is the grand total of information they released along with the trailer today. Which, no disrespect to any of the developers, but this is the rumored synopsis that's been on the internet for two months, just reworded and confirmed.
Horizon Forbidden West continues Aloy's story as she moves west to a far-future America to brave a majestic, but dangerous frontier where she'll face awe-inspiring machines and mysterious new threats.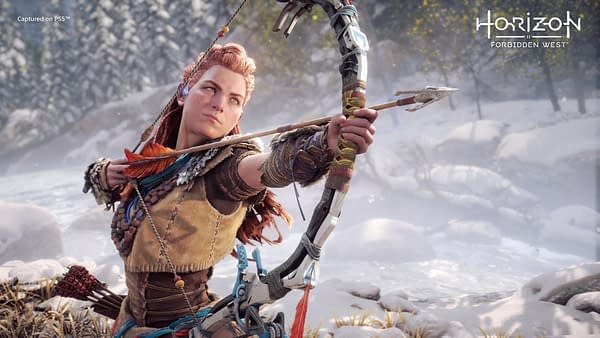 So in one sense we finally have confirmation that we're going to see what the west is made of, literally. In another sense, we don't really have a clue about anything new. The visuals are stunning as we see from the screenshots below images of the Golden Gate Bridge still kind of standing as nature has taken over what was once here. Various mountains and canyons and plains all covered in now forms of life and creatures that can be captured and tamed. But it's not completely wildlife as there are many new perils to face in other humans using the land and creatures as they see fit, along with wonders to explore that we're sure will give us hours of entertainment. No release date info was given with the trailer, all we know is that it will be a PS5 exclusive.